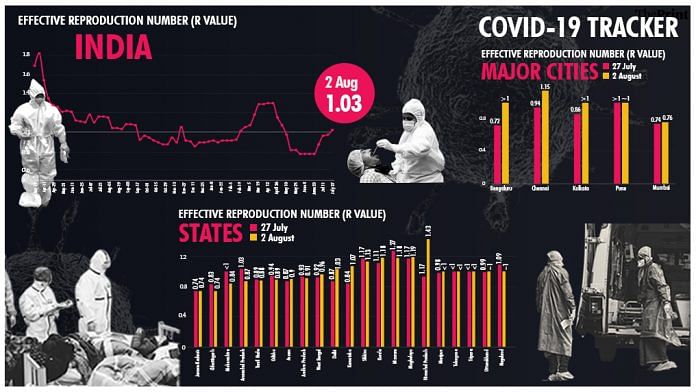 New Delhi: India's effective reproduction rate (R) value — an indicator of how fast the infection is spreading — has increased to 1.03 from nearly 1 last week. The nationwide trends suggest the beginning of a new wave.
The last time R had crossed the threshold of 1 was on 26 February, when it increased to 1.02. This had led to the devastating second wave that peaked in April.
R had increased to 1.31 around 26 April, before decreasing to 0.98 on 17 May. Throughout June, R was at 0.78. However, since 11 July, the value has been increasing.
R represents the number of people one Covid positive person may infect. The epidemic will come to an end if R is sustained below 1.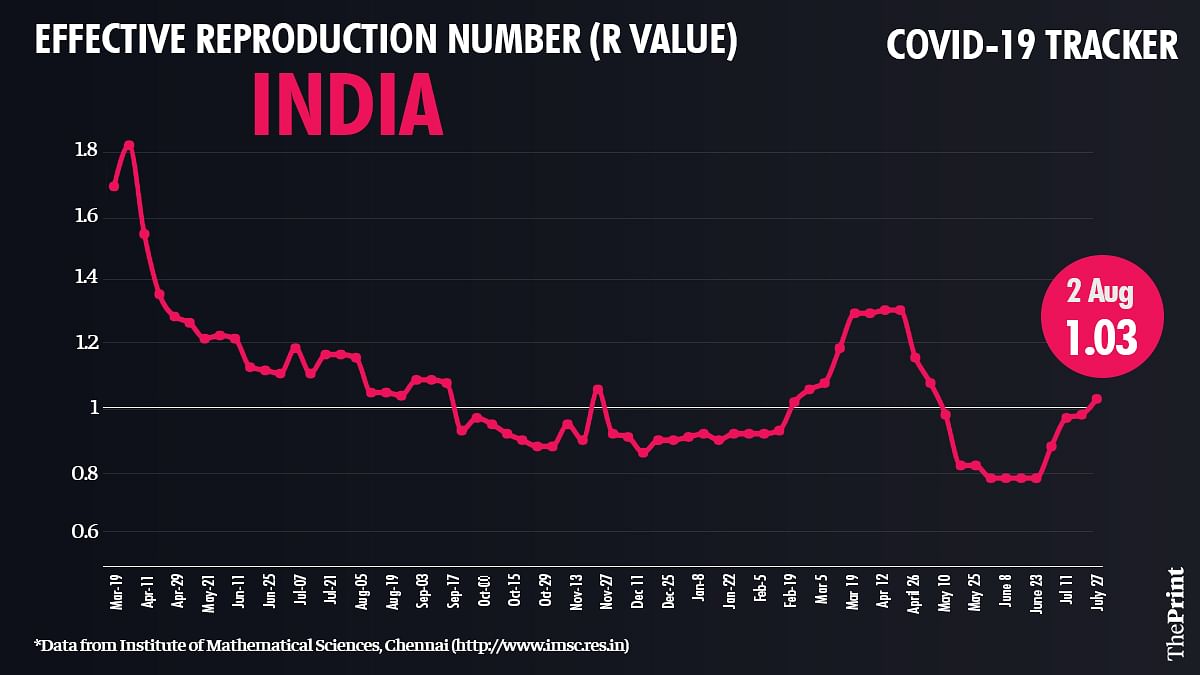 Sitabhra Sinha, a researcher at the Institute of Mathematical Sciences in Chennai who has been tracking the value of R since the beginning of the pandemic, said it is too early to say for sure that this is the beginning of the next wave.
"If we are very lucky, it will have subsided back to R below 1," he told ThePrint.
However, he added that the status of R in individual states does not look very encouraging.
---
Also read: India registers 40,134 new Covid cases, 422 deaths in last 24 hours
---
How states fare
Kerala, the state which currently has the highest number of active cases, has seen a further increase in its R value — to 1.18 this week from 1.11 last week.
Karnataka, Uttarakhand and Himachal Pradesh are also seeing a rising trend of active cases, Sinha pointed out.
For Karnataka, R increased to 1.07 this week from 0.84 last week. Uttarakhand's R is hovering very close to 1.
At 1.43, Himachal Pradesh now has the highest R value among states with the highest burden of active cases. This is a sharp increase compared to 0.93 last week.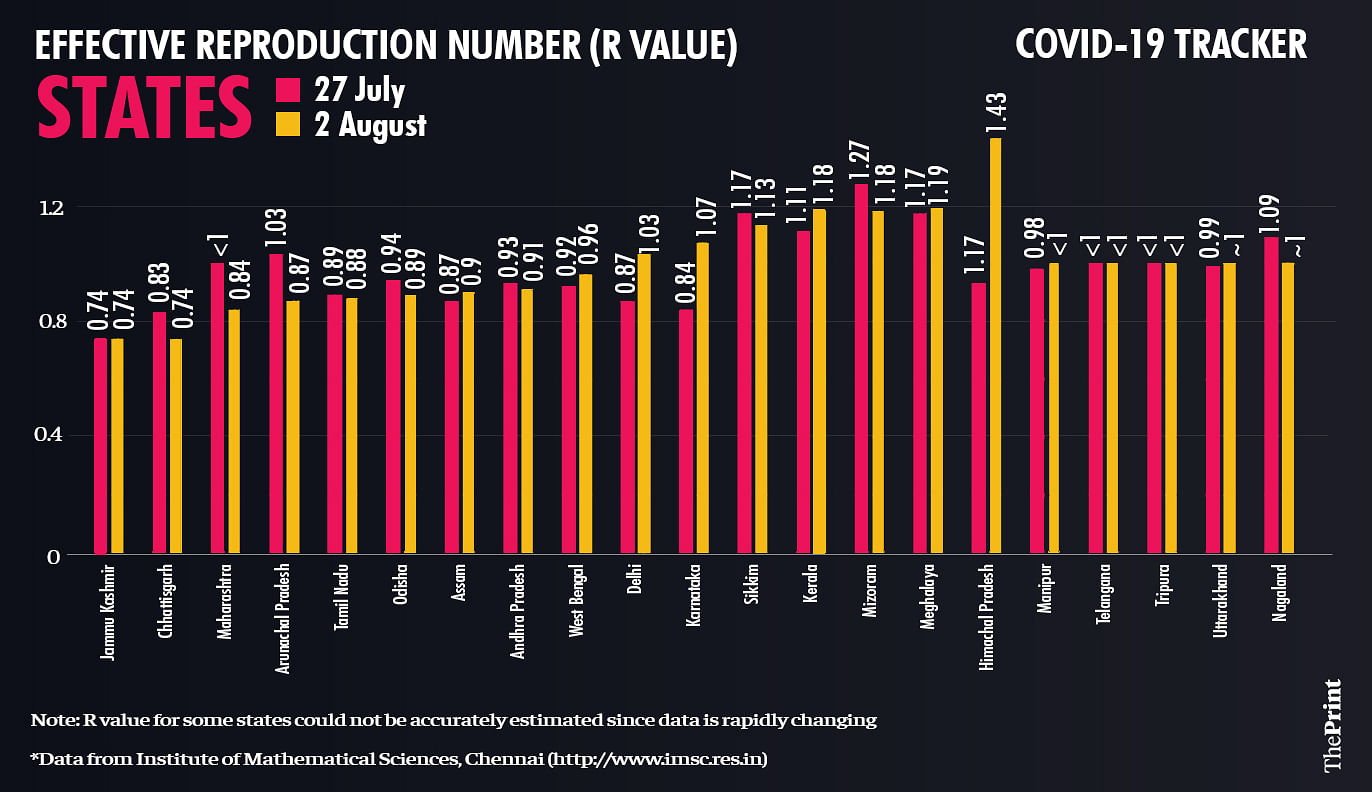 Meanwhile, Sikkim, Mizoram and Meghalaya also recorded an R above 1.
In Meghalaya, the R increased to 1.19 from 1.17 last week. However, Mizoram's R reduced to 1.18 this week from 1.27 last week. Similarly, in Sikkim, R decreased to 1.13 this week from last week's 1.17.
"More worryingly, all major metros, except Mumbai and Pune, seem to have R over 1," Sinha said.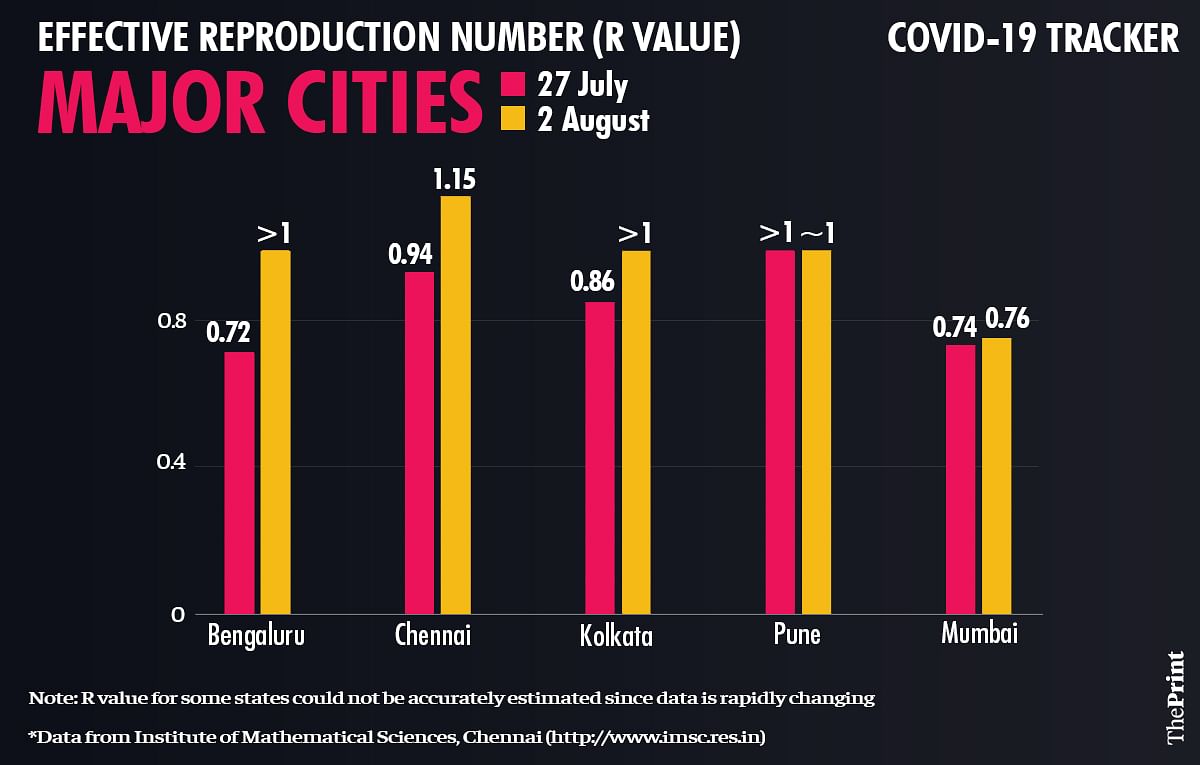 In Delhi, R is now at 1.03, going up from nearly 1 last week. In Chennai, it increased to 1.15 from last week's 0.94.
Sinha said accurate R estimates for Bengaluru and Kolkata could not be made because the numbers have been fluctuating too frequently, but noted that both cities have an R value over 1.
(Edited by Manasa Mohan)
---
Also read: Why 'model state' Kerala is accounting for more than half of India's daily Covid cases
---