Rajkot: Lack of public discipline amid Janmashtami celebrations, a BJP mega rally and unlock measures coupled with higher testing are being seen as factors behind the steep rise in Covid-19 cases in Rajkot, which is now the third most-affected city in Gujarat.
According to municipal commission officials and local residents, the festival on 11 August saw people gathering at homes despite appeals to avoid such events. The officials also highlighted that after the unlocking process began in June, the infection moved from clusters to the city, which has a population of around 15 lakh.
Opposition leaders in the city accused the BJP of adding to the problem by holding a five-day rally from 18 August after the appointment of their new state president, which allegedly resulted in a spike in infections. The BJP defended itself, saying the intention was not to create chaos.
According to the state government data as of Monday, Rajkot recorded 7,643 Covid cases and 123 deaths, just behind Ahmedabad and Surat. Over half of the city's caseload has been reported since 16 August, with a daily incidence of an average of 100 new cases. Currently, it has 1,889 active cases.
---
Also read: Govt says 64 families of doctors who died of Covid received Rs 50 lakh insurance
---
The Janmashtami factor
Unlike the usual eight-day celebration that accompanies Janmashtami with residents travelling and visiting places of worship, this year saw muted celebrations with social distancing in temple queues and no community participation on the streets. However, people still visited each other at homes.
Manoj Kalyani, a 48-year old Rajkot resident said, "Celebrations did not happen on a large scale like how they usually do but people still visited each other at their homes. There is no way to stop it since people are so attached to each other."
Rajkot Municipal Commissioner Udit Agrawal said, "This year all public places were shut down during the festival and public gatherings were restricted. Despite this people, resorted to visiting each other, this is something that we cannot monitor or control.
"While the RMC (Rajkot Municipal Commission) is trying its best to spread awareness in the city, we do expect some kind of reciprocation from the people in the form of maintaining preventive measures," he said.
Talking about people's movement during the festival, Deputy Municipal Commissioner Chetan Nandani said, "Although we tried our best to restrict movement of people, isolated picnic spots on the outskirts of the city still saw footfall."
In order to curb the spread of Covid, Chief Minister Vijay Rupani had made an appeal to organisations to voluntarily cancel any celebrations or mass gatherings for the festivals of Ganesh Utsav, Janmashtami, Ambaji Utsav and the Tazia processions for Muharram.
---
Also read: Stop playing on back foot, follow 'Ahmedabad model' to curb Covid — Gujarat HC to state govt
---
BJP rally
Upon his selection as Gujarat BJP president, C.R. Patil held a mega rally in Saurashtra and parts of north Gujarat from 18 to 22 August, and ended it in Rajkot. He stayed back in the city and was found to be Covid-positive later.
Congress leaders alleged that the rally was the cause for the spike in cases. Thousands of party workers attended the rally and were seen dancing and celebrating while flouting Covid norms.
RMC Councillor and Congress leader Atul Rajani, who had previously accused the BJP for being responsible for at least 50 per cent of the new cases in the city, said, "My only question is who gives BJP the right to organise such mega rallies during a pandemic?"
However, BJP spokesperson Rajubhai Dhruv defended the party. "Upon his selection as the state president for the party, C.R. Patil wanted to meet party workers, which is why he decided to visit them in north Gujarat and Saurashtra region. He only wanted to open communication lines to set up a steady grievance redressal system which is why the meetings were organised."
On the allegation of party volunteers violating Covid preventive norms, he said, "It was never our intention to create such chaos in the city. We ensured that a limited number of people were invited. Citizens saw this as a joyous occasion to meet and greet their party representatives. Their zest and enthusiasm was natural after the grim period of lockdown and disease."
After Patil tested positive for Covid, he was hospitalised in Apollo Hospital, Ahmedabad. Within a fortnight, several BJP members including Rajya Sabha MP Abhay Bhardwaj, Ahmedabad MP Dr Kirit Solanki, Surat MLA Harsh Sanghavi, Rajkot MLAs Govind Patel and Arvind Rayyani, and mayor Bina Acharya among others tested positive for Covid.
---
Also read: Modi govt admits Covid reinfections are happening, but says infection mild both times
---
Unlock and increased testing
Deputy Municipal Commissioner Nandani said the Covid spread was also due to the unlock phase. "It is not surprising that a city the size of Rajkot is witnessing a spike after unlock. Initially, most of the cases were contained in their clusters," he said.
Nandani added that about 80 per cent of the city's cases are now coming from ward number 16, a socio-economically backward and densely populated area known as Changleshwar.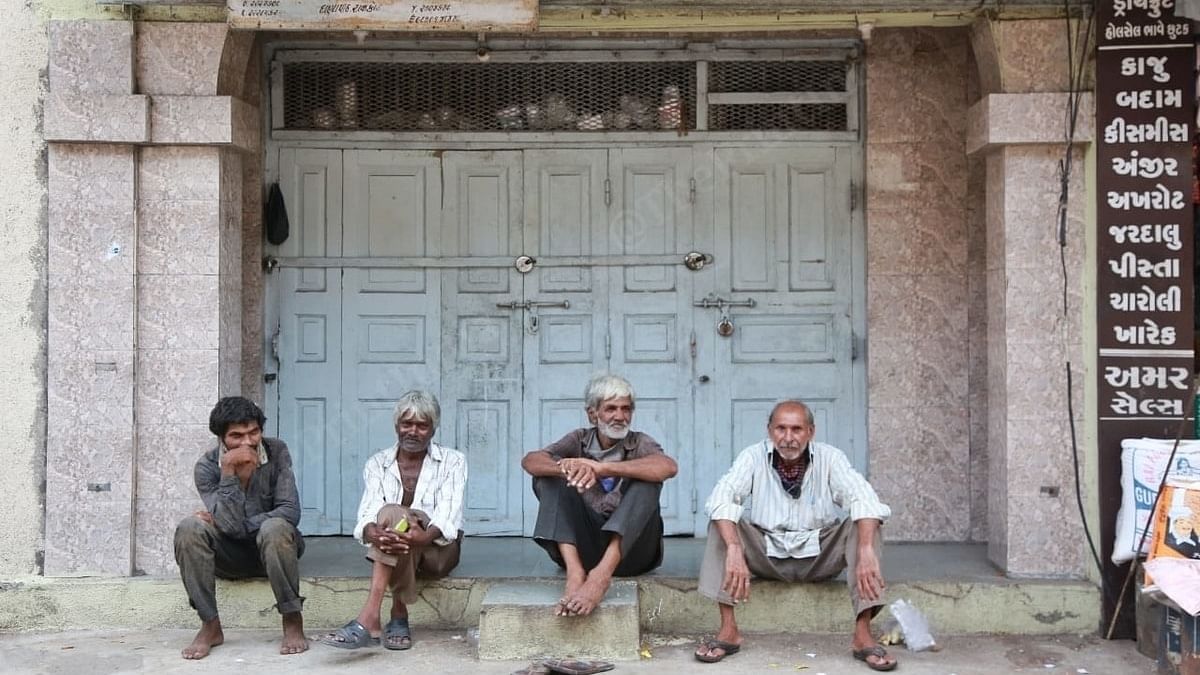 "Rajkot saw the state's first Covid case, which was found in this area. The corporation was successful in containing the spread of the virus from this cluster for 50 days, but with the opening up of the city and unrestricted travel, the virus has spread from this area," he said.
Officials also pointed out the lack of Covid preventive measures among the people. Commissioner Agrawal noted the difficulties that the testing and surveillance team faced in the first 10 days of their job.
"Unrestricted travel to and from Ahmedabad and Surat has added to our caseload which is why we have started testing and monitoring those traveling. We have set up monitoring stations at three major bus depots in and around the city. Ten per cent of those coming to Rajkot via the airports are compulsorily tested," said Dr Lalit Vanza, municipal officer for health and member of the city's Covid war room.
The RMC has also increased its testing to more than double, with around 6,000 samples being tested daily now, said officials. Lalit said an increase in testing is bound to show more cases. As of Monday, the city has conducted 2,22,162 Covid tests.
Rajkot's Covid peak
Speaking about the situation in Rajkot, Dr Dileep Mavlankar, director, Indian Institute of Public Health in Gandhinagar said, "All the cities of the state are peaking because as established by epidemiologists, the virus will spread and the number of cases will increase. If people gather, for whatever reason, the infection is bound to spread faster."
He said the increase in cases means the city is heading towards a tipping point. "… It is important to look at the number of cases that are increasing per day. If they are still on a rise, then the peak is yet to come."
---
Also read: Irresponsible behaviour of people to blame for Covid surge, Harsh Vardhan tells Lok Sabha
---