New Delhi: As cases of the novel coronavirus soar in global hotspots in the last week, India is witnessing a decline.
On Monday, India recorded the lowest number of daily infections in three months at 36,470. The last time daily infections were this low was on 18 July when 34,884 infections were recorded. In just over the last week, India's daily load fell from 54,348 on 20 October to 36,470 on 26 October.
However, India seems to be an exception in witnessing this declining trend.
Major global hotspots, including the US, France, Spain, the UK, Germany and Italy, have seen a sharp increase in cases in the last week. Accordingly, lockdowns and restrictions are back in these countries as they brace for a second wave of infections.  
According to the World Health Organization (WHO), as of Tuesday, there are over 4.2 crore global infections with 11.52 lakh deaths. India, which is second globally in terms of caseload, has recorded a 79.4 lakh cases with 1.19 lakh deaths and 72.01 lakh recoveries.
Experts told ThePrint that despite the decreasing trend, India cannot get complacent as experience in the US and European countries has shown.
---
Also read: Bihar's Covid numbers are remarkable, but experts say it's 'very difficult to explain' how
---
India's cases on the slide
In the course of the last week, daily cases decreased by nearly a third. In the same period last month, daily cases were recorded between 92,605 (20 September) and 85,362 (26 September).
September also saw daily cases nearing the 1-lakh mark on 11 days (7 September, 10-14 September and 16-20 September).
On Tuesday, the health ministry lauded India's declining trend against the surge witnessed in other countries. "India's cases per million population is amongst the lowest in the world; stands at 5,758, whereas the global average is 5,504," said Rajesh Bhushan, secretary, health ministry in press meet.
Global cases on the rise
In comparison, a look at the WHO data reveals a reverse trend in the global hotspots.
For instance, in the US, daily cases almost doubled — from 46,378 on 20 October to 82,626 on 26 October. On 25 October, the country recorded its biggest single-day spike with 82,630 cases.
Along with the US, the two virus hotspots in Europe — Italy and Spain — also registered record highs in the last week. Daily infections in Italy touched a high of 21,273 on 26 October after infections more than doubled in a week — rising from 9,337 on 20 October.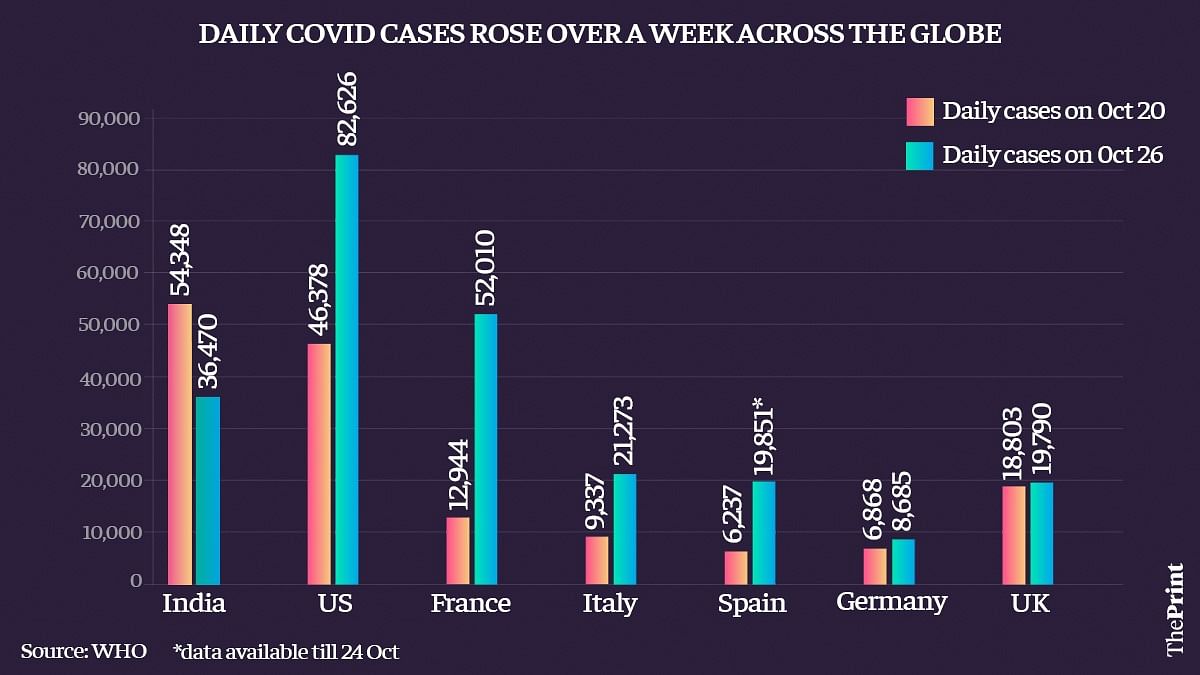 In Spain, infections nearly tripled in the past week rising from 6,237 on 20 October to 19,851 on 24 October. The highest daily load the country recorded since the pandemic started was on 24 October.
Similarly, France and Germany also witnessed a surge. Daily cases rose over four times in France in the last week, touching a new high of 52,010 cases on 26 October. On 20 October, only 12,944 infections were recorded.
In Germany, daily infections increased from 6,868 on 20 October to 8,685 on 26 October. Daily infections touched a record high with 14,714 infections on 24 October. 
The UK has also seen a spike, with daily cases touching a record high of 26,687 last week on 22 October.
Back in Asia, China — the first epicentre of the virus outbreak — has decided to test five million people and impose restrictions in Xinjiang province after a single asymptomatic case was reported Saturday.
---
Also read: Govt begins prep for Covid vaccine drive, asks states to set up 3-tier system for rollout
---
Global peak came before India's
The spike in cases in these countries follows several months of fall in cases. These countries saw their first peaks several months before India.
For instance, while India saw its peak on 17 September (97,894) — the US saw its first peak on 19 July (74,354). The first peaks in the European countries were recorded even earlier.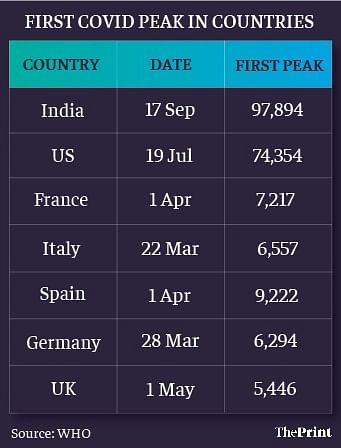 Experts told ThePrint that India could well see the same trend of increasing cases in the coming days as the pandemic is at a different stage here as compared to other countries.
"India entered the pandemic much after the US or any of these European countries, where cases increased, decreased and are now peaking again," said Dr Rijo M. John, health economist and consultant at the WHO.
The rise and fall is also part of the natural progression of the pandemic.
"Several states in India have also witnessed similar trends. For instance in Delhi there has been a peak, then it reduced and now Delhi is seeing a third wave. Mumbai also witnessed a similar trend. Different states in India are in different stages of the pandemic and in the coming days we may see a spike again," he added.
Experts also warned that the coming few weeks will be crucial as the effects of the festive season will be visible along with the onset of winter.
"It is believed that in winter, rate of spread could be more as we are seeing in several European countries where winter has already set in. In India one can expect a spike with winter along with increased mobility and political activity ahead of elections," said John. 
Experts also advised caution. "With the decline in cases, complacency has set in. It adds to the feeling that the worst is over. But the experiences of other countries show that any loosening of precautions can be fatal. If Kerala can see a resurgence after containing the virus so well, so can the rest of the country," said Anant Bhan, researcher in global health and bioethics. 
'Saturation in urban areas'
However, the trend is encouraging as it shows saturation of the disease in urban areas, said the experts.
"It is possible that most dense pockets in major metros are already infected. The population density in other areas may not be as high in the newly infected areas as it was with metros," said Dr Giridhar R. Babu, professor and head, lifecourse epidemiology, Public Health Foundation of India (PHFI).
The real test is in rural India, said the experts. "With the disease moving to rural areas, we need to increase testing in rural areas and see whether the numbers are showing a similar trend as in urban areas as the urban areas are seeing some level of saturation," said Bhan.
However, while a spike is expected, several factors could be working in India's favour.
"Population in European countries like Spain and Italy is much older than India. In addition, we have seen that in tropical countries like India, severity of impact has been lesser. But we don't know whether this is because of exposure to tropical infectious diseases in India and neighbouring countries like Pakistan and Bangladesh," added Bhan.
---
Also read: AstraZeneca-Oxford vaccine is still the global front-runner despite delays
---