New Delhi: Pakistan President Arif Alvi was recently caught in a frivolous scandal of typo-filled tweets, and mocked for it on Pakistani Twitter.
While one tweet appeared as if President Alvi was attempting to call a cab from Pakistan Air Force Golf Club in Islamabad before typing the Union Jack emoji, others seemed like he was spamming the letter "M" before tweeting.
New official presidential language of #NayaPakistan #Mum_mmu pic.twitter.com/vNA0L5J28l

— ????? ?????? (@OwaisAhmedKha18) August 8, 2021
Behind the scene #Mum_mmu pic.twitter.com/Z7SOzhAL46

— h-m-m-a-d (@iamhmmad1) August 9, 2021
His errors were deemed as Pakistan's "covfefe" moment, in an amusing reference to former United States President Donald Trump's famous typo in 2017, which spawned an endless stream of memes and callbacks in films and TV shows.
However, the gaffe-strewn tweets were soon removed from President Alvi's account, as announced by consultant to the President, Adil Ansari.
President @ArifAlvi is an active Twitter user & keeps himself aware of news events, chattering on certain topics etc from this very platform.

As a sports lover, he was out for his activity time & phone must've remained opened in pocket & thus the tweets.

Tweets are now DELETED.

— Adil Ansari (@AnsariAdil) August 8, 2021
As a result, a handful of users lamented the swift deletion as well as the lack of comedic material resulting from the typos, in contrast to Trump's "covfefe."
They deleted the tweets ? https://t.co/EKdJ1izx30 pic.twitter.com/V0sFhFosHT

— ıɐzlɐdod ɹɐʎɹəɥɐɥs (@spopalzai) August 8, 2021
Alvi's son, orthodontist Dr Awab Alvi, also found the funny side in the President's "gibberish pocket tweeting" potentially triggering a nationwide "Twitter crisis."
A National Twitter Crisis due to gibberish pocket tweeting ?

— Awab Alvi (@DrAwab) August 8, 2021
Twitter user 'toldja cat' posted that it lacked the "zing" compared to Trump's "covfefe" tweet that made the incident less meme-worthy.
covfefe just set the bar too damn high! Unfortunately our President's version just doesn't have the same zing and therefore not as meme worthy ??

— toldja cat ? (@manahylk) August 8, 2021
However, #mum_mmu soon began trending on Pakistani Twitter.
One Jawad Haider, for instance, posted a picture collage of the "#mum_mmu gang", while user Muhandis joked that the errant tweet was "a code word for PTI aunties," in a dig at Pakistan's ruling political party, the Pakistan Tehreek-e-Insaaf. Another user pointed out the "behind the scenes" of the original tweet President Alvi had replied to.
Pictures of #Mum_mmu gang… pic.twitter.com/9xhbVakBC9

— Jawad Haider.PMLN (Wear a Mask to Stay Safe) (@jawadhaider007) August 9, 2021
I think #Mum_mmu is a code word for PTI aunties.

— Muhandis (@TheMuhandiss) August 9, 2021
Meanwhile, user Khurram Qureshi posted a picture of Imran Khan and the Pakistan Army beside him with #mum_mmu.
#Mum_mmu pic.twitter.com/ru2OBrZksJ

— Khurram Qureshi (@qureshik74) August 9, 2021
---
Also Read: Hindu boy in Pakistan forced to chant Allahu Akbar, but it's the President who made a boo-boo
---
President Alvi and social media
This isn't the first time President Alvi has made a splash on social media. He made an official account on TikTok last month. However, soon after, the Imran Khan government banned the app for the fourth time in less than a year.
In his debut announcement video on TikTok, President Alvi said he is a "dreamer" who "sees light in everything", and had also used the platform to urge people to follow Covid-19 rules during Eid. But the unexpected nature of the move and TikTok's target demographic meant that the 71-year-old President's well-meaning messages also became the subject of memes.
President of Tiktok Dr arif alvi on his way to #Islamabad sindh #E11 pic.twitter.com/glNGtM1eWq

— Saba Hyder (@SabaHyder1) July 28, 2021
Did you know!
Present President of #Pakistan Dr. Arif Alvi is now personally on #TikTok to spread positivity by his video.

Please someone tell him Positivity wali dusri hai,#Malok_Shoujaat

— Malik Shoujaat?? (@Malok_Shoujaat) July 17, 2021
On Facebook, users called for President Alvi to add their invitation code and said that he will "work for their betterment".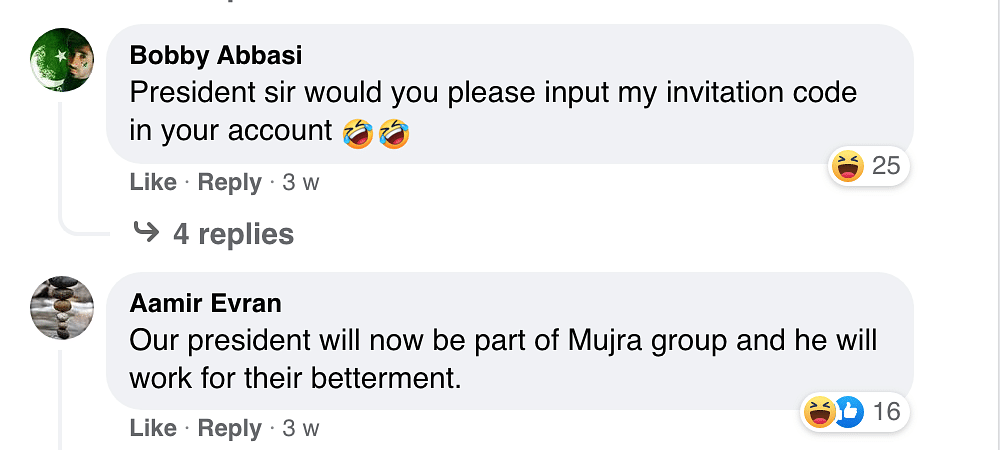 User Farhan Hashmi quoted him saying that he was spreading "positivity".

One user asked if the president would collaborate with other TikTokers. Another said that they were waiting for all politicians to make an account on the platform because that's where they "perform".


Meanwhile, user Gauahar Khan claimed that the entire Pakistan government was "TikTok material."

President Arif Alvi had previously tweeted about watching Fifty Shades of Grey in 2015 that was deleted only last month.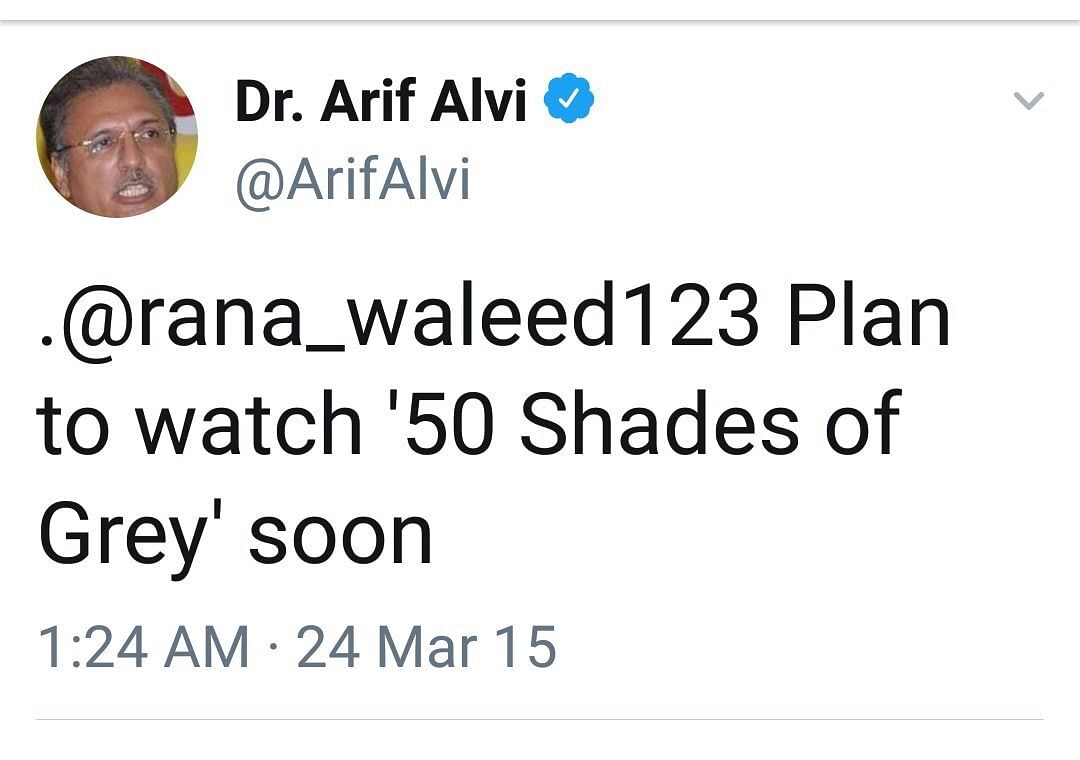 A member of the PTI, Alvi was elected as the country's 13th president on 4 September 2018, a month after the election of PTI chief Imran Khan as the country's 22nd prime minister.
When he is not dazzling Pakistani social media users by embracing new platforms, President Alvi performs his presidential duties, delivers speeches and also puts out the occasional opinion article, as he did earlier this week for Dawn.