A café in Junagadh is cashless. It's practising the ancient system of barter. In a world where the moral value of plastic is rapidly diminishing, this Gujarati café is treating plastic as if it was money. And in many ways, it is money.
Here at Prakrutik plastic cafe, a kilogram of plastic waste can be traded for a plate of dhokla. For half a kilo of plastic, patrons can pick a free beverage from a glass of orange to lemon soda. 
"All the plastic that is collected in the cafe is given to a local agency that recycles it," said Rekhaben, one of the owners. Her 21-year-old daughter joins her at the counter as they look out over the bustling dining area.    
The three women who manage the government initiative whip up wholesome meals and snacks such as dhokla, aloo paratha, and idli that taste of home. They eschew maida, embrace fresh vegetables, and use oil judiciously. 
According to Rekhaben, as many as 15 customers bring in plastic waste from bottles, plates, containers and cutlery each day in exchange for food. Each consignment is weighed on a machine and if a patron falls short of 500 grams, he or she can open a 'tab'.
"If customers only bring in 300 grams, we note it down. They can take their free meal and obtain more plastic in a day or two," Rekha says with a grin. 
The free homestyle food is a hook that draws customers back to Prakrutik plastic cafe again and again. 
---
Also read: Scientists crack upcycling plastics to reduce greenhouse gas emissions
---
A government initiative
The cafe is the brainchild of Junagadh's collector Rachit Raj, which is a part of government initiative to increase public awareness about the need to reduce plastic consumption and recycle it whenever possible. The government has provided the building free of cost.  "We spent Rs 1.5 lakh to furnish it up and make it more attractive," said Junagadh's sub-divisional magistrate (SDM) Bhumi Keswala.
The government is banking on creating more awareness among citizens. In 2019-20, Gujarat generated about 28% or 24.85 LMT of hazardous waste in the country. Recycling was also low that year: Of the 24.85 LMT generated, only 12.25% was recycled. Compare this with Maharashtra and Tamil Nadu, which generated 9.99 LMT and 9.64 LMT, respectively in 2019-20.
The cafe, which can seat as many as 10-15 patrons, is run by three women. While Rekhaben oversees the kitchen, Vaishali and Sima handle the till and attend to customers' requirements.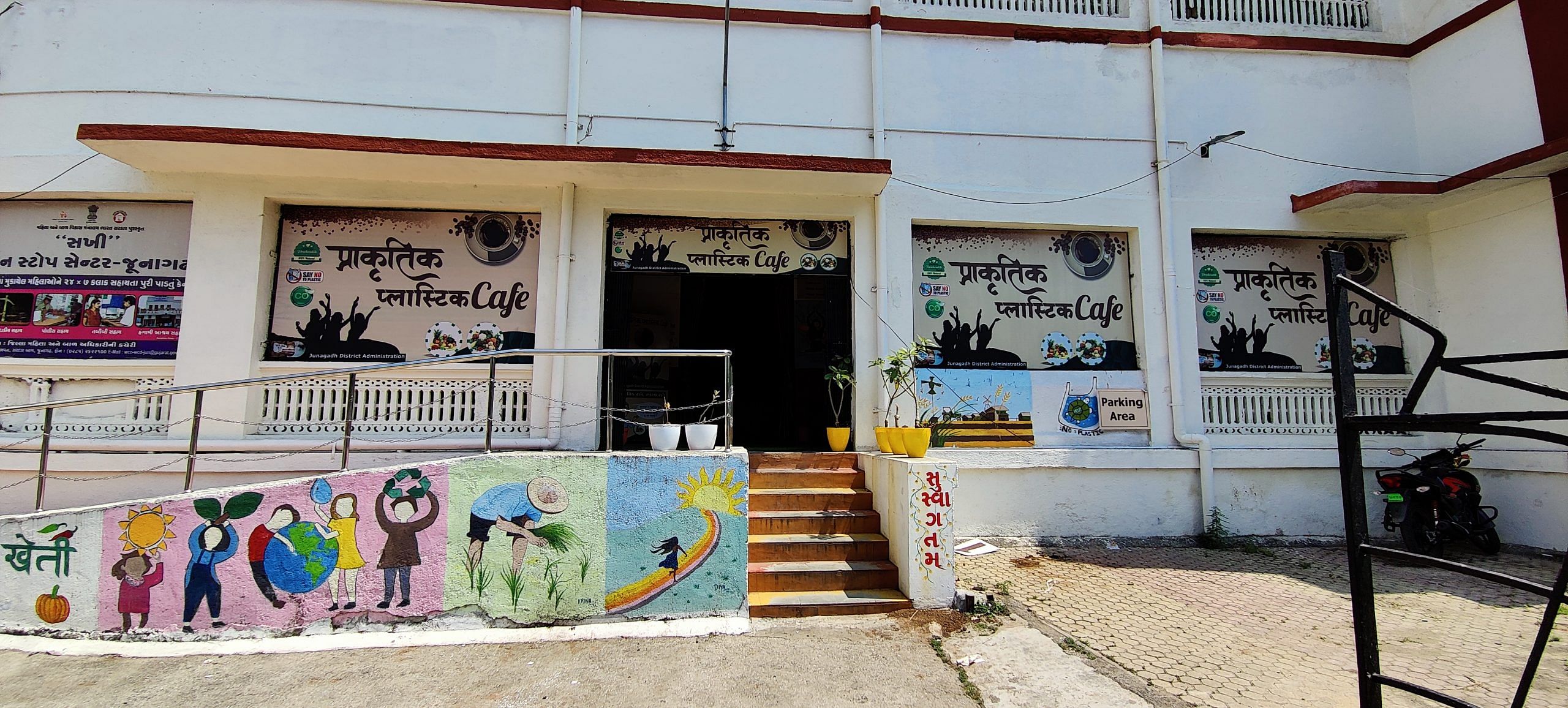 ---
Also read: Express your love for nature this festive season by celebrating eco-friendly Diwali
---
Welcoming atmosphere
Diners have embraced this 'waste for food' philosophy enthusiastically. That no item on the menu is over Rs 100 is another draw. Though it's only three months old, word has spread quickly, and the cafe is rarely empty. 
Yogesh (27) is one such 'regular', and dhoklas are his favourite. "The best part is that the food is home-like, healthy and cheap. Apart from this, the initiative of giving food for plastic is also unique. I have already told many about this outlet," he said, whipping out his phone to take a photo of a painting on the wall. His friend, who is visiting the cafe for the first time, is focused on his plate of dhoklas.  
One of the most popular items is the Gujarati thali which is for Rs 100. "It's top class," said one customer dipping his roti into a bowl of daal. The colourful thali contains little bowls of vegetable, salad, rice, papad and comes with a glass of fresh buttermilk. 
Employees practise what they preach and use natural materials wherever possible. There is no sign of any plastic in the cafe or the kitchen. Baskets are made of jute and plates and tumblers are fashioned out of clay with a brown glaze. 
"People like the food as well as the concept. We also sell earthenware," says Rekhaben while serving aloo parathas to a customer, Lalita.
This is Lalita's first visit to the cafe, and she, like other customers, can't stop raving about the welcoming atmosphere and delicious food. "I had come to Junagadh for some work, and was looking for a place to eat when I saw a big yellow and brown board on the road reading 'Prakrutik plastic cafe'. 
Many first-time visitors do not believe that there is really a cafe that gives food in exchange for plastic, says Rehkaben. At the end of the day, the plastic waste is loaded onto a rickshaw and taken to a recycling centre.
When she first heard about the cafe, 20-year-old Shweta didn't believe it. "Then I came here and saw that it was all true." She started collecting every abandoned and broken plastic item she could lay her hands on. "And the next time I visited, I brought enough plastic waste for two free plates of dhokla."
(Edited by Tarannum Khan)