New Delhi: Few writers in the Indian context have captured human emotions like Sarat Chandra Chattopadhyay has. The famous Bengali author, perhaps even the most celebrated, was known for stories that shone a light on interpersonal relationships and lives in small-town India. Devdas, Parineeta and Charitraheen are some of the books in his incredible body of work that he is famous for.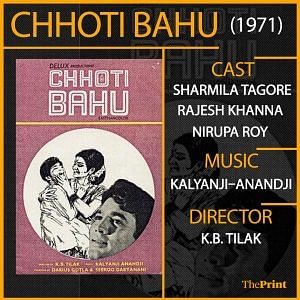 On his 143rd birth anniversary, ThePrint looks at the 1971 film Chhoti Bahu, based on his book Bindur Chhele.
Spot on performance by Sharmila Tagore 
Starring Sharmila Tagore and Rajesh Khanna, Chhoti Bahu is a drama about family and motherhood. Tagore plays Radha, a young woman who suffers from epileptic fits every time she is separated from her favourite doll — which she treats like her child.
Her father decides to get her married to Madhu, an up-and-coming doctor of humble antecedents, without telling him about her condition. Although he needn't have worried — she is accepted into the family even after they find out about it.
As Radha yearns to be a mother, Madhu's sister-in-law (played by Nirupa Roy) gives away her son to the former. Years pass and the family prospers before a jealous relative decides to stir the pot and create tension between Radha and the family. The ways in which the beloved 'chhoti bahu' deals with these conflicts makes for the rest of the story.
Chattopadhyay's novel takes a much subtler approach to the plot, focusing more on the relationship between Radha, her adopted son and his biological mother. The film, directed by K.B. Tilak chooses to apply a more dramatic, Bollywood lens to the story.
The conflict shapes up to be a typical Bollywood film, with the characters walking out of their homes and simple misunderstandings being blown out of proportion. However, the underlying story is an interesting and unique tale of love.
Radha's character makes for a great study in human behaviour. She is portrayed as innocent, pampered, almost a child-woman, who is suddenly pushed into the very adult world of marriage and motherhood.
When Radha is given custody of her son, she dotes on him to the point of obsession. She treats everyone with love and respect, but also demands that things be done her way — and much like a spoilt child, she gets her way. It is when things start to fall apart, especially her relationship with her son, that the true test of her character takes place.
Although Chhoti Bahu is considered one of the string of successes that Khanna is famous for, it is actually Tagore's film. Her performance is spot on, while Khanna and Roy prove to be reliable supporting actors. The music, although not award-winning, is catchy and goes well with the theme of the film.
The story is a testament to Chattopadhyay's knack for writing female characters. They weren't always the well-behaved, sacrificing and convenient plot points. His female characters had personalities, with shades of grey. Irrespective of whether you rooted for them or not, you are inevitably invested in their stories because well-written female characters make for great protagonists and Radha, or Chhoti Bahu, is proof of that.
---
Also read: Meena Kumari was more than just the tragedy queen and this movie shows us why
---