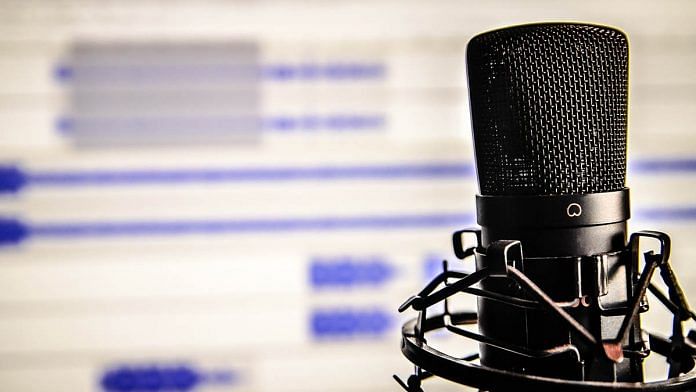 New Delhi: Deepika Arun, who ran a children's activities centre, began a Tamil audiobook podcast as a side hustle in April 2019. Fast forward to today, the podcast, 'Kadhai Osai', where she narrates ancient Tamil novels, has became immensely popular, making Arun one of the leading Tamil audiobook narrators in the country. She now works as a publishing manager at Swedish audiobook company Storytel.
Arun's journey is just one such tale from the country's flourishing podcast industry. While relatively new as a medium, podcasts have gained a lot of ground in the past few years across the world, especially in India.
By the end of 2018, India had 40 million monthly podcast listeners, a 57.6 per cent rise from 25.4 million the previous year. It is also the world's third-largest podcast market, after China and the US, and is estimated to reach 17.61 million by 2023.
Mae Mariyam Thomas, who launched India's first indie music podcast 'Maed In India' in 2015, attributed the growth in this industry to India's love for stories and storytelling.
"We're a nation that loves storytelling — whether that's through fiction, interviews, or people talking about their personal experiences, we love being told stories," Thomas, whose podcast was part of Apple's Best Indian Podcasts of 2018, told ThePrint.
This was especially evident during 2020 when the coronavirus-induced lockdown forced most of the country's population inside their homes. Despite an initial decline, there was a 42 per cent increase in the time people spent on audio streaming platforms like Spotify, Gaana, JioSaavn and others in March last year.
In 2020, many of these platforms also saw a rise in their podcast content, especially locally produced ones.
Spotify, the world's largest music and podcast streaming service, launched nearly 30 original podcasts with local creators in a span of one year while JioSaavn, an Indian streaming platform, saw its content grow 200 times in 2020, compared to 2019.
---
Also read: Kashmir, parenting, sex – Podcasts are finally giving Indians what they want to hear
---
Self-help during lockdown through podcasts 
The past year was a time of uncertainty and apprehension due to the pandemic, and this was reflected in the content choices that listeners made.
"Indian podcast listeners shared a strong appetite for self-help and motivational content," Amarjit Singh Batra, managing director of Spotify India, told ThePrint, adding that the most listened to podcasts of 2020 were Ted Talks Daily, On Purpose with Jay Shetty and Gita for the Young and Restless.
This quest for self-help and motivation increased podcast streaming on several of these platforms.
"As per Spotify's survey with YouGov last year, 50 per cent of Indians prefer to listen to at least one episode of a podcast in a week. This shows how podcast listening is growing in India and on our platform," Batra said.
On JioSaavn, the flagship entertainment podcast #NoFilterNeha, hosted by actor Neha Dhupia, received 1.8 million listens last year.
"Even during the peak of the lockdown, we saw our listeners grow by 20 per cent and podcast streaming by 23 per cent in 2020," Ishani Dasgupta, head of Podcast Partnerships at JioSaavn, told ThePrint.
However, not everyone believes that the Covid-19 pandemic was advantageous for podcasting as a whole.
Amit Varma, the host of The Seen and the Unseen podcast, one of India's most popular weekly podcasts with over 1,50,000 downloads per month, noted that while his audience increased in the past year, it could have been better if not for Covid-19.
Why podcasts?
A large part of the success of podcasts in the country can be attributed to the fact that younger generations are largely veering towards them for entertainment, self-improvement and knowledge.
According to a report by Spotify, 45 per cent of Indian millennials and Gen Z listened to at least five podcast genres regularly in 2020.
The report further noted that 76 per cent of Indian millennials and Gen Z used audio to cope with stress and anxiety, compared to a global proportion of 68 per cent.
But perhaps the most prominent reason is the deep connection that listeners feel to podcast hosts, which is not the case with visual content.
The report cited above also noted that 80 per cent of Spotify's listeners said that it was easy for them to emotionally connect to a podcast host and tuning in felt like listening to a friend.
According to Varma, "People crave deep content, especially because most media in these times are catering to the lowest common denominator and serving up shallow, simplistic content. Audio gives you the scope to go deep."
Even Arun, the host of Kadhai Osai, agreed with the same. "The reason I chose audio over video is for the simple fact that it is less distracting and a more immersive experience for listeners."
---
Also read: Covid has brought digital overload, not just fatigue
---
Diverse audio content
Podcasts were first introduced in India in 2005 when Apple launched iTunes 4.9 with the built-in Apple Podcast app in iPhones.
However, since then, podcast content has come a long way and has fast become one of the most diverse content-driven industries in the country. There are podcasts in various regional languages, on queerness and sexuality as well as those related to different cultural traditions.
The first two seasons of the Spotify original series Lifetime, produced in collaboration with media company All Things Small (ATS), focused on the lives of two eminent actors-turned-politicians from South India — Tamil Nadu's M.G. Ramachandran or M.G.R. and N.T. Rama Rao or N.T.R. from Andhra Pradesh. The two seasons were recorded in Tamil and Telugu respectively.
"Telling the story of M.G.R's life in Tamil and N.T.R's life in Telugu was a truly satisfying challenge rather than introducing these personalities to audiences that did not know them at all," said Gaurav Vaz, co-founder of ATS.
Another podcast Keeping it Queer looks at the world through a queer lens.
"The main idea was to normalise queer stories through our experiences. And audio, unlike video, helps the brain focus on how people on the other end feel when sharing their stories," Noronha, co-host of the podcast, told ThePrint.
Noronha and his co-host Farhad earlier ran another show called GAYBCD, which focused on how laws, politics, pop culture and social behaviour affected the lives of the LGBTQIA+ community.
For many of these creators, the podcast field allows them the space to indulge in diverse content.
According to Rathiulung Elias, host of the podcast The Contemplative Tribal, on tribal life in the Northeast, it is a medium for the marginalised.
"Not only has this medium amplified the voice of the marginalised people but it also empowers us to 'undo the misrepresentations' of the Northeast people and their culture in India and abroad," Elias told ThePrint.
Future lies in monetisation
While India's podcast industry continues to grow in terms of content, producers and listeners with free streaming and distribution platforms, it is monetisation that will determine if this growth sustains in India.
While many believe it is too early to market audio content in India, there have been some precedents.
The podcast network IVM Podcasts has produced several branded podcasts like the Paisa Vaisa for PayTM Money and MF101, an informative series on mutual fund investment, for Bloomberg Quint and Aditya Birla Mutual Funds.
Advertisement between podcasts is another source of revenue for the industry. While advertising revenue reached $7.2 million in 2018, up from $0.5 million in 2014, a PricewaterhouseCoopers (PwC) report estimated that as the audience grows, the revenue is set to rise at 58.9 per cent per annum to reach $72.9 million in 2023.
And those involved in the industry are confident about the industry's growth potential.
"Listeners want to be told stories, to learn something new, and to listen to a companion without having to compromise with their time … audio storytelling in India has a high potential for growth and we've seen the start of that in the past year," said Batra, Spotify India's managing director.
---
Also read: Better than Netflix, torrents — Why Telegram is the new destination for movies, shows online
---