Gurpreet Arneja's 13-year chartered accountancy career in Delhi was peaking, and at home, a baby was on the way. It was not a good time to rock the boat. But Netflix, Disney+ Hotstar and Amazon Prime dreams couldn't wait. Despite the fevered keyboard clacking and number-crunching at office, stories inspired by the Disney Hour on DD channel of his teenage years were brimming inside his head.
Then Covid hit. And like everybody in the world, 33-year-old Arneja also began evaluating his life choices in an uncertain world. He had to become a storyteller.
Arneja's isn't a rare case. The old rags-to-Bollywood dream story was one about actors. Today, lawyers, engineers and management professionals are either making the time or giving up their flourishing 9-5 careers to chase the new screenwriting gold rush in India.
From writing labs to classroom courses and competitions, the explosion of Over-The-Top (OTT) platforms such as Netflix, Amazon Prime, Voot, Zee 5 and Disney+Hotstar is the new big draw for creative minds. These 24×7 content machines have deepened the viewer market and expanded India's appetite for newer plotlines.
Content is queen after a very long time. And old Bollywood just can't cope with this demand.
---
Also read: Pushpa to Bhool Bhulaiyaa 2—Covid altered Indians' entertainment buds, masala movies are back
---
Engineers to doctors, all want to write scripts
OTT-writing classrooms have mushroomed—from Whistling Woods International to Mumbai Mantra's Cinerise, AIB First Draft, Living Bridge and The Film and Television Institute of India's full-time courses and mentorship programmes.
"I decided to give my dream a shot," says Arneja. With a baby on the way, he couldn't escape the safety net of his CA job, but he rolled up his sleeves and squeezed in some time to acquire new skills. He started his "life-altering" journey and enrolled in an advanced web series writing course at Mumbai's Whistling Woods International.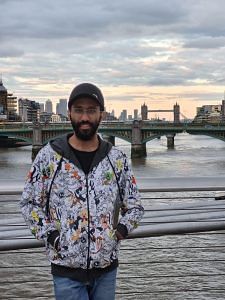 "Initially, I wanted to write an animated movie/series, but this course taught me more. Things I wasn't even aware of myself. Everyone has a story to tell; what makes it different is how one tells it," says Arneja, who had his child a month after starting the Mumbai-based film school.
His online class was a mix of professionals who, like him, wanted to explore the what-ifs of paths not taken. There was a doctor from Norway, engineers and lawyers.
"Engineers are especially common in the programmes offered at Whistling Woods and FTII. The entire TVF (The Viral Fever) brand, if you see, has been made by engineers," says Sweksha Bhagat, an FTII alumnus and award-winning screenwriter who helms the flagship series writing course at Whistling Woods. Sweksha has written the scripts for mega TV hits Kulfi Kumar Bajewala, Peshwa Bajirao and Chakravartin Ashok Samrat.
A carpe diem moment gave aspiring screenwriters an impetus to push the boundaries of their safe and secure lives. "People have started to think that life is too short to have unfulfilled dreams. They have committed six months of all their weekends to a course. It is not a frivolous thing," says Bhagat.
A hiatus in theatrical releases and a lockdown-induced ban on new projects caused OTT and web-screenwriting to find a large market. In addition, flexible remote work options, affordable subscriptions and round-the-clock internet access gave Indian audiences increased freedom of choice. The rise of OTT platforms was even evident in small-town India.
"…The growth rate of new users in tier – 2/3/4 regions was 1.5x that of the growth rate in Metro and tier-1 during Covid time," wrote ET Brand Equity. Cut to 2022, and India's burgeoning OTT segment is expected to reach the $46 billion mark.
"I got through the written exam at FTII and was surprised. That was my moment of truth," says Vaidehi Sancheti, who was a 38-year-old engineer at Infosys before she found her calling in screenwriting. In many ways, she was ahead of the curve; she took the plunge and cleared the exam in 2015.
Like Arneja, she too had children, with never-ending societal obligations that women, particularly mothers, are often burdened with. But her dream to write for the silver screen trumped all else. Seven years later, Sancheti leads screenwriting workshops at Living Bridge Pune, FTII and Whistling Woods, among others.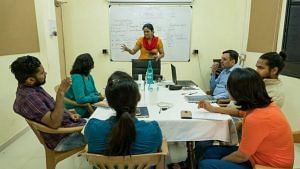 ---
Also read: Gangs of Wasseypur ended plastic NRI dramas. Gritty small towns have ruled Bollywood since
---
The writers' room
The Mecca of Indian filmmaking, FTII's screenwriting courses are not only writing intensive but also teach theories and offer mentorship from industry leaders and veterans. Over two years, students learn the ABC of the craft, acquire basic knowledge of episodic writing and come up with a pitch-ready "short film, a TV bible, one feature film screenplay and a web series broad story in a stimulated writers' room." Most workshops and competitions derive heavily from this model.  The major difference, however, is in price. While a two-year screenwriting course is priced at Rs 1.23 lakh at FTII, a one-year diploma at Whistling Woods can cost slightly over Rs 4 lakh.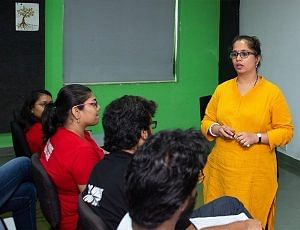 A vast domain, screenwriting isn't restricted to just one medium. The courses on offer delve into the overarching and granular differences in writing for television, mini-dramas and web series. TV shows allow a "slight release" every day, but web series are meant to shock you, hold you and keep you curious.
"Web series take the best from TV and cinema and fit it into a shorter time frame. It is like their love child packaged in seven to eight episodes," says Bhagat.
In television, the 'hook' is crucial. An essential ingredient, it has to entice viewers to come back every day. It has to "steal a half hour" from their life every day. But web series allow you to "delve into a character's life." Bhagat cites The Family Man as an example, where the viewer becomes privy to Manoj Bajpayee's character's home life and not just his role in an intelligence agency.
However, from the plethora of courses available, which ones are 'better'? From government and private to short and long-term, there are many choices for an aspiring screenwriter.
Government-run workshops and courses are cheaper and more inclusive, but also more challenging to get in.
Experts feel that the biggest benefit of short-term workshops is that they can tell aspirants how "close or far" they are from their dream by giving them a realistic portrait of what lies ahead.
But knowledge is not the only motivating factor for aspirants. Mentorship and the chance to connect with "big players" is also one.
"The curriculum is such that they will guide you, help you frame your stories in a better manner but at the end, they will also play middleman between you and the production house by teaching you how to pitch," says Arneja.
It is hard to resist the pull of India's growing screenwriting culture—and this is true even for established filmmakers. US-based director and former IIT alumnus Nikhil Kamkolkar had already made a full-length feature film called the Indian Cowboy (2004) before he chose to explore the Indian screenwriting space.
Kamkolkar feels stories travel universally when rooted in a land's zeitgeist and life rhythms. When he did a six-month course in India, he met many filmmakers and storytellers. "From Paatal Lok and Scam 1992, they were storytelling experts who root their stories in the specificities of India and Indian colours. So, I wanted to know their thought process," he says.
As exciting as this space is now, there was a time when screenwriting was not a legitimate, recognised subject. Not until master storyteller Anjum Rajabali decided to take matters into his own hands.
---
Also read: KGF, Pushpa, Baahubali — For South India, this is the era of multi-part movies
---
Bollywood starts reading scripts
It was Anjum Rajabali who designed India's first screenplay writing course at FTII in 2004, and set up the screenwriting department at Whistling Woods International in 2006. But his own journey into this space was purely "by accident". A graduate in clinical psychology, Rajabali had come to Mumbai to pursue psychoanalysis professionally. A successful information research head, he was good at his job, but "carried an emptiness inside".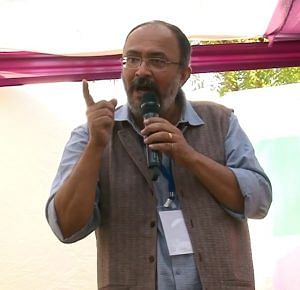 Today, the veteran is known for cult classics such as Droh Kaal (1994), Ghulam (1998), Rajneeti (2010), and Aarakshan (2011).
When he started his career in the 1990s, scripts "weren't being written as such."
"The director or producer called you and scripts were written on the go. A system would be constructed, dialogues would be written but there was no clear case of an entire written script being available," he says.
There is a lot that Rajabali deserves credit for, but his biggest area of impact has been in revamping the 'pitch process,' and of course, forming the educational committee at the Screenwriters Association (SWA), which mentors budding writers through the flagship SWA Script Lab in Mumbai.
In old Bollywood, scripts were a secondary issue and films would be greenlighted just based on ideas, says Rajabali.
Only in recent years has it morphed into a sophisticated process where a pitch is formed after a script has been written. It now acts like a filter, a trailer that gets the producer to read a script. A well-rounded pitch only serves as a tool to cut the clutter and the competition.
Most writers graduating from these courses are as 'pitch-ready' as they come, and the industry is ever-ready to lap them up.
---
Also read: Cinema wronged domestic workers — Hum Aapke Hain Koun to Kal Ho Naa Ho. The script's changing
---
Sky is the limit
Producers and writers have a symbiotic relationship now, and there is new-found and ready respect.
These courses and workshops allow leading talent management agencies like Tulsea and the Collective Artists Network to scout budding writers and present them to the film fraternity. It gives them "access to a pool of talented writers and proper, professionally written samples" that are hard to find otherwise, says Radhika Gopal, a representative from Tulsea.
"We have found some incredible talent from the AIB first draft programme, which Satyanshu Singh is mentoring. He is also a talent we represent and has been with us for several years. Apart from that (we find writers at) Whistling Woods, FTII and the Satyajit Ray Institute. Even screenwriting labs like Cinestaan and SWA competitions help introduce us to new writers," adds Gopal, whose organisation handpicked roughly 10 screenwriters from different courses over the last six months.
It is not only marketing agencies looking for an influx of fresh talent. Even OTT giants are supporting emerging voices. For instance, Netflix joined hands with the National Film Development Corporation (NFDC) to provide impetus to 100 talented female screenwriters in India. Interestingly, NFDC has developed the curriculum for this virtual screenwriting programme in partnership with Netflix.
"I had a very basic idea; I had a story but didn't know how to write it professionally," says Arneja. His story deals with "teenagers struggling to find the purpose of their existence". The idea evolved into an eight-episode web series, which he eventually pitched to Hotstar. While it is all still in the works, Arneja is happy that he got the chance to "live his dream."
Novelist Devendra Prabhudesai, known for his biographies on cricketing legends such as Sachin Tendulkar and Sunil Gavaskar, is also "excited" to be working on an undisclosed OTT project.  From Anupam Kher's 'Actor Prepares' to SWA to Whistling Woods International, Prabhudesai spent years perfecting his craft before moving to web screenwriting.
"The sky's the limit (with OTT), and it will only get better from here," he says.