New Delhi: From behind the windows of warm, bright interiors of Delhi's Full Circle Book Store and the age-old Bahrisons Booksellers in Delhi's posh Khan Market, a familiar bespectacled face wearing a round black cap stares at you — Vinayak Damodar Savarkar. Paperbacks to hardcovers, the books bear a name that now stands resurrected, larger than many still alive. Store attendants say that Vikram Sampath's two-volume account of the 'Father of Hindutva' is a 'popular choice' among non-fiction enthusiasts. Steady sales even after almost a year of its release are testimony to it.
Savarkar is not the only historical icon on India's bookshelves. Publishers are beginning to fill a critical gap in history by challenging the monopoly of familiar national figures. To capitalise on the growing appetite for history in India, they want to go beyond the much-explored ilk of M.K. Gandhi and Jawaharlal Nehru to cover personalities more rooted in Hindu culture and those that may resonate with the current national mood.
"Since BJP [Bharatiya Janata Party] has come to power, history has become sexier," says Juggernaut Books co-founder Chiki Sarkar.
And a quick peek through the publishing house's colourful catalogue confirms this. From Andy Marino's Narendra Modi: A Political Biography to Rima Hooja's Maharana Pratap: The Invincible Warrior, Juggernaut's carefully curated history and politics section is chock-a-block with accounts of immensely popular and unexplored figures.
The Hindi publishing industry is no different. Prabhat Prakashan is coming up with works on the 'unsung heroes of Uttar Pradesh' such as Rakt Ka Kann Kann Samarpit and Zara Yaad Unhe Bhi Karlo by Chiranjeev Sinhaji. Both books include short biographies of 75 unexplored historical icons of (mostly) Hindu descent who fought for India's Independence. These include 18th-century ruler Maharaja Chait Singh of Benares who conspired against the East India Company and its troops and arrested then-Governor-General of India, Warren Hastings.
"The impetus for such compendiums comes from the Uttar Pradesh government's repeated calls to hark back to the lives of persons who have given their entire lives (to India and the freedom struggle) but have not been given their due recognition," says Prabhat Kumar, director, Prabhat Prakashan.
And it's not just UP — Prime Minister Narendra Modi, too, encouraged budding authors to produce works on pre-Independence figures by offering to guide them under the Scheme for Mentoring Young Authors Under India 75 project launched last year. Backed by the National Book Trust (NBT), this project selected authors as young as eight years old and offered massive perks to the winners.
Rashtriya Swayamsevak Sangh (RSS) leader Mohan Bhagwat also met some publishers in Delhi a few months ago and encouraged them to commission more historical biographies.
Hindi Sahitya Sadan has also released a spate of such biographies. These include Antim Hindu Samrat: Hemchandra Vikramaditya, based on the life of India's 'last' Hindu king Hemu, and Dharmveer Haqiqat Rai, which talks about a 17th-century critic of orthodox Islam killed for refusing to convert and whose legacy is revered by Hindus and Sikhs alike. The publication house has even released an account of Bengali revolutionary Khudiram Bose. Interestingly, Home Minister Amit Shah visited Bose's native village of Midnapore in 2020, shortly before the 2021 West Bengal assembly elections. Shah went on to say, "Khudiram Bose belongs to all of India and not just West Bengal," while felicitating his family with honorary robes. The Narendra Modi government is once again looking to revive the histories of 'unsung heroes' of India's freedom struggle for the upcoming 76th Independence Day — in collaboration with the Ministry of Culture, the accounts of Bhavani Dutt Vaishya, Tara Dutt Pandey, Sitambar Pant, among others, are on its reading list.
Kumar says that these books are an effort to bring maligned, disregarded, and ignored figures to light. The effort is to democratise the story of the freedom movement and not limit it to tall leaders from elite families.
Who's next?
The last 10 years have been momentous in terms of historical scholarship, with authors like Nilanjan Mukhopadhyay revolutionising the country's political discourse with detailed accounts. Mukhopadhyay's RSS—Icons of the Indian Right delves into the lives of 10 stalwarts, including Keshav Baliram Hedgewar, Madhav Sadashivrao Golwalkar, Syama Prasad Mookerjee and Balasaheb Deoras, to assess the BJP's tremendous success in the Indian political landscape.
And then there is Rajeev Mantri and Harsh Madhusudhan's A New Idea of India, which challenges Nehruvian Ideas of Indian polity and was lauded and endorsed by PM Modi in a 2020 tweet.
Over the past few days, I have been reading, 'A New Idea of India: Individual Rights in a Civilisational State' by two bright minds @harshmadhusudan and @RMantri. Their work makes rich contributions to intellectual discourse. I hope you read it too… https://t.co/fcAiPr4mM4

— Narendra Modi (@narendramodi) November 19, 2020
The book even blamed a set of leaders and intellectuals for being the 'deniers of India's heritage' and who view India as merely 'an accident of history and a collection of communities'. "It builds on the ancient ethos of India — dharma — while contextualising it for the present times," the authors said in an interview with Wion.
A year ago, in Makers of Modern Dalit History, authors Guru Prakash and Sudarshan Ramabadran offered a collection of biographical chapters of Dalit historical figures with a new lens — not of pessimism but aspiration. The book featured Vyasa, Valmiki, Sant Janabai, and Kabir, among others and called for bringing the focus back on the nation as one entity.
Now that such figures and ideas are in the zeitgeist, who's next? People either have a wishlist or they are speculating.
"(Nathuram) Godse is already being glorified and celebrated. Dhirendra Jha's brilliant book has exposed Godse's close ties with the RSS. In the current political scenario, I won't be surprised if someone does a quarter-baked biography of Godse as a great Hindutva icon," says Akshaya Mukul, author of Gita Press and the Making of Hindu India and biographer of Hindi literary icon Agyeya.
Vijaya Raje Scindia, a figure crucial to the BJP, could come up in a big way, while Dattopant Thengadi, Deen Dayal Upadhyaya, and Balraj Madhok deserve to be covered more, according to Vinay Sitapati, author of India Before Modi and Jugalbandi: The BJP before Modi. All scholarship should be at a distance from politics, though, he says. "If, as a biographer, you make people in power vet your work, then you lose credibility," he adds.
One BJP leader said he would like to see books on Chanakya and Bhaurao Deoras. Known for his sharp political mind, Bhaurao could never emerge from the shadow of his brother, Balasaheb Deoras. However, he was responsible for nurturing young leaders — many of them non-Brahmin — like Modi, Uma Bharati and Govindacharya.
Works on Chattrapati Shivaji are also in the pipeline, mainly because most existing accounts on him are decades-old. "For some, he is a Hindu icon, and for others, a secular icon, which is interesting. He will be a very relatable figure in modern times, too," says author Vaibhav Purandare, who is currently working on the subject.
Purandare isn't wrong — Chattrapati Shivaji, after all, holds immense relevance for Maharashtra and regional parties like Shiv Sena.
Priya Kapoor, director of Roli Books, says that they are excited about publishing their first biography on Sushma Swaraj by Radhika Ramaseshan.
Suruchi Prakashan, an RSS publication unit in Delhi, has a list of new releases that include biographies on Bhagat Singh, Lala Lajpat Rai, Chhatrapati Shivaji and Maharana Pratap, among others.
---
Also Read: How Nehru added 'conditions apply' to Article 19(1)(a) & India lost way to gates of freedom
---
The rise of Hindu Right biographies
Changes in the political culture and dominance are evidently the biggest reason behind the rise of such books and biographies in popular culture. Many say it will democratise the freedom movement stories too beyond the handful of leaders.
"For a long time, we were focused on a limited number of historical figures like the Nehru-Gandhi family. They deserve to be written about, but I believe they were so much in focus because they were entrenched in power for so long," says Vaibhav Purandare.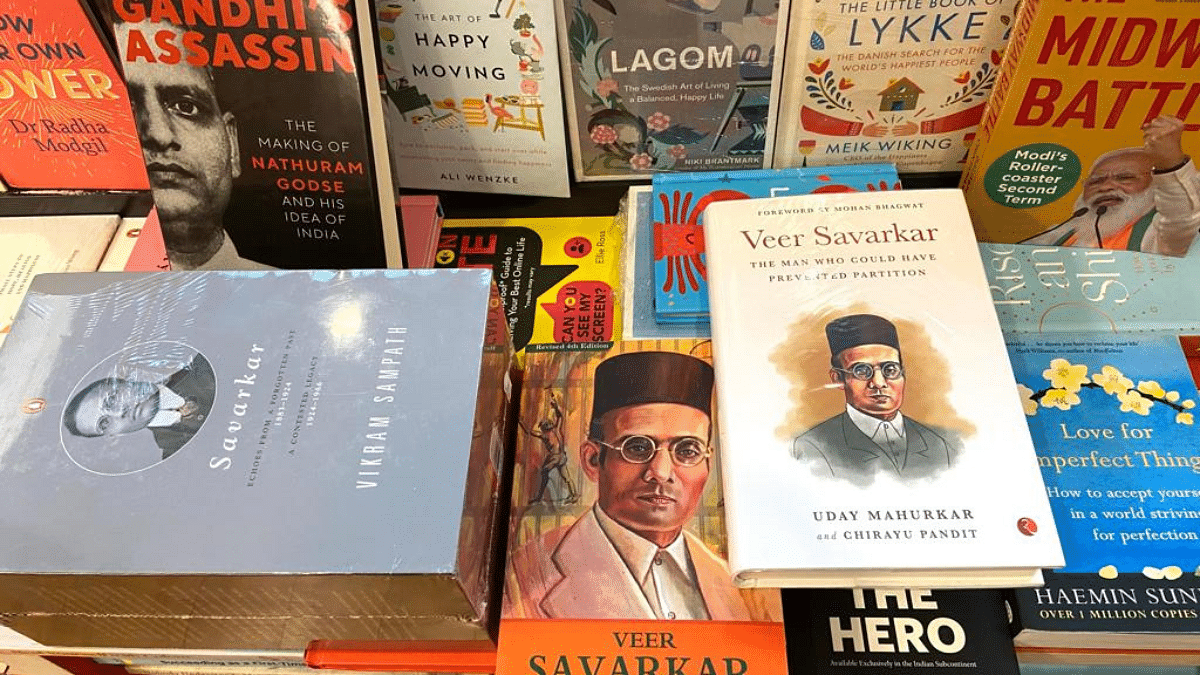 Purandare says such a rise traces its roots to these figures being ignored on the basis of their ideology.
Such narratives have always been popular. However, a Pan Macmillan spokesperson says, "With political shifts, there is definitely a simultaneous change in who is considered an 'icon' now. In a country as large as ours, we all understand that books only play a small part in what drives the national discourse, which, in turn, can drive everything else."
And then some say this rise can be traced to the Hindu Right groups' desperate search for an icon. Of course, the Congress has Gandhi, but who can the ideologues in power claim as their own?
"Just see the national movement from 1885 (formation of the Congress) to 1947. Basically, the Right wing has no icon, so there is this whole element of appropriating people like Madan Mohan Malviya or Sardar Patel," says Akshaya Mukul.
---
Also Read: 'Ideologically poles apart' – Savarkar on Gandhi museum's special magazine issue triggers row
---
Analysing the gap
Looking into the inception of organisations like the Indian Council of Historical Research (ICHR) provides context to this gap in historical works. In 1969, as per a 2014 DNA article, Indira Gandhi leaned heavily on the Communist Party of India to win a majority in Parliament. Nurul Hasan, a history professor with Marxist leanings, became the education minister and pushed for the creation of the ICHR in 1971 — a period that "marked the apogee for historians with Left leanings in India". Scholarship on Hindu icons was automatically ignored. The same is true for the NBT and the kind of scholarship it promoted.
Add to this the repeated bans on RSS — once during British rule and thrice in Independent India in 1948, 1975, and 1992, and there are correlations to be found.
Decoding market value
The adult non-fiction segment continues to be the most profitable in India. Nielsen Book Scan data reveals that India's non-fiction market has seen a jump of over 21 per cent by volume and 23 per cent by value in 2021. And the total profit for CY 2021 stands at a whopping Rs 4.7 billion. This contrasts with adult fiction, which sells for less, with its 2021 earnings capped at Rs 1.5 billion, as per All About Book Publishing.
An executive from a leading publishing house sees "shrinking readership for fiction" because when people think books, they think "value for money and knowledge".
Lit fests are becoming increasingly dominated by non-fiction books; contested biographies are bringing public attention and crowds.
Moreover, fellowships by the New India Foundation are providing a push to India's fledgling biography culture, giving amateurs and journalists a chance to publish original takes on history.
"A book's success, particularly biographies, depends greatly on how it's packaged. And a good one in hardback can range between 5,000 to 10,000 (copies sold)," says Pan Macmillan India. Leading Indian publishers say that in terms of sales and readers' responses, biographies perform "fairly good". "There is a consistent interest in and demand for credibly written and well-researched biographies," says Swati Chopra, Executive Editor of Harper Collins India.
Moreover, capitalising on familiar themes proves beneficial. For Juggernaut, it is their history and politics section. Chiki Sarkar claims that their history list does "fantastically well," adding, "The lowest number we sell is 5,000 (copies) in the first year and on the top, a Tony Joseph sold more than 35,000, while a Manu Pillai sells about 15,000 in year one."
But it's not just the Hindutva books that are getting read and sold. The books on the other end of the spectrum are also selling. Two examples: Audrey Truschke and Tony Joseph.
"I would argue that the hits have largely come from what you might call the 'Left', but the subjects have gained heat because the BJP has used them in their political conversations," says Sarkar.
This article is part of ThePrint's series on current trends in the book publishing industry. Read the series here.
(Edited by Humra Laeeq)