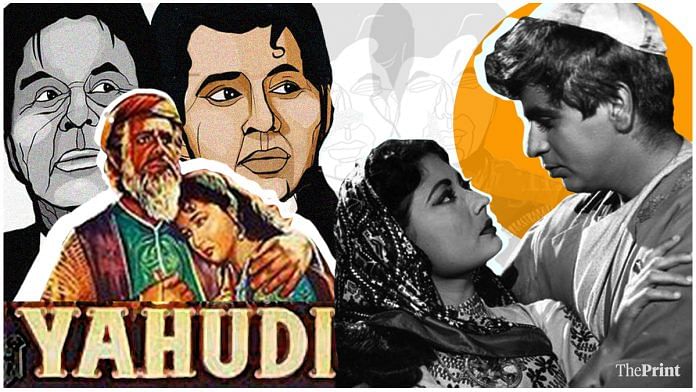 New Delhi: The idea of Indian actors playing Roman characters who speak Urdu may seem like a bit of a stretch, but trust ace filmmaker of yesteryears, Bimal Roy, to make it both an entertaining and convincing watch.
Yahudi (which means Jew), a 1958 film, based on Agha Hashar Kashmiri's (known as the Shakespeare of Urdu literature) play, Yahudi Ki Ladki, brought together Dilip Kumar, Meena Kumari, Sohrab Modi and Nasir Hussain, in what might have seemed like a risky experiment then, but was received well at the box office.
While remembering Bimal Roy on his birth anniversary, on 12 July, ThePrint revisited this action drama, which remains an entertaining watch even today.
---
Also read: Kohinoor', the 1960s gem that had Bollywood's tragedy king & queen at their comical best
---
A fast-paced & engaging story
The film is set during a period in history when Jews were facing persecution in the Roman Empire.
Yahudi opens at the Jewish quarters of Rome, where a young boy, Elijah (Master Romi), is playing, watched over by his nanny and family servant, Emmanuel (Ramayan Tiwari). Elijah is the son of Ezra (Sohrab Modi), a trader in jewels. Elijah goes on to the balcony to watch a passing procession, led by the governor of Rome, Brutus (Nasir Hussain). Unfortunately though, as the boy leans on the parapet to watch, a stone comes loose and hits the passing Brutus. Elijah is arrested on the charge of attempting to kill Brutus (much like in Ben-Hur).
Despite pleading innocence, Elijah is thrown into a lion's cage. An angry Emmanuel attempts revenge by kidnapping the governor's daughter, Lydia, with the intention of killing her. His master, Ezra, however, is a kind man. He does not want to punish the innocent girl for her father's crime and decides to bring her up as his own, renaming her Hannah.
This girl grows up to become a beautiful woman, played by Meena Kumari. Dilip Kumar, playing Marcus, a Roman prince, accidentally meets Hannah one day and falls in love with her.
Marcus is, however, supposed to marry the niece of the Roman emperor, Princess Octavia, played by Nigar Sultana. He changes his name to Moshe and pretends to be a Jew, to continue his relationship with Hannah. But when Prince Marcus's wedding with Princess Octavia is announced, a heartbroken Hannah demands justice in the Roman court.
Is Prince Marcus found guilty? Does he get to live his life with Hannah? Will Hannah ever find out that Ezra is not her real father — the answers are revealed in a dramatic climax.
---
Also read: Footpath — the 1953 Dilip Kumar movie that still holds a mirror up to society
---
A modern opera
The film's dramatic sets, beautiful costumes, dance performances and music make it look like an opera. Songs like "Ye mera deewanapan hai", penned by Shailendra, remain popular even today. The lyricist had received the first-ever Filmfare award for best lyricist for two songs from this film — Ye mera deewanapan and Meri Jaan.
The dialogues, by Wajahat Mirza, are so beautiful that one wonders why the use of Urdu has become so rare in Bollywood today.
The scenes between Dilip Kumar and Meena Kumari, full of playful innocence, are particularly enjoyable. The film is a complete entertainer that packs in romance, comedy, drama, tragedy and action.
From light-hearted scenes, such as the one where Princess Octavia lands at Ezra's home, while Prince Marcus is present there, or when Prince Marcus's assistant Antonio is trying to find Hannah's house, after being directed by Octavia to spy on the prince, the tone of the film changes to tragedy by the climax.
Bimal Roy was known for the authenticity and realism of his films. Some people, therefore, found Yahudi to be incongruous with Roy's genre of films. For example, the director was criticised for mixing Roman, European, and Indian costumes in the film.
For an ordinary viewer, however, these are minor suspensions of disbelief, easily done once caught up in the drama of the script.
(Edited by Poulomi Banerjee)
---
Also read: 8 songs that prove Anand Bakshi was Hindi cinema's lyricist for the common man
---