New Delhi: Prime Minister Narendra Modi seems to have an effective tool to communicate his motto of sabka saath, sabka vikaas: donning sabka libaas (garb). Well, almost. From tribal Naga headgear to Sikh headscarves, Modi has worn it all. But when it comes to anything remotely Islamic, it's a complete no-go.
Modi is a seasoned enough politician to know that for a public figure, fashion is not just a 'personal choice' but a potent political signifier that can convey allegiance, solidarity, and membership of a particular group — and also the opposite if need be.
This function of fashion is especially useful in a democracy, and even more so as polls approach. The PM has a particular fondness for headgear for this, possibly because it can make a loud statement but also be shed conveniently.
For instance, Modi wore a Sikh-style turban, in saffron of course, at a February rally in Jalandhar ahead of the assembly elections in Punjab. Similarly, when Assam went to polls in March 2021, he happily donned a japi, a traditional wide-brimmed straw hat.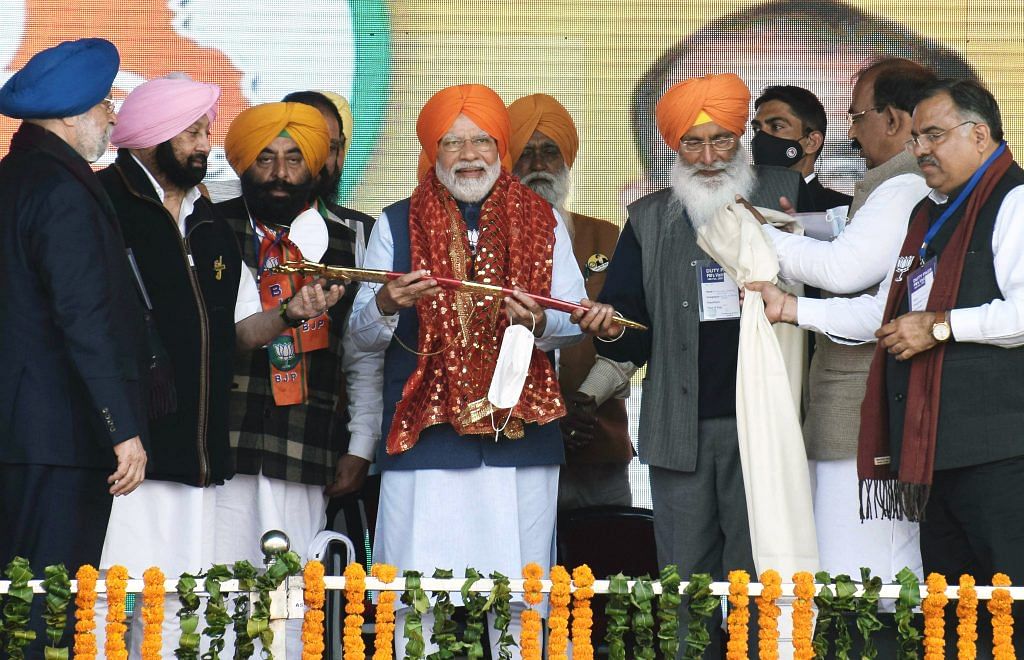 In the Uttar Pradesh elections, he not only mocked the Samajwadi Party's trademark lal topi (red cap), but countered it with an Uttarakhand-style saffron topi in his massive Varanasi rally. Indeed, this April, all leaders at the party's 42nd Foundation Day celebrations were asked to wear a version of this cap.
However, Modi doesn't only experiment with fashion for votes. He also uses it adeptly to convey different values and personal attributes, ranging from power to asceticism, for which task his facial hair has also recently become a handy accessory.
Further, there is also a message in what Modi chooses to not wear, especially when contrasted with the huge variety of garb he does gamely try on.
---
Also Read: Modi is a polarising figure and that's not a bad thing. But we need answers to 3 questions
---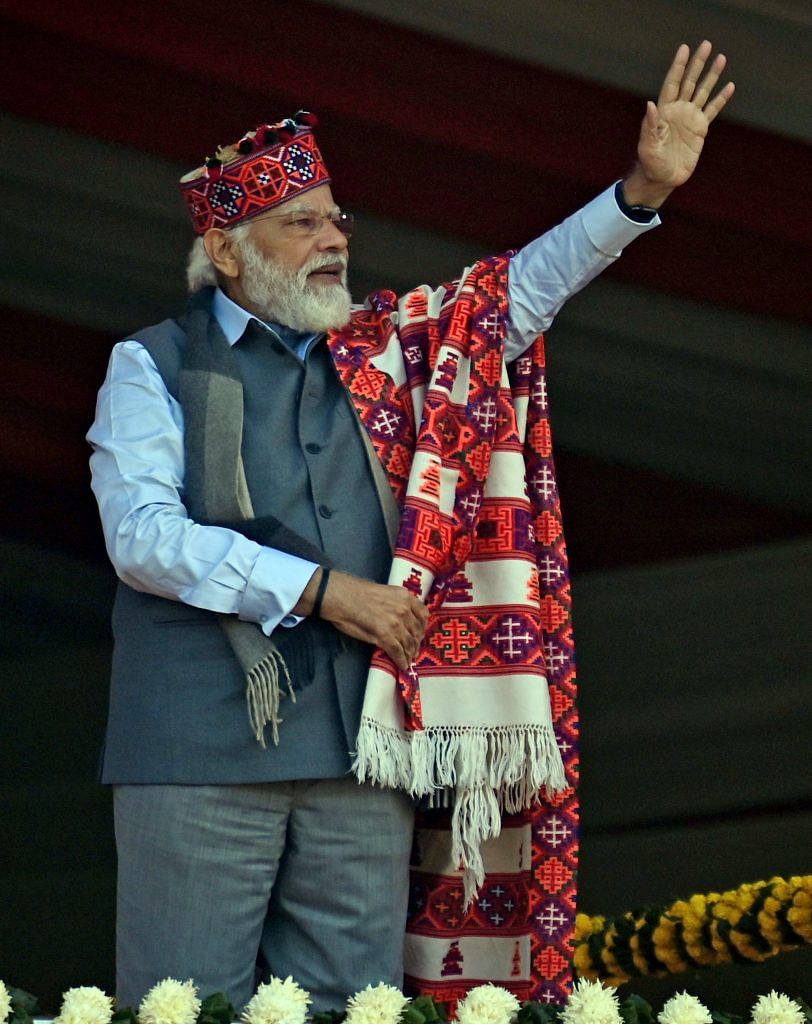 Designs for power
Starting from Jawaharlal Nehru and his trademark bandhgalas, pretty much every politician worth his or her salt in India has used clothing to cultivate a particular image or reflect a  belief system.
Some carefully maintain a visage of frugality and simplicity to reinforce their similarities with 'common people' and generally stick to uniform — like the Aam Aadmi Party's Arvind Kejriwal, with his defiantly shabby sweaters and mufflers, and the Trinamool Congress's Mamata Banerjee, with her white sari and basic chappals.
Others do a bit of mix and match, like Rahul Gandhi, who often sports the standard white kurta preferred by politicians but occasionally pairs it with 'youthful' designer accessories like sneakers and his much-hyped Burberry jacket. His mother Sonia and sister Priyanka, on the other hand, have a preference for starched handloom saris, subtly echoing the iconic style of the family matriarch and former PM Indira Gandhi.
But while a strategically dressed politician is hardly a rarity in Indian politics, Modi's lookbook is a class apart. His fashion is targeted, situational, and flexible.
In the domestic context, it is intended to position him as 'one of the people', depending on the place and the political needs of the time.
Then, there are the 'special cases', like Covid, when several commentators noted that Modi's white robes and flowing beard helped him to project a godman-like image in whom faith rather than expectations must be reposed.
He kept the look going through the West Bengal elections too, amid speculation that he was trying to emulate the scholarly and sagely appearance of the state's Nobel laureate poet Rabindranath Tagore.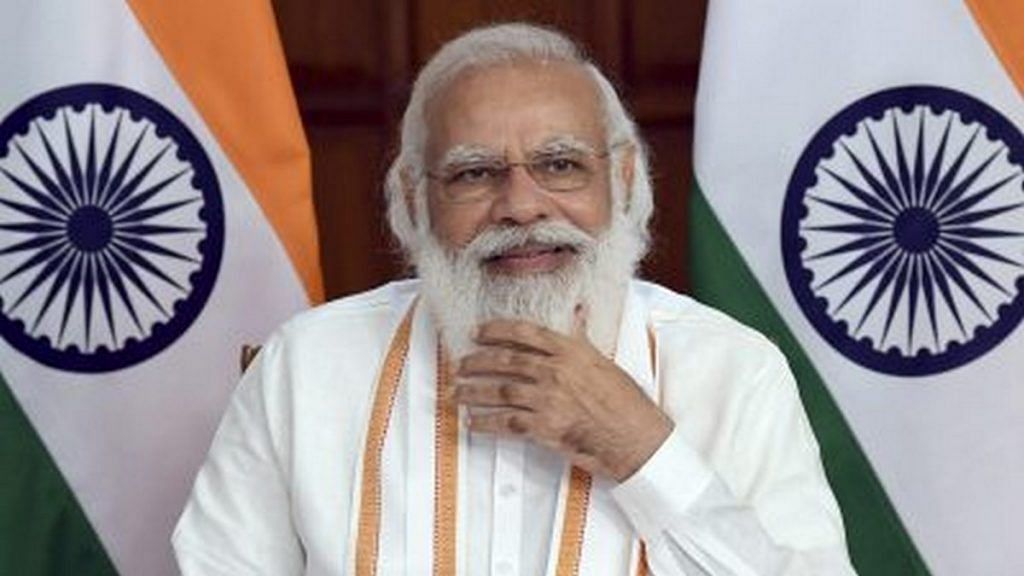 Writing for ThePrint, political columnist Zainab Sikander observed: "Going by the 'look' of it, he is setting himself up for something big — to turn himself into a demigod, much like Gandhi and Rabindranath Tagore, who have actually shaped the vision of this nation."
However, when Modi travels abroad to meet world leaders, his look has always been about radiating authority and professionalism. He may aspire to turn India into a vishwaguru (world's teacher) but he has never taken the sadhu look to foreign shores, perhaps knowing full well that it will invite comments about his "Hindu nationalist" reputation rather than status as global leader.
'Phir bhi dil hai Hindustani'
Just as it seemed that Modi's Rip Van Winkle appearance was there to stay, he finally trimmed the notorious beard last September and debuted the new look via a tweeted picture of him on a plane enroute to the US.
A long flight also means opportunities to go through papers and some file work. pic.twitter.com/nYoSjO6gIB

— Narendra Modi (@narendramodi) September 22, 2021
Notably, the business-like beard was paired with a kurta-pyjama. Even in his meetings with US President Joe Biden and other leaders during this visit, Modi mostly stuck to smart Indian garb.
This, perhaps, reflects greater confidence than the infamous "Rs 10 lakh" pinstriped Narendra Damodardas Modi suit that he wore for Barack Obama's 2015 India visit. But while the suit invited trolling in India, Obama seemed quite taken with the so-called "Modi kurta".
Similarly, 2018 saw the birth of the "Modi jacket", which the PM gifted to the then South Korean President. Sections of the Indian media and twitterati went blue in the face saying that it was actually a Nehru jacket, but in east Asia, the political rebranding worked.
What has remained consistent is Modi's affinity for formal Indian vestments abroad, ranging from bandhgalas to kurtas paired with shawls. It's only when he's in India that he goes to town experimenting with uniforms, scarves, headgear, and other traditional attire.
This has often done the job of endearing him to people, except for one big misfire.
On 4 November 2021, PM Modi celebrated Diwali with soldiers of the Indian Army in Nowshera district of Jammu and Kashmir and dressed up in a military uniform for the occasion. It was not his first time doing so, but in February this year a plea was filed at Prayagraj district court that stated that the Indian Army uniform that he wore on his 2021 visit to Kashmir is a punishable offence under Section 140 of the Indian Penal Code.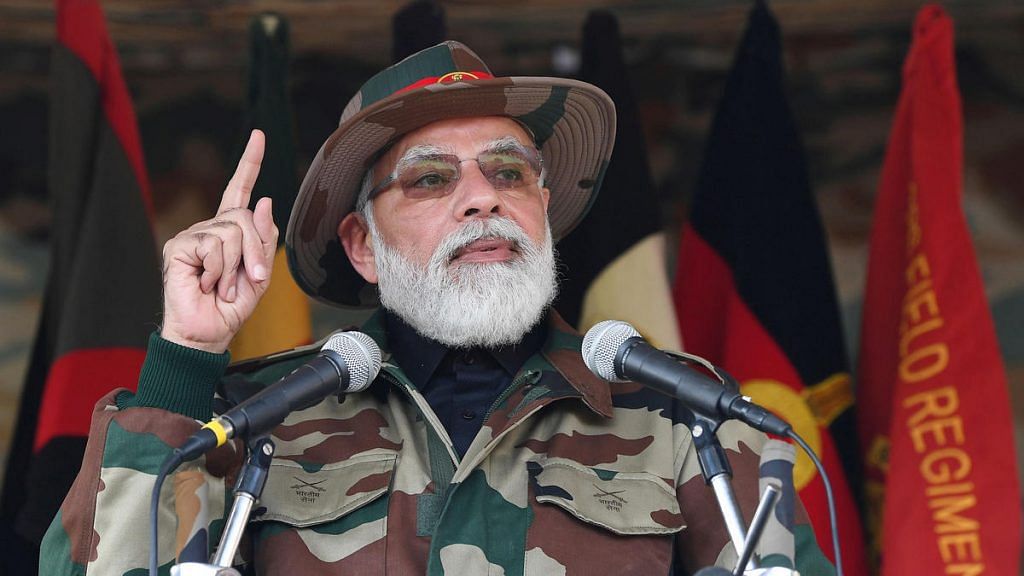 Writing about the controversy, Lt Gen (retd) Dr Prakash Menon had opined that while legally there seemed to be "no serious bar" on wearing an Army uniform, given there was no intent to deceive, it raised questions about "political ethics".
"When a popular prime minister like Modi wears a military uniform, apart from the strongman image, there is a subliminal suggestion that the nation must all emulate the uniform and be ready to fight for the country…This is a nationalist sentiment that, in the long run, can do both good and bad for the country," Menon wrote.
When it comes to the issue of "political ethics", there is another contentious area when it comes to Modi's sartorial decisions, particularly pertaining to headgear.
---
Also Read: Why Modi gets away with Maybach specs, Rs 10 lakh suit but Rahul with Burberry jacket can't
---
Anything goes… except for a skull cap  
Prime Minister Modi is quite a sport when it comes to trying on headgear. In many a function he has allowed himself to be fitted with all kinds of accoutrements.
These have ranged from extravagant tribal Naga headgear at the Hornbill festival in 2014, to a traditional Pahari cap and woollen shawl at a December 2021 public meeting in poll-bound Himachal, and even a loose turban placed on his head by a delegation of Afghan Sikhs and Hindus in February this year. In 2019, when he visited the Gurudwara Ber Sahib in Sultanpur, Punjab, Modi paid obeisance after wearing the required headscarf.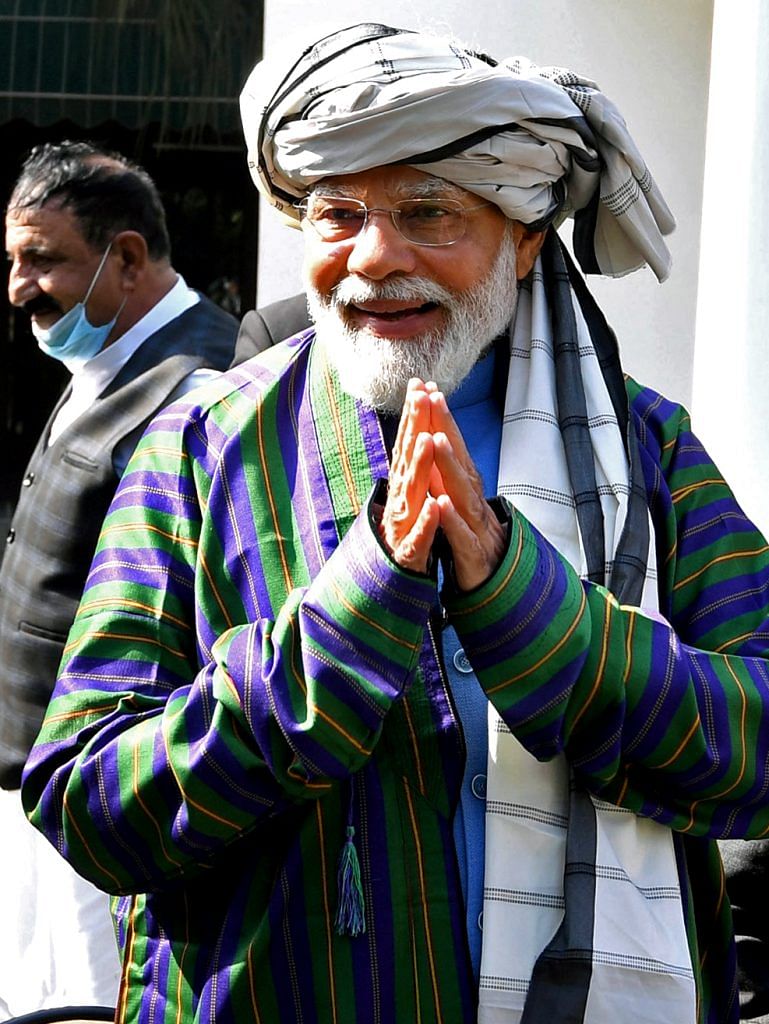 However, in 2011, when he was still chief minister of Gujarat, Modi reportedly refused the offer of a skullcap from a Muslim cleric in public, quite pointedly. In a TV interview, he later said that if a cap was a symbol of unity, how was it that Mahatma Gandhi never one. He similarly refused to wear a keffiyeh, the Arab headdress, that year. Many commentators defended Modi's decisions back then, claiming that he had no obligation to engage in symbolism of that nature.
That may seem fair enough, were it not for the sheer variety of other traditional and religious garb that Modi has tried on without the blink of an eye. Just as fashion may promote a sense of unity, it may also further antagonism — which is something that political scientist Joshua I. Miller has described, albeit in the context of wealth, in a 2015 paper, 'Fashion and democratic relationships', in the journal Polity.
In 2018, Congress leader Shashi Tharoor also pointed out that despite all the "extraordinary outfits" that Modi was willing to wear, he has consistently steered clear of anything remotely connected to Islam.
This is as true now as it was back then. There are multiple images available on the internet of PM Modi in a skullcap, but all are fake, as fact-checking has revealed conclusively. Modi is willing to put on a lot of different hats for his voters, but as his fashion choices show, this sartorial magnanimity doesn't extend to everyone equally.
(Edited by Asavari Singh)