Wearing silk comes with a pang of guilt — tens of thousands of silkworms are killed to make one saree. But a tiny village in Meghalaya is showing it doesn't have to be like that, with its own brand of ahimsa, or non-violent, Eri 'peace' silk. While Sualkuchi, the 'Manchester of Assam', which has been a silk manufacturing hub and go-to destination for Assamese brides has been popular for decades, this village is taking baby steps and turning into an offbeat destination. Tourists are bustling with curiosity to know what a 'silk village' looks like.
Like the San Kamphaeng in Thailand, Van Phuc in Vietnam, and Takeo in Cambodia, Umden-Diwon in Meghalaya is staking its claim as the next silk village to join the list of unique cultural-economic tourist destinations.
It's an exhausting journey to just reach there. Umden-Diwon is located in Ri-Bhoi district, 70 km from Shillong. There's little GPS connectivity, roads aren't fully developed, and few signposts dot the way. But that isn't stopping travellers. Ever since Chief Minister Conrad Sangma declared Umden-Diwon as the state's first Eri silk village in February last year, the muddy road bears evidence of people excitedly making their way into the village.
Changing tourist locales
Meghalaya is one of the most 'Instagrammable' tourist spots in India. Every few kilometres you spot a gushing stream, majestic waterfall, or simply notice the interplay of clouds and the sun. While Shillong, Cherrapunji, and Dawki have been popular sites, the lush green paddy fields of Umden-Diwon are the new hotspots.
Polish Kyndait, a part-time tourist guide, said that the number of visitors to the village has increased in the last few months. While it attracted mostly foreign tourists earlier, Umden-Diwon is now slowly catching the eye of Indian tourists too. Buyers are known to look for good bargains on Eri shawls and stoles.
My colleague and I made our way to the village with an unstable GPS, which gave up entirely in the last 10 km of the journey. The roads grew more uneven, and the landscape was a riot of green and blue. I was sure that we had lost our way, but I dare not admit it, for the trip was my idea, after all. While enjoying the rain and sunshine, we spotted a board with Meghalaya's Eri silk village written proudly on it.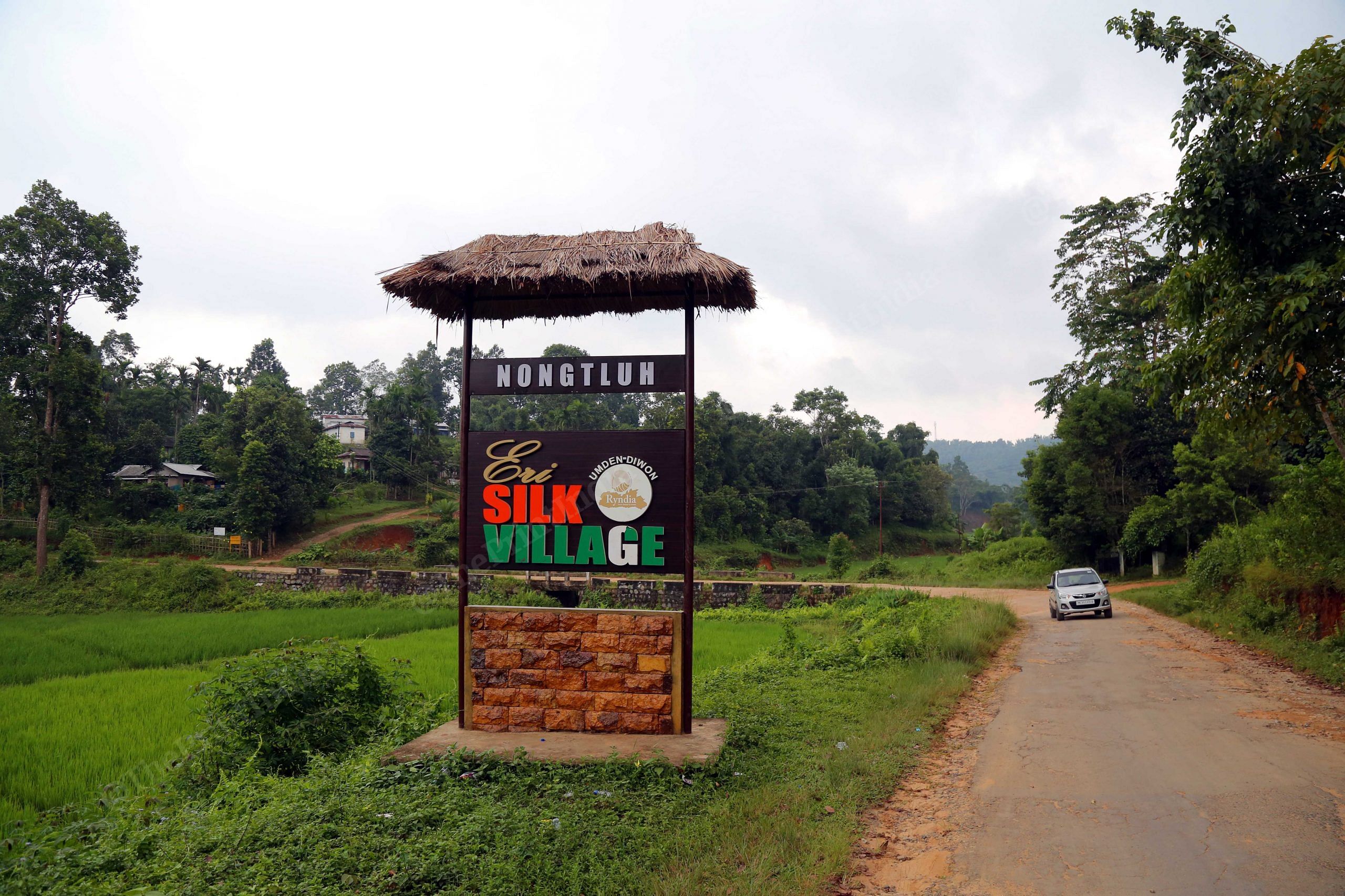 The land of weavers
In traditional methods of extracting silk, worms undergo a level of brutality veiled by the dazzle of the fabric. It begins with genetic profiling — as soon as female worms lay eggs, they are crushed to pieces and checked for diseases. If they pass the test, their eggs are incubated. At the larva stage, when worms form their cocoon, they are boiled alive. Threads are then extracted from each cocoon, weaved, dyed, packaged, and then hung up in glossy showrooms.
That's why the ancient method of Eri silk-weaving has suddenly gained wider currency.
In Umden-Diwon, almost 70 per cent of the population. As per the 2011 census, 216 households are engaged in Eri silk weaving. We saw women in nearly every house humming and spinning yarn, separating the threads of Eri silk or weaving on their fly shuttle looms.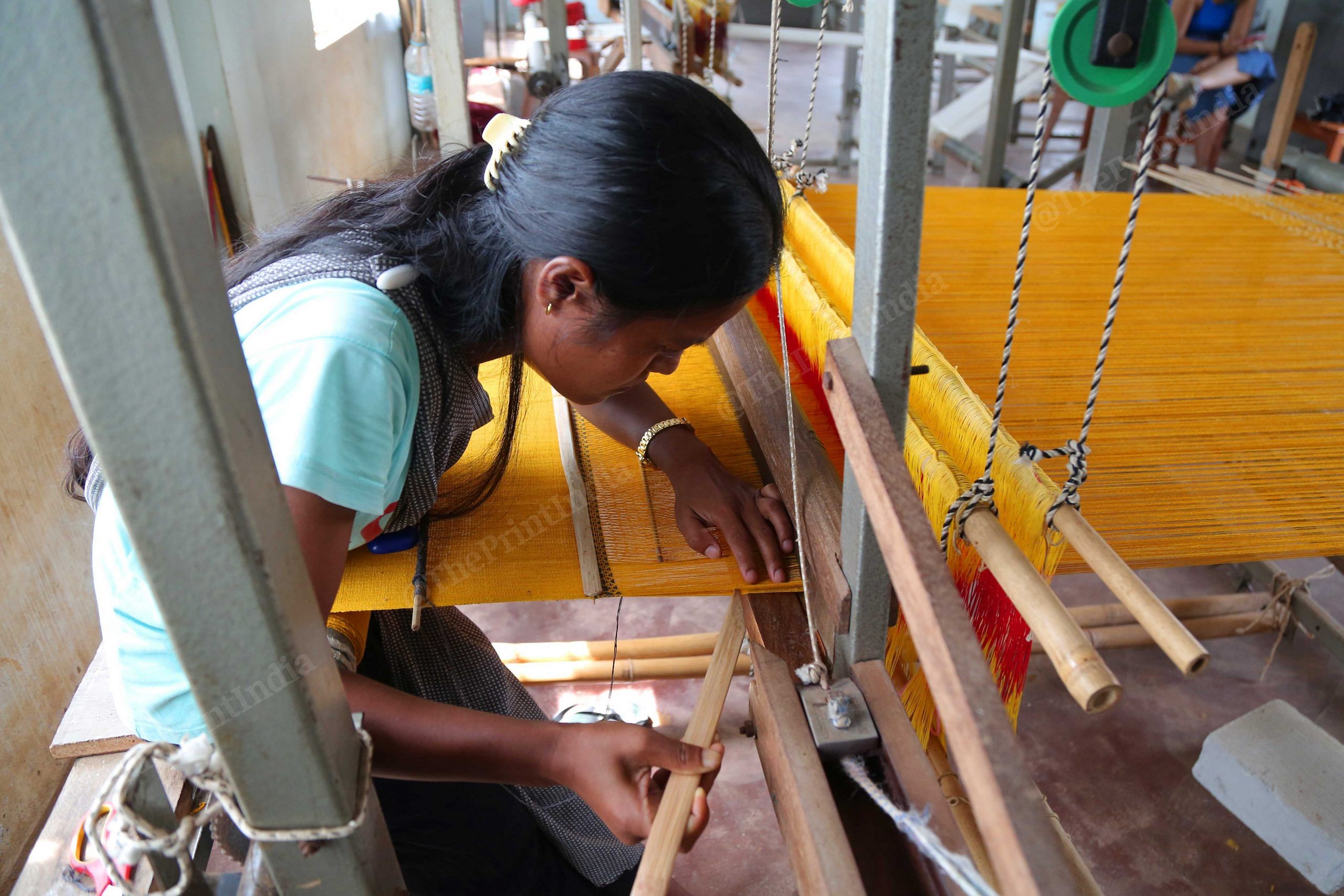 It is utterly fascinating to see that the origin of an Eri silk shawl is a green worm feeding on castor leaves. In the silk village, the process goes like this: Cultivators monitor silkworms for about 45 days and wait till they grow into butterflies; 30 days is just the feeding period. After that, the worms get busy weaving the prized cocoons around their bodies. They are nurtured in separate chambers inside bamboo houses and zealously guarded against the weather. After the cocoon matures, the moth flies off, leaving behind what becomes the source of Eri silk. The cocoon is then boiled, dried, pounded, and woven by hand.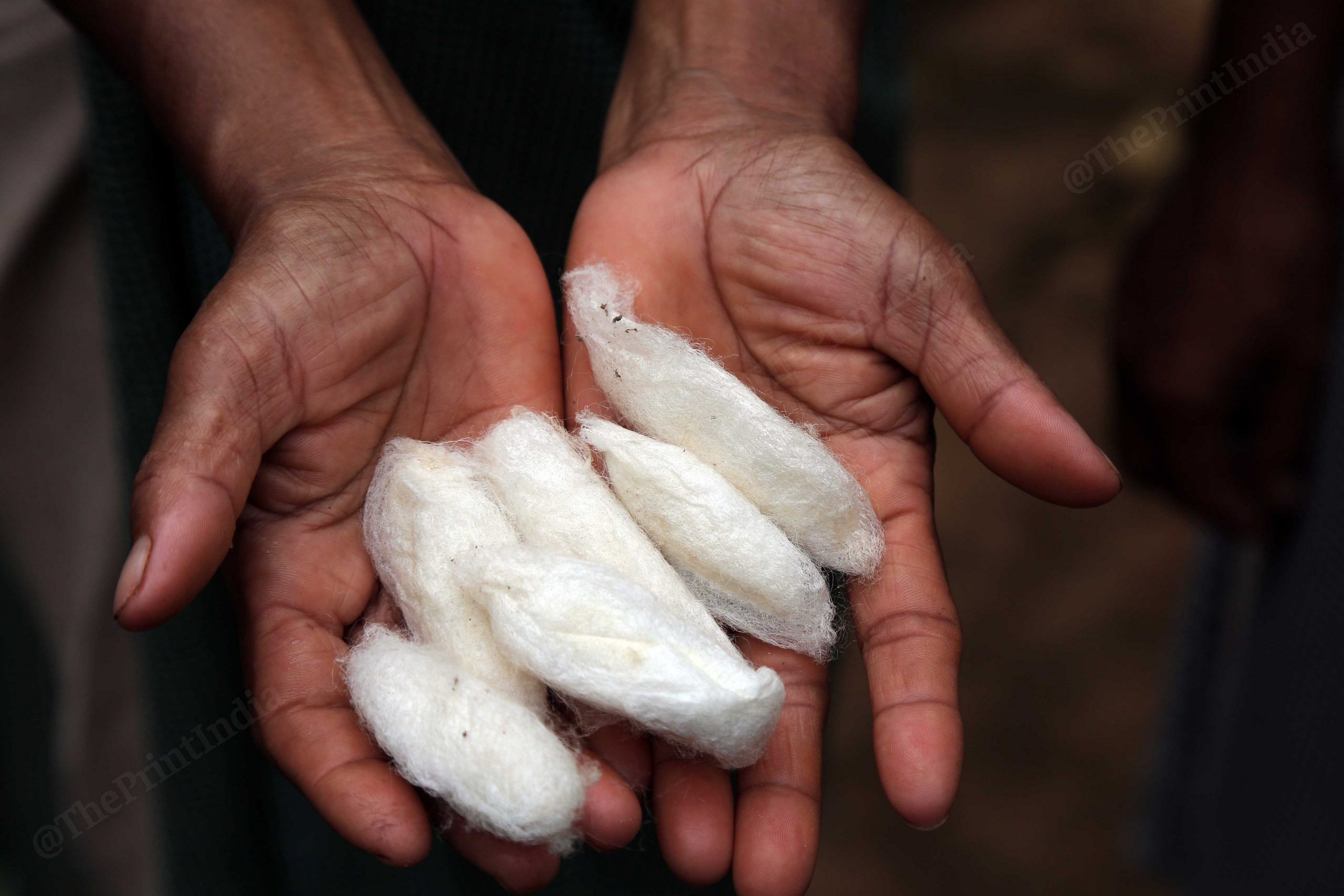 "We have to take care of the silkworms like a baby. We have to make sure neither flies nor ants get to them," explained Kyndait, our guide. He took us to a family involved in Eri silk weaving. In a house made of bamboo and mud where castor leaves were hung on a pole, tiny silkworms went about their busy lives. An old woman, her son and daughter-in-law were proud cultivators.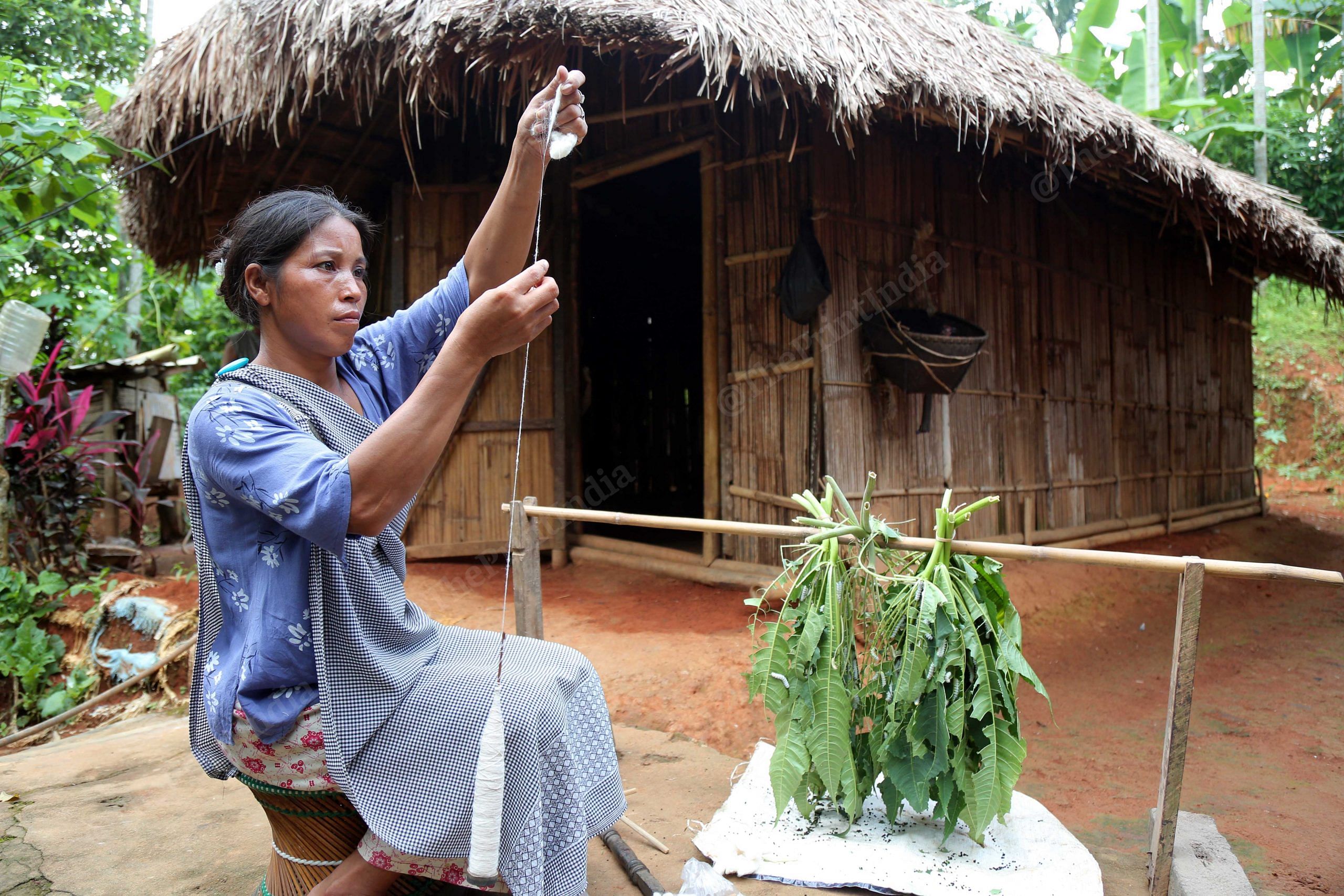 Silk production is almost sacred in Umden-Diwon.
Cultivators aren't immune to superstition and myth. Villagers believe that the 'evil eye' can harm the quality of ryndia — Eri silk in the Khasi language spoken in the region. From kitchen staples such as onion skin, turmeric, and iron ore to natural mordants, various substances are used to bind the dyes and lend colour to ryndia. Mostly woven into shawls and stoles, the final product can fetch upwards of Rs 2,000, depending on the design.
---
Also read: Alcohol, men, night concerts—yet, Arunachal's Ziro music festival is safest for Indian women
---
The ryndia song
CM Sangma's statement last year was just another addition to the institutionalisation of Meghalaya's handwoven Eri silk industry.
To promote the story of Eri silk, the Department of Textiles in Meghalaya has chosen the musical route. It roped in popular Shillong-based band Summersalt to create the story song Ryndia. The song also features villagers who express what weaving means to them.
For those who want to learn about Eri silk production without having to walk all around the village, the Design, Innovation and Research Centre (DIRC), set up in 2022 in collaboration with the National Institute of Fashion Technology (NIFT), in the village is the go-to place. You see the production in real-time at the centre, which has an 'I Love Ryndia' sign for the keen selfie-takers.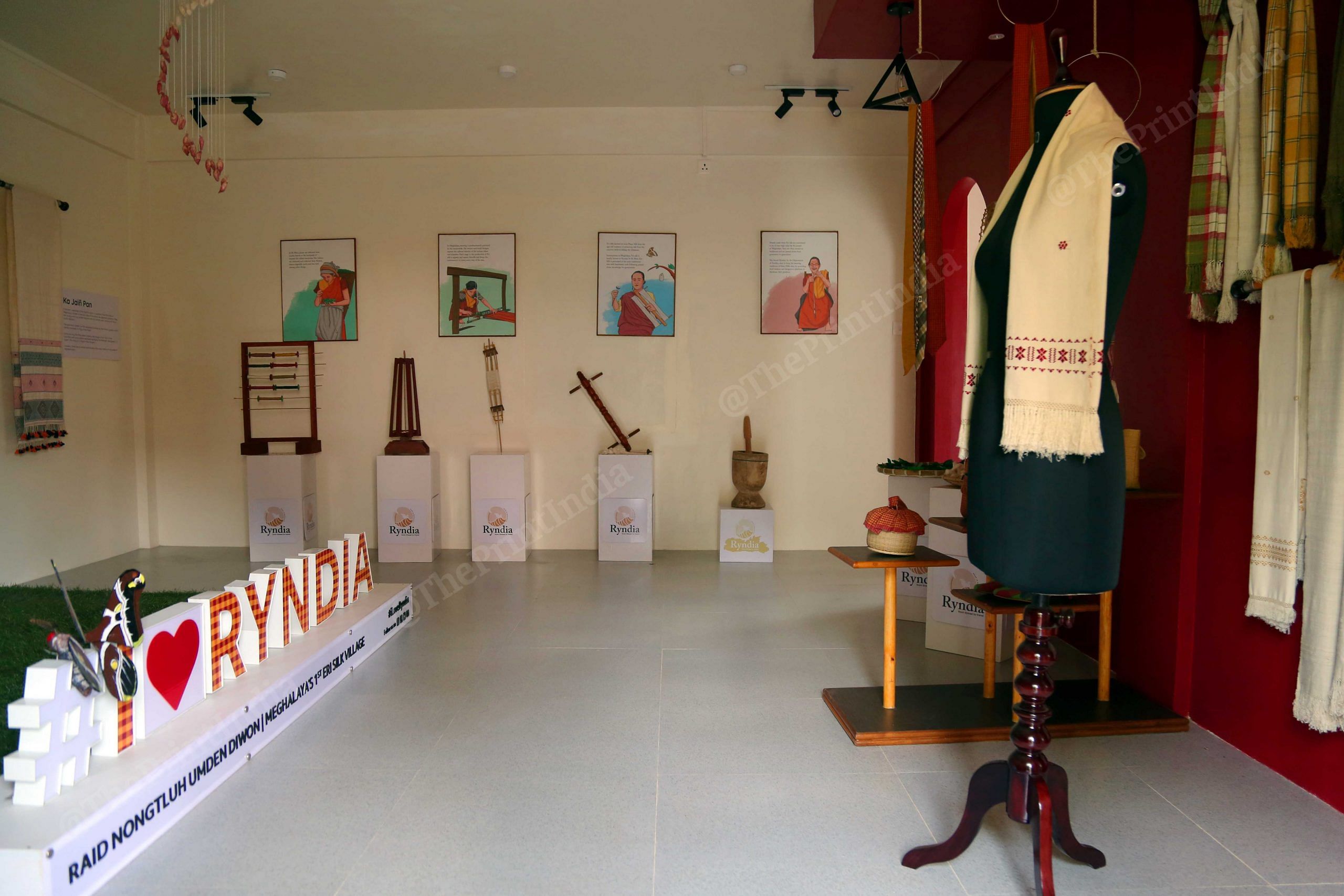 Others can always take a tour around the village — observing the weaving and dyeing processes of Eri silk, a trip to local spots and sacred groves, a bonfire at night accompanied by a dance/song performance by villagers, and local food.
As we said Khublei Shibun—thank you in Khasi—the sun peeped out again after a sudden downpour. The road back home wasn't the best one, but the experience at Umden-Diwon made up for the backache.
(Edited by Humra Laeeq)