New Delhi: Earlier this month, Vaishali Shadangule became the first Indian woman designer to showcase her collection at the Paris Haute Couture Week. The fashion week, returning to the physical show after a year of virtual presentation owing to the Covid-19 pandemic, was held between 5 and 8 July at Lycée Victor Duruy in the French capital. Shadangule showcased her collection on the last day.
"The happiness was dreamy. I felt a sense of achievement and a huge sense of responsibility, being the first Indian woman designer, as I represent homegrown craftsmanship, hand weaves, and a sustainable and social-impact brand," Shadangule told ThePrint over email, of her Paris experience.
While it was not her first foreign foray — she has showcased her collection at the New York Fashion Week and her designs can be found in London and Milan boutiques — Paris was, of course, special, being "the distant dream of any designer in the world".
For the designer born in Madhya Pradesh's Vidisha, the journey from hometown to Paris, saw her take several "leaps of faith" over the years.
Shadangule's journey into the world of fashion started when she left home as a 17-year-old. At that time she had no thought of pursuing designing.
"I left with no money and still to graduate," said Shadangule. Yet, the designer does not think of the intervening years as a struggle. "Every day is a struggle. But if one has the right attitude, it becomes just a journey."
It was perhaps this attitude that helped her ace the challenge of putting together a collection for Paris in the middle of a pandemic. Shadangule had found out she was selected for the show on 13 May as India grappled with the impact of the second Covid wave that hit in March-April.
"Luckily, in order to keep giving my weavers work even during these tough times, I had already all weaves under production, with yarns ordered in advance," said the designer.
The actual effort of putting together the collection, however, was a different matter altogether.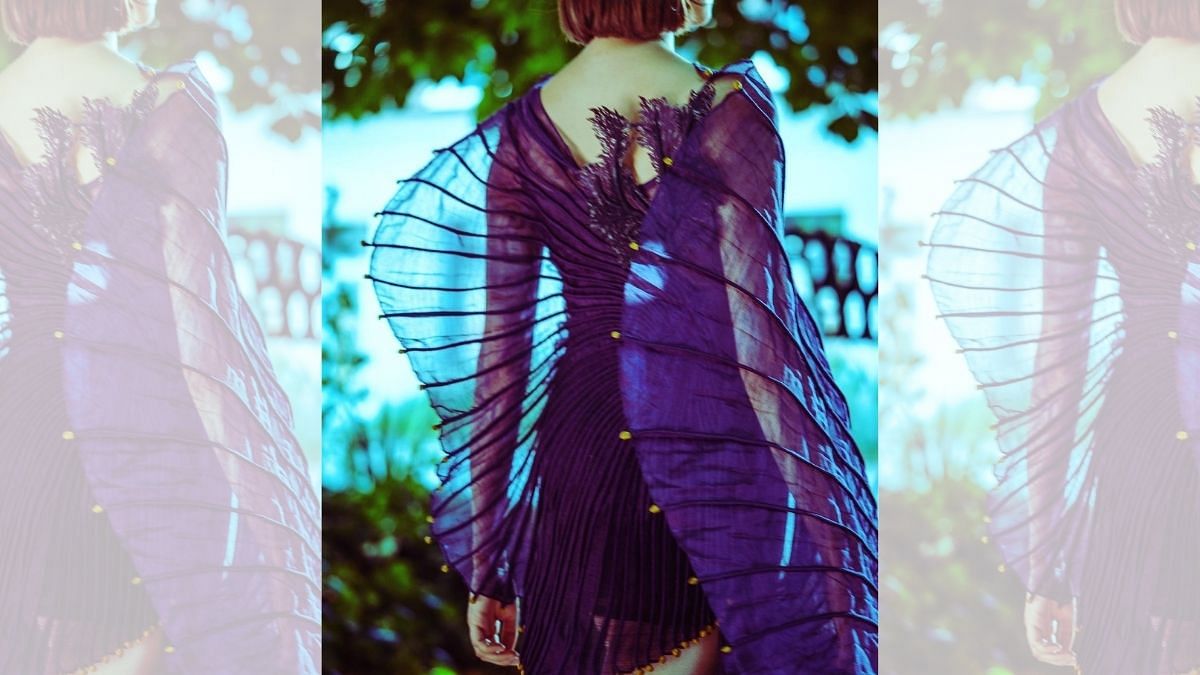 "Taking care of the supply chain and logistics in lockdown was a nightmare. The actual putting together of the collection required a lot of adaptation from my side and from the side of my karigars (craftsmen). They were all scanned and sanitised and then put to live together under the same roof for two months. The delivery in Paris of the collection itself has been a miracle of logistics and coordination, which my business partner Alessandro Giuliani managed to achieve," said the 43-year-old designer.
In Paris, Shadangule showcased 'Shwas', which literally means breath. It was made up of 30 looks, inspired by the natural motifs of leaves, tree branches and barks, made of Indian weaves and textiles.
Once the clothes were taken care of, Shadangule had to ensure that the accessories for the clothes reached Paris on time. "The shoes were another interesting project that Alessandro has carried out with the Italian brand Vibram. They were delivered the morning of the show … My 14-day journey to reach Paris has not been short of events worth a book," said Shadangule.
The show in Paris was worth the challenge. The Indian designer, under her eponymous brand Vaishali S, showcased her creations alongside fashion giants such as Dior, Azzaro, Chanel and others.
---
Also read: Boys can cry. PubG is not back, but Shein is
---
From Vidisha to Paris
Shadangule said she had "a typical Indian small-town childhood". While, as a child, she conformed to the gender role of doing household chores, she nevertheless tried to involve herself in sports. "I clearly had some fire inside," she said, that made her want to "go on with my studies and see more of the world."
After leaving home, Shadangule said she "took up several small jobs in order to finish engineering graduation first, then managed to move for a better job to Gujarat, and then finally Mumbai. There I worked in a gym as a trainer thanks to my sporting skills," before opening her first boutique.
Fashion, Shadangule said, was something that she simply "stumbled upon". "In Bhopal where I first went for my graduation, I managed to get copies of the books of a local fashion school. I understood I liked that, and when people started asking me for suggestions (even at the Mumbai gym where she worked) I realised I had something to give and some kind of gift," she said.  
In 2011, she participated in the Lakme Fashion Week. "I was still undergoing my post-graduate diploma and everybody advised me against it, but I just did it."
There was no looking back after that.
The designer credits the people she met along the way for helping her realise her dream.  It was a similar situation when it came to her first shop. "One of my gym clients was instrumental in pushing me to get a small loan (which I was extremely against) to finally open my first shop."
Despite the years that have passed since leaving Vidisha, the designer has remained true to her roots. She added that she owed her success to her years growing up in Vidisha.
"Vidisha was highly instrumental in my success and career," said Shadangule, adding, "Starting from the values imparted by my parents to the familiarity with Chanderi (just a handful of miles away) weaves and their beauty, to the contact with Nature that keeps on being my source of inspiration."
---
Also read: Why Kamala Harris is under fire for Dolce & Gabbana clothes after winning inaugural fashion
---
A 'breath' of fresh creation
Shadangule's connection with nature, "a seamless flow of exchange with Her" was at the core of Shwas. "I consider the hand weaves as the unaware connection between us and Nature, with Nature being my constant source of inspiration. Likewise, breath is our unaware connection to life," explains Shadangule.
Central to Vaishali's fashion journey are the Indian handloom textiles and the weavers, and her Paris designs too reflected this. Shwas is an ode to Indian handlooms and weaves sourced from across the country — Merino wool from Maheshwar, khunn textiles from Karnataka and some indigenous weaves from West Bengal. Along with this, she used her signature cording technique for texture.
Having worked with Indian textiles and weaves throughout her career, Shadangule is concerned by the declining numbers of Indian weavers. According to her, there is not enough economic security in the profession and the young generation do not find the field lucrative.
Ironically, though, she said, "today people around the world are feeling the need to a return to slow fashion, attention to materials and details, more personalised garments and fabrics".
This she feels can be achieved through the use of traditional weaves and textiles. "What is needed is more information. It is difficult for normal people to understand the value of a hand-woven textile. Once they wear it, they are hooked. We need hand weaves to become more mainstream and the media to celebrate it more," said Shadangule.
The other thing that has remained a signature of Shadangule's over the years is her dedication to sustainable fashion.
"I am happy sustainability has become mainstream. For the last 20 years, I have been doing the same thing I have been brought up with! In Indian villages, we are aware of how important Nature and our relationship with Her is for the well-being of everyone," said the designer.
For Shadangule, sustainability is something that she promotes not just in her clothes. Her boutique in Kala Ghoda too reflects the same — designed as it is from scrap woods and old doors.
(Edited by Poulomi Banerjee)
---
Also read: Wear Che Guevara, Johnny Walker and Gandhi on your T-shirts, but it says nothing about you
---