Delhi-based Minu Jain recalled a time when she jealously guarded every copy of the Femina magazine she owned. Flipping through the pages, finding recipes and saving them for a rainy day was part of her routine. She is not alone. Her mother, Kanak Jain, did the same.
"There is a 'kabuli pulao' recipe I still use from time to time. I've saved the clipping in between one of my books," 59-year-old Minu told ThePrint.
Women's magazines were like a talisman for scores of readers in India. Catering ostensibly to 'female' needs, magazines such as Meri Saheli, Femina, Grihshobha, Sarita and Women's Era — to name a few — often drew readers into the nitty-gritty of running a household, while also allowing women some much-needed downtime.
Grihshobha came into circulation in 1979 and it was the best-selling magazine from July to December in 2000, second only to Meri Saheli, and published in Hindi, Gujarati, Kannada, and Marathi.
There was a time during the 1980s and 90s when glossy, well-thumbed pages were strewn across every living room, and a monthly clean-up was needed, as the pile of magazines would sometimes grow taller than the toddler in the house.
But over the years, social media and digital spaces have taken over these magazines, replacing content that was once restricted to those glossy pages.
---
Also read: Nirodh – cheap condoms that led India's family planning project but undone by lousy branding
---
Sex, marriage & household chores 
The template for many of these magazines was fairly simple — they would instruct women on ways to lead their lives.
Today, as we scroll past our Instagram feeds, many influencers or content creators are seen doing just about the same thing — encouraging viewers into different trends, be it adapting to the slow living style or having nontraditional work schedules.
Women's magazines were, in many ways, the original influencers — giving a ready-made manual for life. The magazines were instrumental in telling women how to run their households, and providing tips on marriage as well as sex.
"Their most usual focus was on 'adjustment': how to be both of the home by carrying out domestic tasks, and also the world – by taking part in aspects of their husbands' lives, in consumer culture, or in having a career – like teaching," Sanjay Srivastava, anthropologist and British academy global professor at SOAS University of London, told ThePrint.
Srivastava further said, "There was frequent advice on marriage, but less frequently on sex. However, from the 1990s onwards, Hindi magazines such as Grihashobha, Grihalakshmi and Meri Saheli started carrying articles with explicit discussions on sex. Earlier on (before the 1990s), there tended to be articles on the importance of 'sex education' and 'family planning,' but the writing changed later, and articles directly addressed pleasure, enjoyment etc."
Seema Misra, a lawyer who grew up in Delhi during the 1990s, attested to this. She recounted a 'tip' from Meri Saheli — "Ghar ke bachoe aur bhudon ko bahar bhej kar, ek saath nahaiye, balti mein gulab ke phool daal kar" (send your children and parents outside and bathe together, in a tub full of rose-petals).
In a society where conversations around sex and intimacy is still viewed as a taboo topic, content such as this in mainstream publications during the 1990s was striking.
Examples of content related to sex and intimacy could be found in other magazines too. An old issue of Dharmyug, a widely read Hindi weekly for artists and writers that was in circulation from 1949 to 1993, carried an advertisement for a sexology clinic in Old Delhi's Daryaganj area. The advertisement urged people to consult the clinic in order to have a "fully powered" sex life.
It is to also note that intimacy was viewed solely through the purview of marriage, particularly in non-English magazines.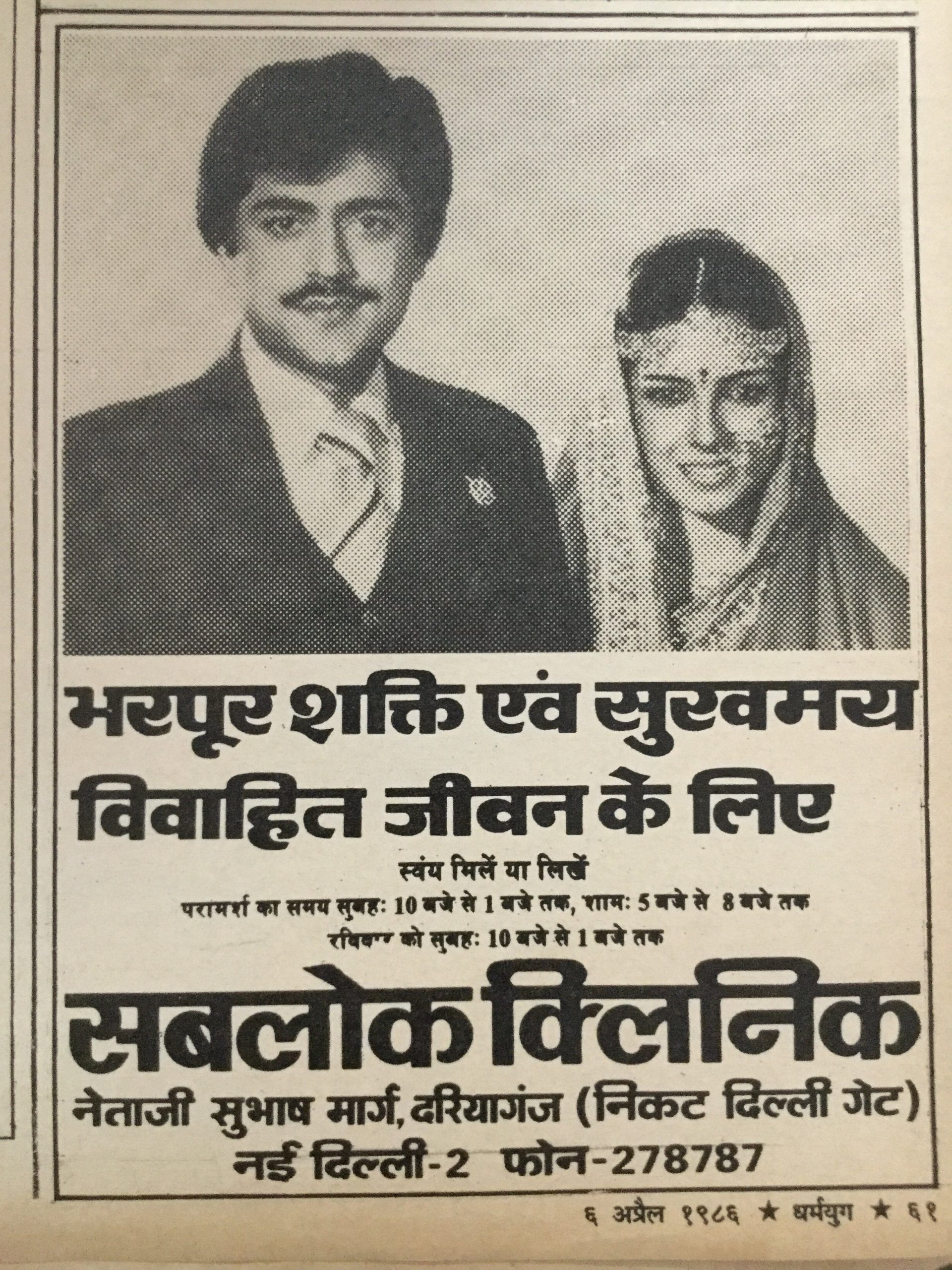 Like intimacy and sex, the nature of recipes also depended on whether it was an English magazine or one in a regional language. Femina, for example, carried more urban, 'western' recipes, such as for cakes.
According to Srivastava, the content of magazines changed with the wave of liberalisation in India during the 1990s, accompanied by rising incomes and a new media landscape.
Magazine advertisements are telling, reflective of the kinds of readers they attract and "give an idea of what kind of woman one is supposed to be," he added.
Need to adapt
While some magazines slowly vanished from the racks in the late 1990s and early 2000s, after facing stiff competition from digital platforms and content creators, many of these also re-invested themselves in new digital avatars.
One such magazine is Meri Saheli, which is owned by veteran Bollywood actress Hema Malini and boasts of over 50,000 followers on Instagram.
A number of these magazines continue to be published by the Delhi Press, one of India's largest publishing houses, including Sarita, which burst on to the scene in 1945, and Grihshobha. The Delhi Press' website states that their target audience is 45 lakh "modern home-makers".
Adapting to the new digital climate is a magazine's only shot at survival today, since all that remains of its physical form is nostalgia. Minu remembers "the enticing pile" she'd scour through, either at a friend's house or while waiting for an appointment with the doctor or a salon.
The culture of what is supposedly 'easy breezy reading' continues to thrive. The success of BuzzFeed, Homegrown and Platform in India, and The Cut, Gawker, Jezebel, and Wired in the West is a testament to this.
All that has changed is the medium. As we spend hours scrolling through social media feeds, hungrily consuming content and reading what the algorithm feeds us, it is worth remembering where it all began.
---
Also read: Nirula's — Dates to birthday parties, Delhi's favourite restaurant is a place of many 'firsts'
---