Gate rage, road rage, and now parki­ng rage? Anger appears to be the common denominator in a series of incidents in Delhi-NCR over the last few weeks. The latest clash on Tuesday, allegedly because of a parking row outside a dhaba in Ghaziabad, ended in the murder of 35-year-old Arun Singh, a dairy farmer and the son of a retired Delhi Police inspector. Singh's head had been brutally smashed with a brick.
A passerby reportedly recorded the violent attack on his phone, but no one came to the victim's rescue. The video clip shows two men looking down at Arun. One of the men then picks up a brick and hits him on the head.
Though the murder made headlines as another example of how unsafe Ghaziabad can be, it was business as usual on Loni Road, where Arun had been murdered, barely six kilometres from his house. Shards of shattered glass strewn on the side of the road were the only signs of the incident. There were no barricades and the dhaba was shut on Wednesday evening. Neighbouring restaurants say that the owner, too, is absconding.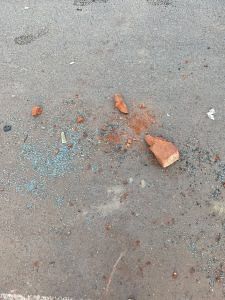 Though residents and shopkeepers were huddled in groups talking about the incident, no one claims to have seen anything.
"This is the first time such an incident has happened.  There is no tolerance left in people" says 54-year-old Bijendra sitting outside another eatery with four of his friends.
Just opposite this road, another group of people are sprawled on cots and chairs under a tree. "This incident has spread despair in the area," quips one man.
---
Also read:
---
All that conspired
On 25 October, Arun dropped his wife and their two children—a six-year-old daughter and a four-year-old son—to Mohan Nagar at around 4:45 pm. The plan was that they would celebrate Diwali with his wife's family. But roughly four hours later—at about 9:15 pm—he breathed his last.
After dropping off his wife and children, Arun met with two friends for dinner at the dhaba. These men were 30-something Deepak, a farmer from Jawli (Arun's village) and his friend, 40-year-old Sanjay, a private sector employee. While Arun and Deepak became friends after gyming together for two months, Sanjay had no personal association with the deceased. Arun's family claims that the two met through Deepak on the day of the incident, and not before.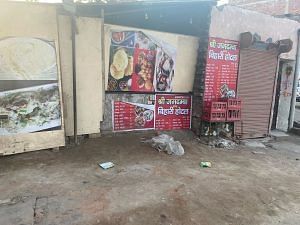 The trio parked Arun's car on a bustling road, which also sees a lot of pedestrian traffic. But by the time they were done, the area was relatively deserted.
According to Arun's father, retired inspector Kunwar Pal Singh, another white hatchback had been parked in such a manner that his son could not open the door of his car, a white-coloured Hyundai Santro. It resulted in an argument, which ended with Arun's death. But there is no confirmation on the sequence of events.
The police have yet to establish whether it was a parking row that ended in murder. According to the Ghaziabad police, a group of four-five men arrived at the dhaba around 9 pm. The two groups got into a brawl in front of the eatery, but the exact details of what happened have yet to be ascertained.
"Seven to eight teams have been formed to track down the attackers. We have detained some people. This case is the first of its kind.  Such incidents have never been seen before in this area," says Gyanendra Singh, Additional Superintendent of Police, City-2.
Meanwhile, some sources claim that this entire incident was "classic drunken  misdemeanour," a "common optic" in Ghaziabad.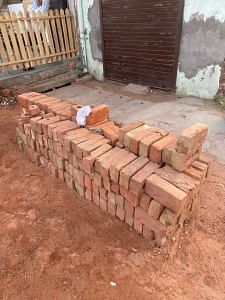 Experts say such instances have a lot to do with a speedy and stressful metropolitan lifestyle that has now percolated to urban villages. "We are becoming more intolerant by the day. A sense of entitlement can create such problems. People need to think about others. These habits of anger can later turn into mental illness," says Dr Om Prakash, senior Consultant in Adult and Geriatric Psychiatry at the Institute of Human Behavior and Allied Sciences, New Delhi.
Then comes material success and addiction to social media, which makes people feel validated. "It gives them an inflated sense of self-worth. Civic order, too, is missing in places like Ghaziabad. It's each for his own," says columnist Santosh Desai.
---
Also read:
---
'Friends' under the scanner
Around 40-50 men gather at the Singh residence to pay their last respects. They sit on cots and comfort Kunwar Pal Singh, who wants justice for his son. "My son was a simple man. They found pieces of brick in his head. We want the accused to be caught. They should be punished severely," he told The Print after performing Arun's last rites.
He claims that Deepak and Sanjay fled from the spot. "They did not call the police, nor did they try to take him to the hospital," he adds.
However, Deepak did call Arun's family. Two of his brothers rushed to the spot, where they saw him lying on the ground, bleeding profusely. By then the police had also arrived, and rushed Arun to GTB Hospital, where he was declared dead on arrival.
"They left him in a pool of blood. If they didn't abandon him, he would still be with us," says 30-year-old Aniruddh Singh, Arun's cousin.
The police say they have tracked down Deepak and Sanjay. "Their statements are not matching and we are questioning them," says Additional SP Gyanendra Singh.
Ghaziabad police have registered a case at the Teela Mod police station under IPC sections 302 (murder) and 427 (mischief causing damage).
(Edited by Zoya Bhatti)