He carried a pair of wild wooden geese, drank tea, bowed a few times — and the Indian couple were all set to renew their wedding vows in a Korean ceremony this Saturday. The K-pop, K-drama fandom in India just got its first Korean wedding in a cultural festival called 'Rang De Korea' in a Delhi mall.
Jyoti and Vishal Gupta have been married for 20 years, but it was time to do it all over again. And their daughters, die-hard fans of Korean culture, pushed them to do it the Korean way. The wedding was performed by an Indian man.
The wedding ceremony was over in 30 minutes. It was as if the big fat Indian wedding went on a diet and came out as a short, low-carb version.
"At first we were reluctant. It was a work day. But we were surprised at how much we enjoyed the whole experience," said Vishal, 45, telecom engineer. "This was a shortened version of the original all-day Korean wedding." He wore blue and his wife wore red silk.
After tens of thousands of Indians swooning over Korean food, TV dramas, and pop music in the past decade, Seoul is now experimenting with the ultimate soft power — the wedding ceremony — to serenade Indian fans.
"We want to create an experience and give a platform which can show how the seeds of Korean culture that we have sown over the past decade in India are blooming and what fruits it will bear in the future. The festival is live proof to show the soft power of Korea in India," said Hwang Il Yong, director, Korean Cultural Center India (KCCI).
The wedding watchers were young Indians who had swamped the seating area of the DLF Avenue mall in Saket, adjacent to Select City Walk mall, on a warm Sunday afternoon to attend 'Rang De Korea' — a two-day affair touted to be India's biggest Korean cultural festival.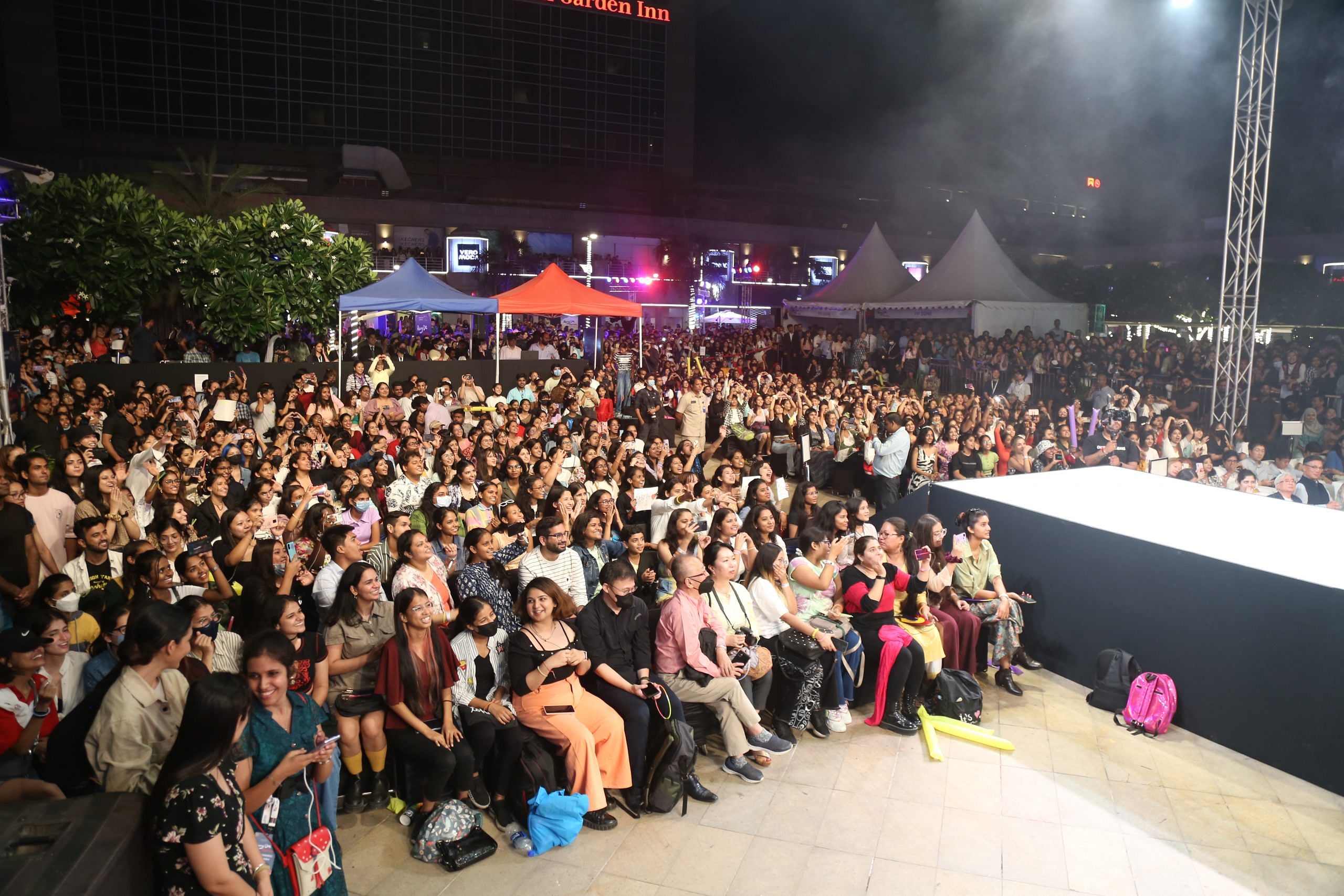 Hosted by KCCI, the South Korean embassy's cultural wing, to mark its 10th anniversary in India, the event was a display of the country's soft cultural might at its finest. The K-fest was about traditional Korean wedding and attire, calligraphy art, and not just K-pop, K-food and Korea's martial arts form, taekwondo — the routine presence at any K-culture event.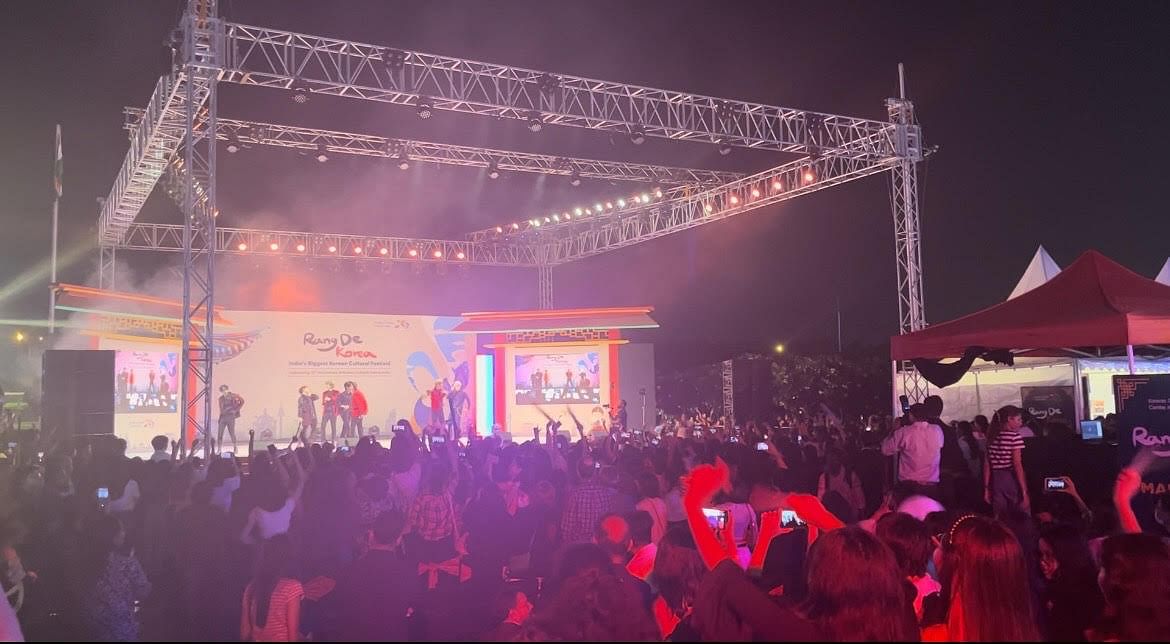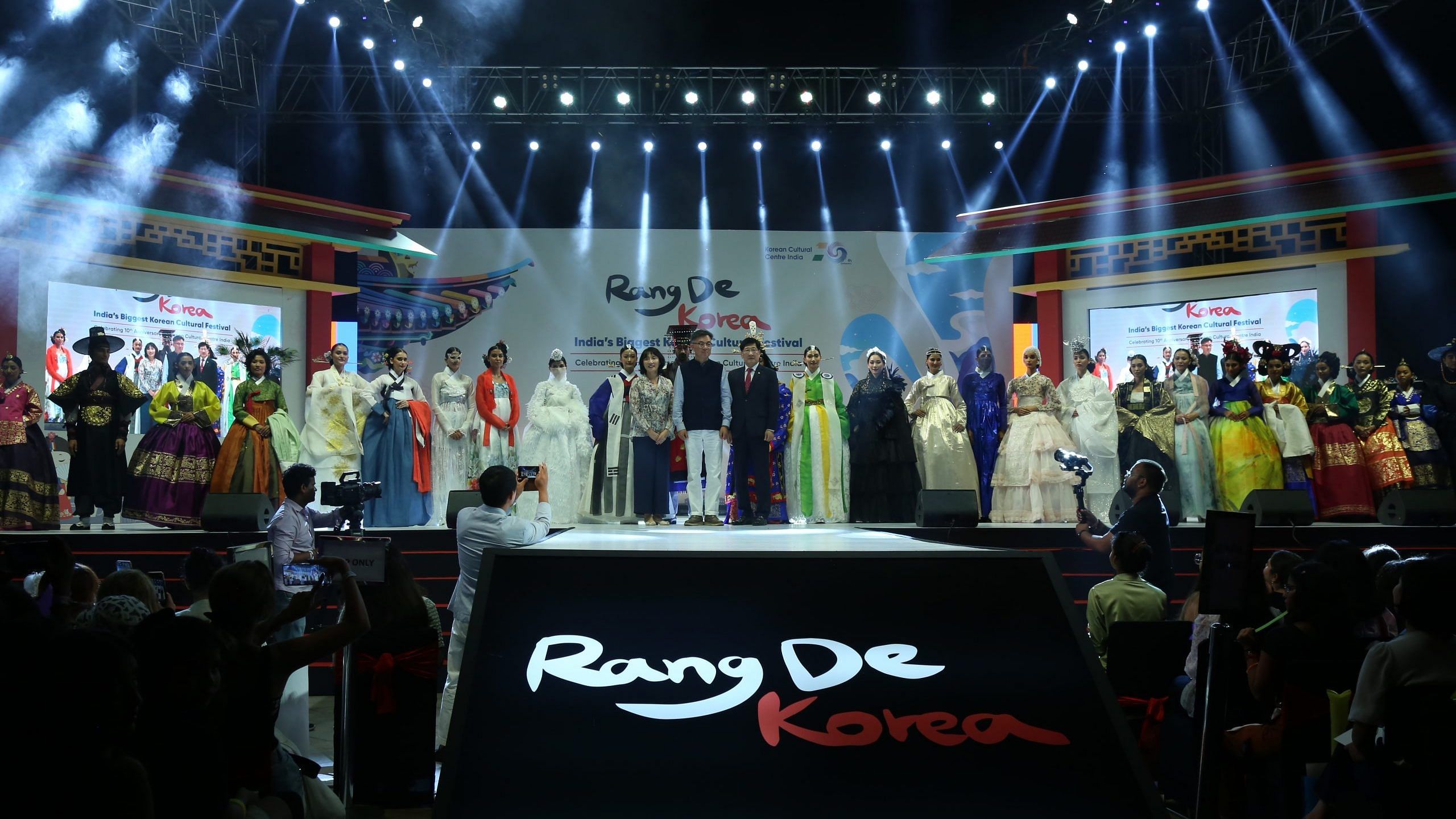 ---
Also read: You go in for pop culture, but stay for the language—why Korean is India's new favourite
---
Band, baja and Korean baraat
If you thought only India had loud baraats (wedding processions), think again. A modern-day wedding ceremony in Korea might wrap up within a couple of hours, but that wasn't always the case. A traditional Korean wedding had elaborate pre-wedding rituals that included pungmulpae (street musical band performance), samulnori (percussion band performance), and haegeum (traditional instrument performance).
In the trimmed version showcased over the weekend, these near-extinct nuances were explained in detail.
When KCCI rang the 'wedding bells', two couples — an Indian pair and a newlywed Indian-Korean duo — signed up to redo their wedding vows in Korean style.
The ceremony was steeped in Confucian symbolism, with the couple wearing traditional silk attire called hanbok and elaborate headgears. The groom held up a pair of geese, which symbolises loyalty as geese are known to mate for life. Then the bride and the groom wash their hands, which represents cleansing and purity for each other. This is followed by bowing and then serving of tea, which the couple share, each drinking from the other's cup. The number of bows for male and female is linked to yin and yang philosophy. The final ritual involves attendants acting out that they were tying blue and red threads (same colour as their dress) on a bamboo and pine tree. Pinecones and bamboo apparently refer loyalty for life. Then the couple is declared husband and wife.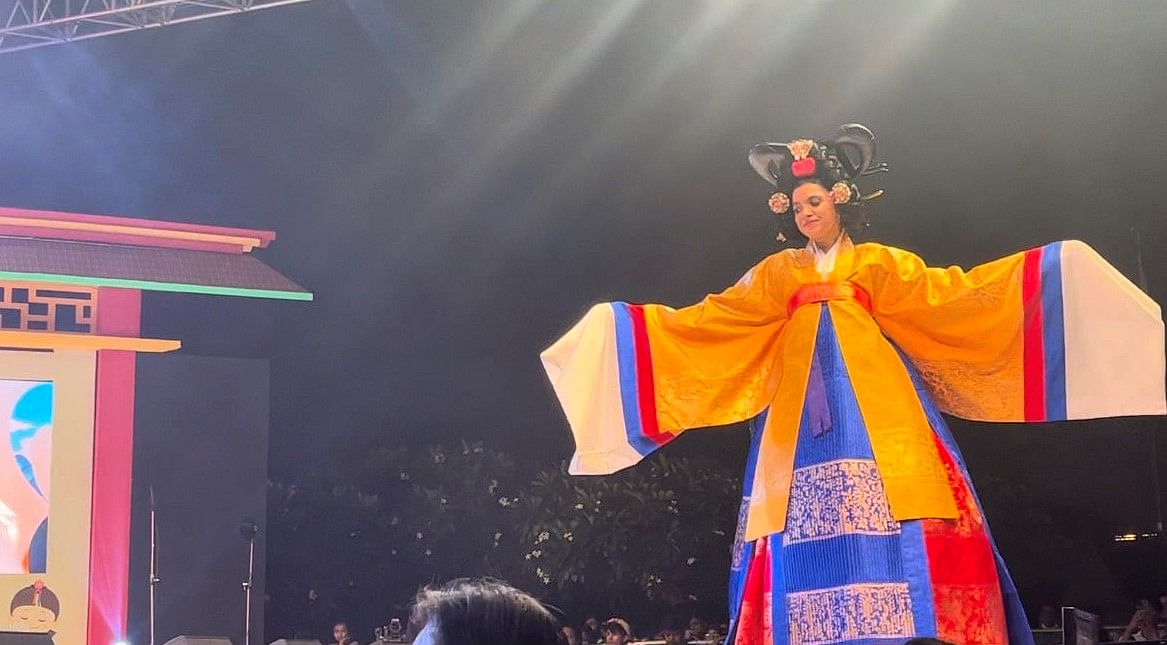 Celebrating 20 of marriage
On Saturday, Vishal and Jyoti showed up for the event ahead of schedule to rehearse for the occasion. Their daughter, who learns taekwondo at KCCI, insisted her parents register for the event. 
"The organisers called us two hours before and walked us through the rituals. They also said that the actual ceremony takes up the entire day, much like our Indian wedding ceremony that happens throughout the night," Vishal explained.
Confessing that he was initially reluctant to go since it was a working day for the couple, he was happy they didn't back out.
"Both my wife and I thoroughly enjoyed the experience. Both my daughters like Korean culture and this year we also completed our 20-year marriage anniversary, so we thought it would be nice to try it out," he said.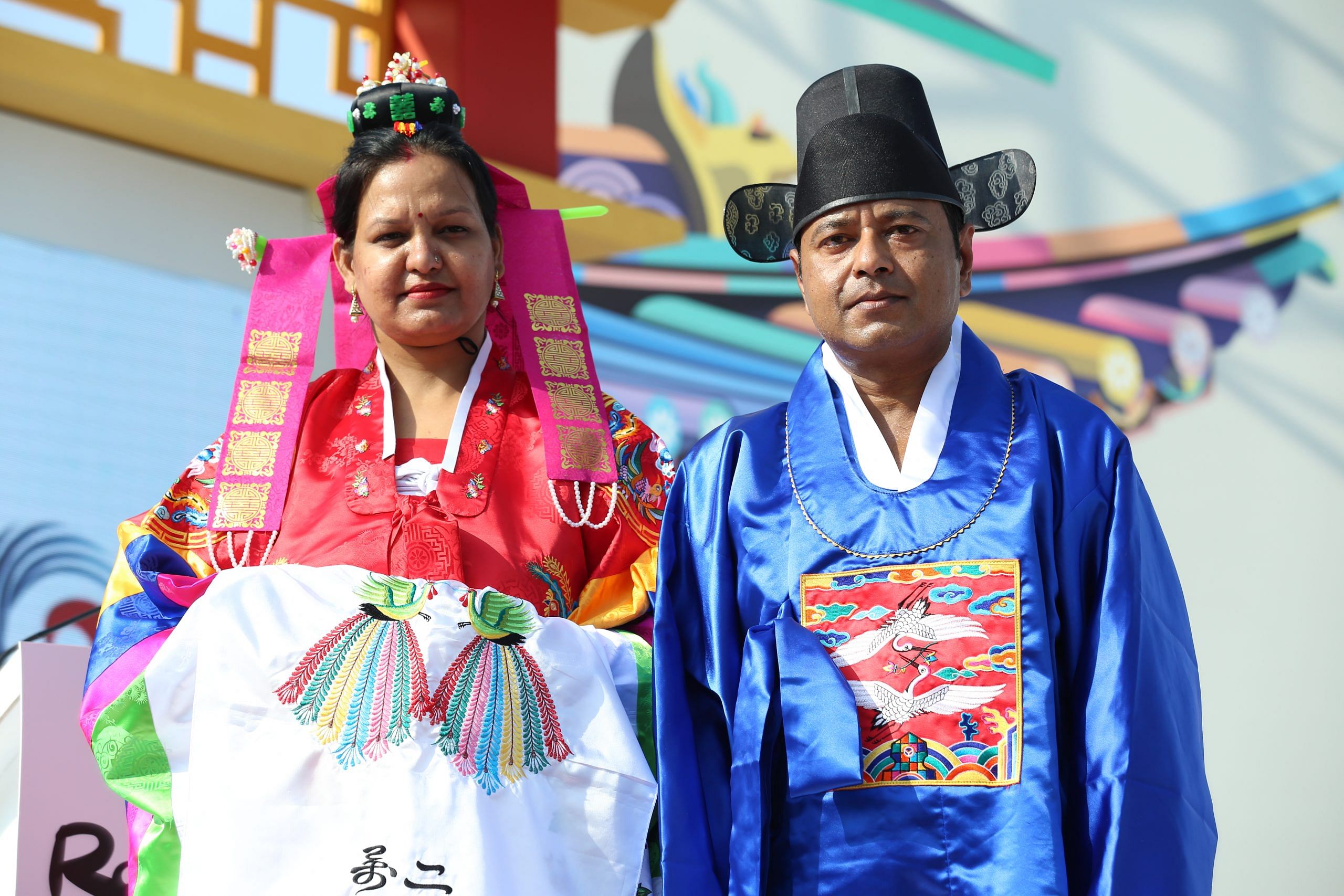 ---
Also read: Kimchi and parathas – There's a winner in Korea's soft power game in India
---
Second wedding in 8 months
Amratha Kong and Hyunbin Kong, both 28 years old, met virtually through a language exchange app during the Covid pandemic in 2020. In January this year, they were married in a Kerala-style Hindu wedding. With Covid restrictions not permitting them to experience a traditional wedding, they sent their proposal to KCCI.
After their 'capsule-size' Korean wedding experience Sunday, Amratha said there is heavy involvement of parents in an Indian wedding ceremony, whereas in Korea, it is mostly focused on the audience (including parents) mostly watching the rituals.
The newlyweds, who live in Gurugram, shared a bit about their life as an interracial couple.
"There is a food difference. A lot of things have to be changed. But I love Korean food and I love cooking for him. Also, he is a Biryani lover," gushed Amratha, while admitting there is cultural difference. "End of the day there has to be some sort of adjustments. We need to love each other but at the same time, the love comes from adjustments," she said.
Hyunbin admitted to be struggling to adjust to the Indian lifestyle, which he says is a contrast to "doing everything fast in Korea".
Way forward for Korean culture in India
The highlights of the fest took off as the sun went down and stage lights came up. The soothing Korean traditional music gave away to fast paced, booming pop music. Performances by Korean taekwondo group K-tigers and two K-pop groups – bugAboo and Kingdom – transformed the venue to a concert space. Apart from the seating area, the side barricades were filled with people and the mall balcony was dotted with audience.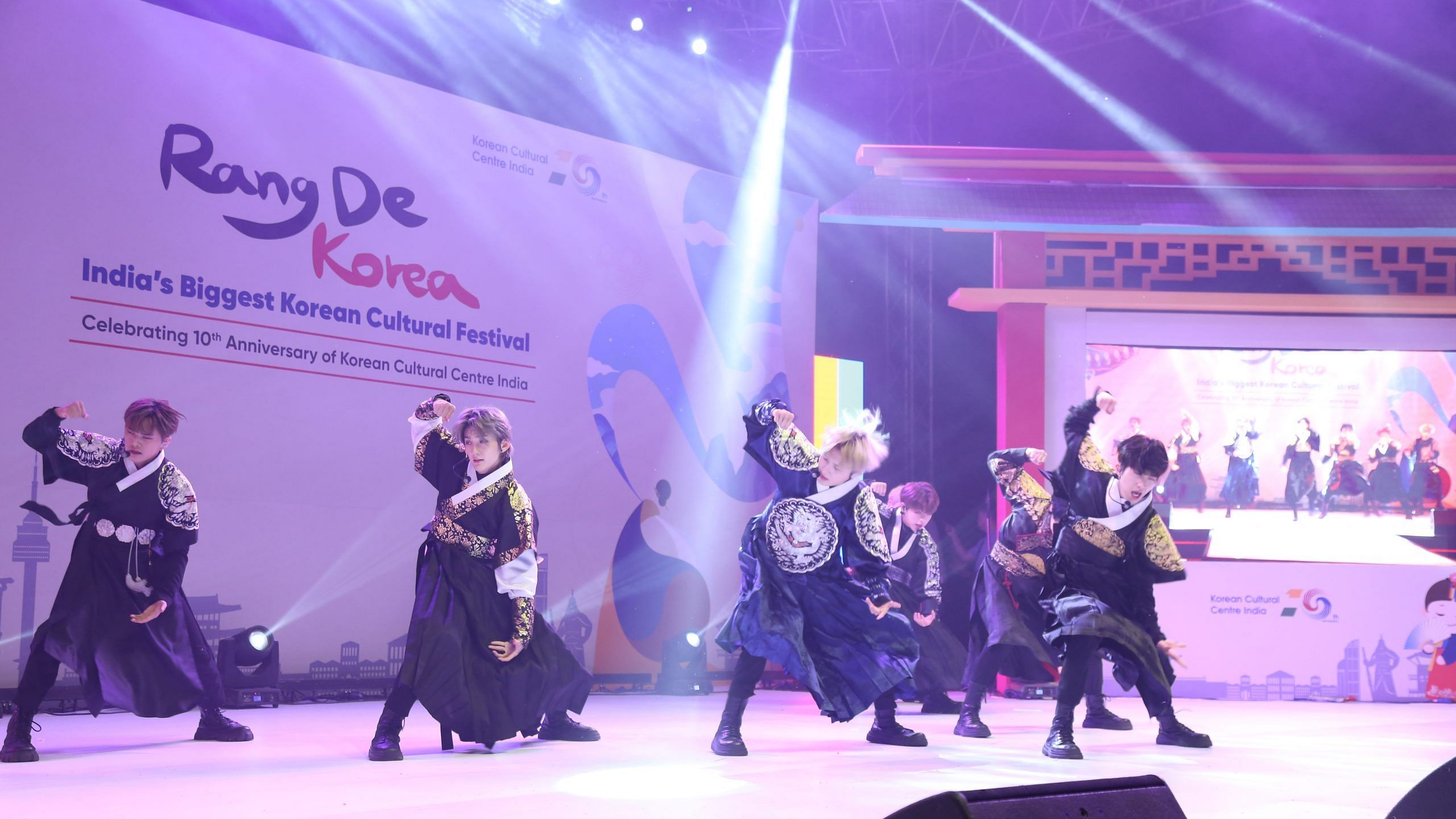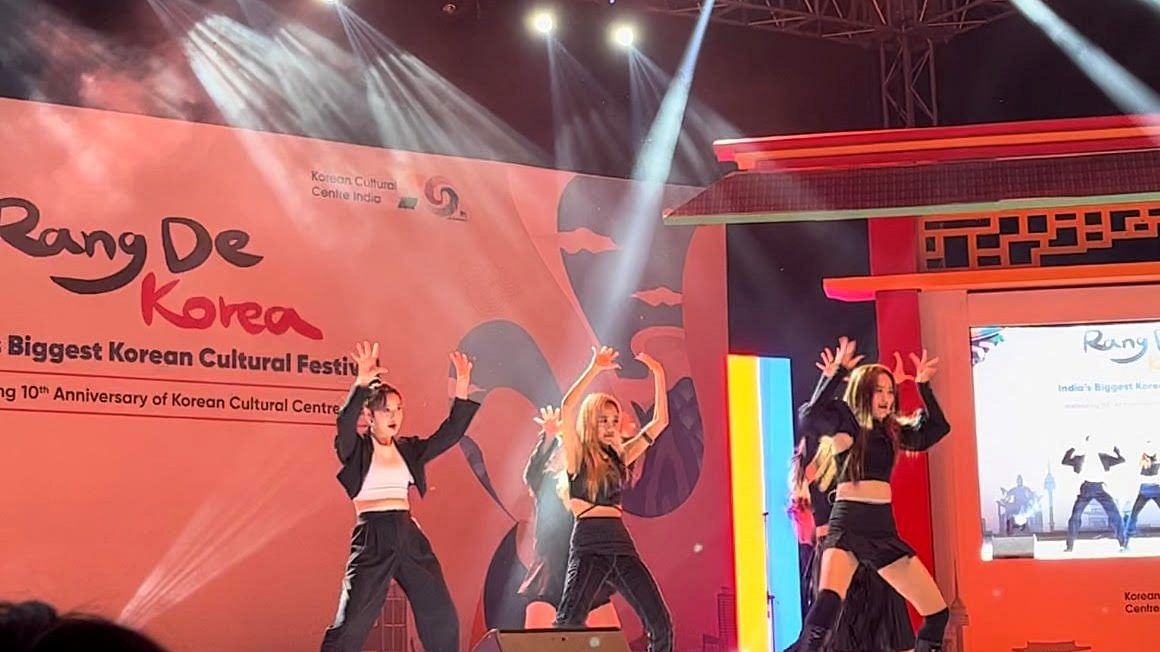 Members of Kingdom were shocked to see fans screaming phrases in Korean and answering them without any interpreter.
"I was very surprised when Korean performance artists spoke Korean and I was supposed to interpret. But most of the audience understood even very subtle and different Korean expressions and responded. I was very surprised wondering how it was possible," said Kim Kanghyun, media and public relations head, KCCI.
It was an indication of how Korean culture had grown in India. KCCI, which also houses the Korean language school – King Sejong Institute – has been at the forefront of hosting and supporting K-culture events in the country since its inception. As it completed a decade, it was time for self assessment.
"The main purpose of this mega fest was to kind of review ourselves, who we are, what we have done and what can be our direction going forward. We wanted to get answers," Kim said.
"People already know about BTS, Blackpink, Squid game, and Korean dramas. Korean culture is appreciated and reproduced by Indian people, then is that Indian culture or Korean culture or both of them?" he added.
(Edited by Prashant)