When Prime Minister Narendra Modi and Tamil Nadu Chief Minister MK Stalin spoke at the Chess Olympiad this year in July, people in Gujarat's Lalavadar village were not just listening to his speech about chess and its history. They were also following the game and its moves, not only to see the outcome but also to see what rules they followed and what lessons they could drop.
This is Gujarat's 'chess village, where every family has had a chess player in the last 10 years. It all started in 2011 with a blind teacher who came to the village's school. He taught the game to children, and now everyone in this village, from children to the elderly, plays chess. The teacher left but his legacy continues.
"In this village, approximately 400 people, including children and parents, play chess. Men and women both play chess instead of gambling or loitering," said Lalavadar school principal, Jitendra Tribhovanbhai Dodiya, while showing photos from the school magazine.
---
Also read: Gukesh, Erigaisi are very, very strong players: chess legend Anand
---
Blind teacher and Gujarati book
B.M. Ramani came to this village school as a teacher in 2011. The year before, the Gujarat government had launched Khel Mahakumbh and chess was also part of this event. Teachers said that if Ramani taught these children chess, they would be able to participate in this event.
"When the Gujarat government introduced Khel Mahakumbh, I started teaching chess to our school children, and soon the addiction reached the village as well. Our children won Rs 43,000 in the 2013 event," Ramani said. Jitendra explained how the kids were taught the game. "We ordered books simplifying the rules of chess. This made it easier to get a grasp on the game," he added.
Ramani did not know much about the game himself and went to a district library to search for a Gujarati book called Chalo Chess Sikhiye Ramta Ramta (Let's Learn Chess Slowly). As Ramani is blind, the children used to read the book aloud to him.
"We are all pieces of chess, no more or less. The king never dies because the king never fights." This is a line from one of the poems that BM Ramani used to teach the children to play chess in a fun way. Ramani may not be able to see with his own eyes, but he saw the talent in these children and helped them out.
---
Also read: We can have next Chess World Champion from India by 2025: Viswanthan Anand
---
Chess becoming a part of the culture
Chess is not just a game for these people, but a part of their culture. Girls who get married take a chess board with them, and newlyweds who move to this village are also given a chess board as a welcome gift. Chess boards can be found in 70 to 80 per cent of the homes in this village.
Even on birthdays and festivals, people exchange chess boards. Apart from this, the villagers use chess references in their everyday conversation. "Don't talk like that camel, who walks tedha on the chessboard," says Roopal (22), a resident of the village, to his brother in one argument. 
"When our relatives from other villages visit us, they are also surprised. They request us to teach the game. Our village is known as the 'Chess Village'," says Sonal Dinesh Bhai, who has been playing chess since class 5 and is now a college student.
Chess has almost become a ritual in Lalavadar. "We teach anyone who comes to our village, whether they are relatives, newlyweds or children," said Sakariya Ramesh Bhai, who taught the game to many newlyweds.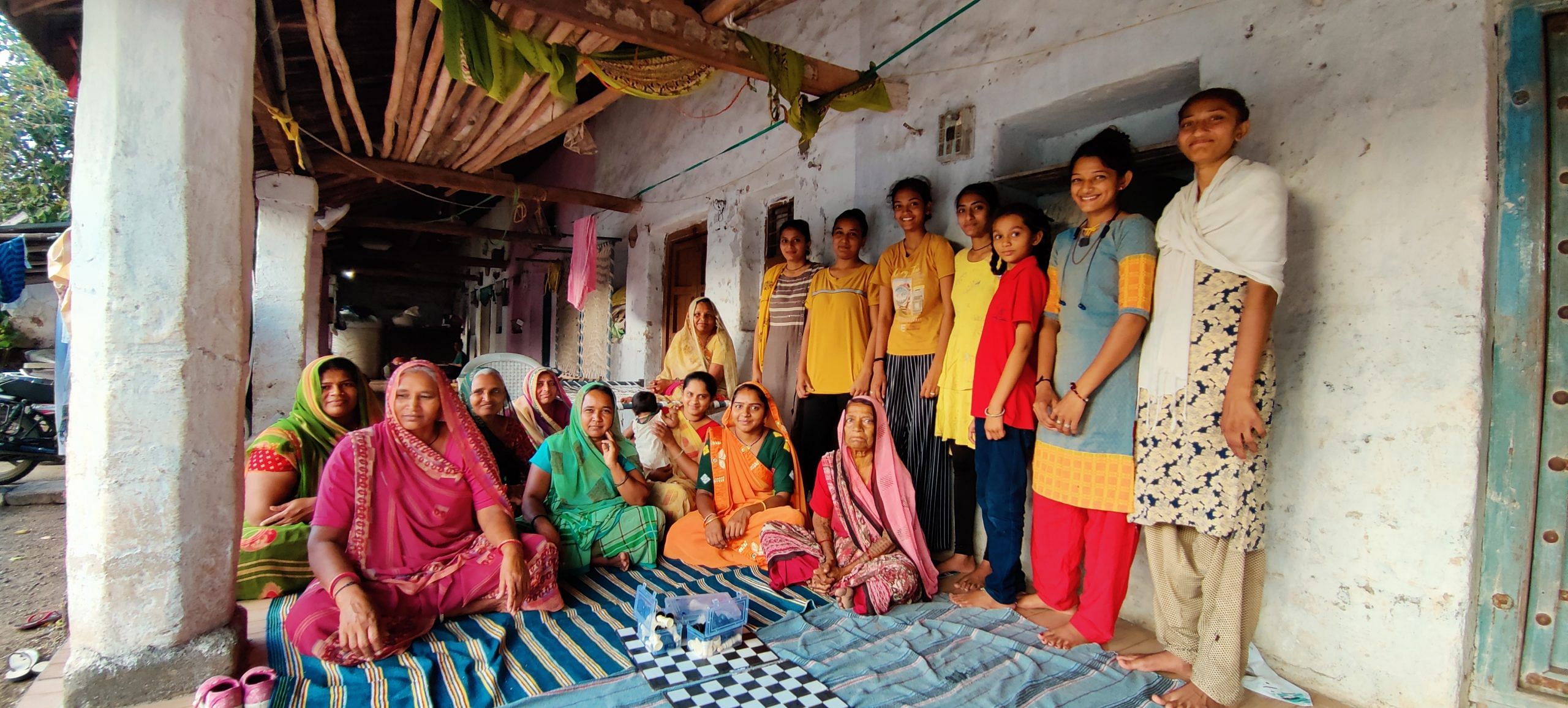 Changemaker chess
Lalavadar village changes in the evening. Girls of all ages play chess sitting in the courtyard of the house dressed in traditional clothes. They get so engrossed in the game that they are unaware of what's going on outside. 
Nirali, 12, with a red ribbon in her hair, is staring at the chess board. She has defeated Yash three times in the last 30 minutes and is now running her queen on the chess board to defeat him for the fourth time.
"Chess is my favourite game. I play for two hours every day with my friends and my father. My father used to beat me in the game earlier but now I am the one who wins. I am getting better at it," Nirali said with a big smile.
There are more Niralis out there. In the school's 14-year span, Sujan has been the chess champion. She won at the tehsil and district levels before making her way to the state level. Sujan also teaches others in the school and village.
In the decade that the children have been playing the game, teachers and parents have noticed a few changes in their children. Those who used to be frustrated and angry were calm now. Chess has increased the IQ level of students. They are not addicted to their mobile phones anymore. 
During the Covid pandemic, when the entire country was in lockdown, this village was busy playing chess. "We used to go to our friends' places with masks on. It was our favourite time pass. We did scroll through our phones, and we still do not use mobiles that much," Nirali said.
There is a research paper that shows that playing chess does improve IQ levels in children. It does the same thing with adults as well. Chess players have higher general and performance IQs, according to research on intelligence and chess.
This game is a legacy
Children who leave the village carry the chess legacy with them. Aditya, 21, is studying BSc at a college in Ahmedabad, but the talent of the game is with him, which he inherited from Lalavadar.
"I have been here since 2004. I have seen big changes in students since the game was introduced in their lives. Our results improved, and children performed better in exams. Even parents come to me and say they are very happy with their children's growth," the school principal said.
On a sunny day, birds are chirping in the neighbourhood, there are tea, snacks, and a chess match is underway, and many have gathered at a ground in the village. As the match gets more interesting, more people join in and cheer for the players. This is a normal evening scene in Lalavadar.
"I learned this game when I was in class 8, and now this is a part of my life. I also taught my brother's wife, she loves playing chess now," said 20-year-old Lalita.
The village elderly do not get the game, but they do understand the emotions behind it. Wearing traditional clothes and silver jewellery, they tease the person who loses and praise the one who wins. "I do not understand this game, but yes, we know that if the king dies, the game is over. It is a game of the mind," said an 80-year-old woman from the village.
Sonia, 29, came to the village after her marriage and gradually got introduced to the 'custom'. "I used to wonder why everyone plays chess in their free time. But once they taught me, I also began playing," said Sonia feeding her baby.
---
Also read: WTA Chennai Open 2022 held in TN due to state govt efforts: Stalin
---
Lack of training
The children from Lalavadar are influencing the people of nearby schools and villages as well.
A nearby school approached the village and requested the children to teach them. This is increasing the number of children participating in competitions and making it tougher.
But there is a problem—the Lalavadar children are not able to crack the competition beyond the state level because of a lack of formal training and coaches. That is why they watched the Chess Olympiad held this year in Chennai closely. It opened their eyes—they realised that they were not playing the game with the standard rules. 
"Our kids go up to the state level only to be ranked 8th or 9th because the other participants are national-level players. They have good learning resources, better coaches, and proper training. We need the same assistance here," Ramani explained.
Last year, only seven students were selected for the Khel Mahakumbh from Rajkot under the 14-year age group. To reach Khel Mahakumbh, students have to first clear the zonal and district levels. 
This year, too, Laladavar is preparing its players for the event. "This time, I am learning from YouTube tutorials. I don't know If I can win, but I will definitely try playing better than last year. That's the game's spirit," Sujan says, his eyes focused on the queen.
(Edited by Tarannum Khan)