Bengaluru: In the past week, weather news was dominated in the country by visuals of Bengaluru flooding. Intense rains, which started Sunday night and persisted till Monday morning, led to a deluge as high levels of water was dumped on a city starved of drains and emptied of natural water bodies.
The flooding was immediate and intense, leading to people wading through waters within minutes. Large parts of the city were submerged.
​
In just 12 hours, the city received 13.16 cm of rain according to the meteorological office. Many areas were under knee-deep waters, and even up to the waist level. Low-lying areas were completely inundated, with stranded residents needing to be evacuated by tractors and boats. The city came to a halt Monday.
​
Historically, Bengaluru receives about 970-990 mm of rain annually, and is primarily subject to evening showers through the second half of the year. The wettest months are August, September, and October, and the annual average rainfall from 1981 to 2010 was 986.1 mm.
​
This year, the city has already received 1,466.6 mm of rain.
The #HAL observatory in #Bengaluru has recorded 1466.6 mm of rainfall for the year making it the wettest year since the inception of the observatory in 1947! The previous record was 1426 mm recorded in 2005!#BengaluruRain #Bengalurufloods

— Bengaluru Weather (@BngWeather) September 8, 2022
The intense rain was brought about by two main atmospheric dynamics — the larger climate pattern of rapid warming year by year, and the more localised weather pattern over Bengaluru which exacerbated rains that particular night.
---
Also read: Floating shops, rivers for roads — how floods brought economically strategic Silchar to its knees
---
Wind shear zone and atmospheric moisture
Bengaluru receives moderate rainfall this time of the year.
​
"During the monsoon season, the city gets most rains when monsoon activity over the Indian Core Monsoon Zone is subdued," explained Vineet Kumar Singh, postdoctoral researcher at the Typhoon Research Center in Jeju National University, South Korea.
​
Subduing or weakening of monsoon in pulses during an active monsoon season is a normal occurrence due to atmospheric wave patterns. During active monsoon conditions, there are strong westerly winds blowing from the west. During a break condition, these winds weaken, often becoming comparable to the easterlies.
​
It is during these times that Bengaluru receives more quantities of rain during monsoons, said Singh.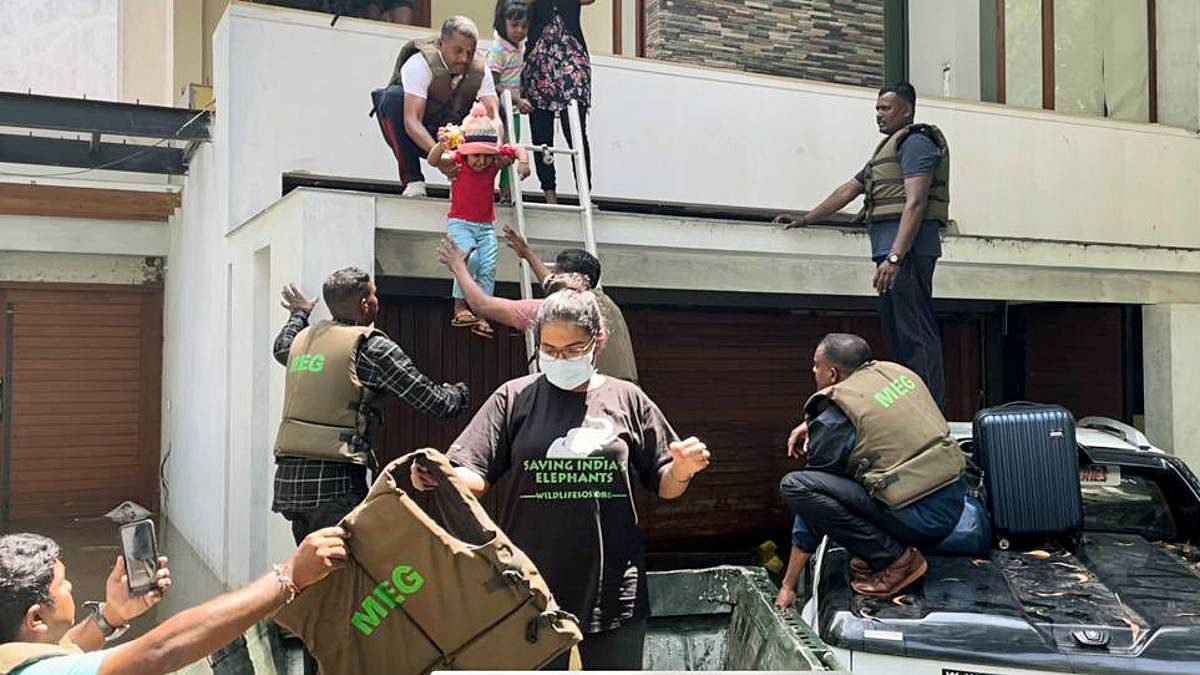 On Sunday evening, the changes in these wind patterns triggered the formation of what is known as a wind shear zone over the city.
​
Shear zones are where there are winds moving in opposite directions at either ends of a region, leaving a kind of neutral zone in between.
​
"Bengaluru had westerlies to its south and easterlies to the north, creating a shear zone. This enhances atmospheric instability with very weak winds. Additionally, the region also had moisture-laden atmosphere because of the monsoon season. This resulted in a favourable condition for localised convection and thus excessive rainfall," explained Singh.
​
However, this rainfall was not an anomaly.
​
"The rainfall was predicted and very much within acceptable range (as strong rains), although it deviated quite significantly from the normal rain experienced at this time of the year," said Dr. P Mukhopadhyay, monsoon modelling expert at Indian Institute of Tropical Meteorology, Pune.
​
"Rains have been worse this time of the year previously," he added, referring to the previous two records for wettest days in September — 18 cm in 1988 and 13.23 cm in 2014. "However, the city never got flooded to this extent. The reason for the floods is the lack of drainage and infrastructure, not the intensity of rain," he explained.
​Water bodies in the city have been steadily degrading for several years now, with many citizens raising alarm at disappearing lakes and reduced percolation of rainwater into the ground. In 2019, Bengaluru's civic body announced that it planned to re-map parts of the city after satellite images revealed "exponential urbanisation" that the authority was not collecting tax from.
Impact of global heating
All localised weather is exacerbated everyday by the rapid warming of the earth. While Bengaluru was under intense rain, Pakistan continued to be affected by floods, as did parts of America, Africa, and Asia. 
Meanwhile Europe, China, and many other places are experiencing record drought with rivers completely drying up in a way that has never been seen before.
​
Rainfall across the globe is expected to worsen in terms of intensity because a warm atmosphere evaporates more water and holds more precipitation, thus dumping large volumes of water with extreme intensity and in short periods of time.
​
Bengaluru's rainfall is consistent throughout the year, but does not come to the scale of rains in coastal cities like Mumbai, Chennai, or Kolkata. September sees the highest rainfall, followed by October and August, and then May to July.
April and November, which precede and succeed the monsoon, receive light showers, but all of this is now changing.
​
In Bengaluru, data shows that annual rainfall is indeed increasing.
​
The standard rainfall rate in India is calculated by the India Meteorological Department (IMD), and is called the Long Period Average (LPA). It is the average rainfall between 1981 and 2010. Bengaluru LPA stands at 986.1 mm, but since 2010, rainfall has been in excess of LPA. In both 2020 and 2021, the average rainfall measured at over 1,200 mm.
​
The average rainfall between 2010 and 2021 was 1,146.62 mm, which is 16 per cent over the LPA for the city. As extreme rains increase, along with unchecked and unplanned construction without facilitating water absorption into the ground, the city is ripe for increased flooding with every cloudburst or even above average-rainfall.
​
"When we use appliances, we know that there is a safe voltage range that they can operate in. Voltages beyond that damage and break appliances. The same is going to happen to our infrastructure in the coming years," said Mukhopadhyay.
(Edited by Poulomi Banerjee)
---
Also read: 'Gloomy information' — Telangana CM KCR blames 'foreign' hand for cloudbursts
---