New Delhi: The monsoon may have covered all of India so far, but water levels in reservoirs across nine states including Punjab, Gujarat, West Bengal, Uttar Pradesh, and Madhya Pradesh are still lower as compared to last year, according to government data.
The levels are short of last year's figures, and also below normal in Himachal Pradesh, Tripura, Nagaland, and Chhattisgarh.
Among the major states with less storage than normal, the highest gap was seen in Punjab, Odisha, Rajasthan, and Madhya Pradesh with a deficit of 27 per cent, 15 per cent, 13 per cent and 13 per cent, respectively.
However, the largest deviation has occurred in Nagaland and Himachal Pradesh, which are 46 per cent and 39 per cent below normal, respectively.
The reservoir levels are critical for various aspects of the economy such as irrigation, power, and drinking water supply. Increased usage of irrigation systems across the country means that the storage levels have become vital for India's farm output.
The lower levels in crucial agricultural states such as Punjab, MP, UP, Gujarat, Odisha and Rajasthan are likely to dent the food production since these states are major producers of food items such as cereals, pulses, and oilseeds.
This output hit will further fuel inflation, with the market prices of pulses and oilseeds already higher than last year.
---
Also read: Govt reduces import duty on masur dal to zero, cuts agri cess by half as prices & demand rise
---
Impact on different levels
Shashi Shekhar, former secretary, Ministry of Jal Shakti, told ThePrint, "The reservoir water is used for kharif and especially in paddy cultivation and provides water supply security during the gap between two rains. This year there has been significant reduction in sowing compared to last year due to late arrival of monsoon and low level of water in dams… the latter couldn't help in sowing."
He said that hydropower plants generate maximum power during monsoon, with excess availability of water that dams release. "However, due to low levels, the power production has also been hampered as the reservoir will also save water for rabi crops," he added.
According to the agriculture ministry, rainfed agriculture occupies 51 per cent of the country's net sown area and accounts for nearly 40 per cent of the total food production.
ThePrint reported earlier that erratic monsoon and subsequent deficient rainfall have already dampened the sowing of cereals, pulses and oilseeds in top producing states. The sowing of crops like moong, urad, and soybean has been hit, severely pushing up food inflation marked by high prices.
What the data shows
According to the latest Central Water Commission (CWC) data on 130 reservoirs across the country, as on 29 July the current-year storage in reservoirs in the central region — MP, UP, Chhattisgarh, and Uttarakhand — is less than last year.
The current level in this region is also lower than the average storage of the last decade in the corresponding period.
This is also the case with reservoirs across the northern region — Himachal Pradesh, Punjab, and Rajasthan. The storage level in eight reservoirs in this region stands at 33 per cent of the total storage capacity. The storage on the corresponding day last year was 44 per cent, and the corresponding average storage of the last decade was 48 per cent.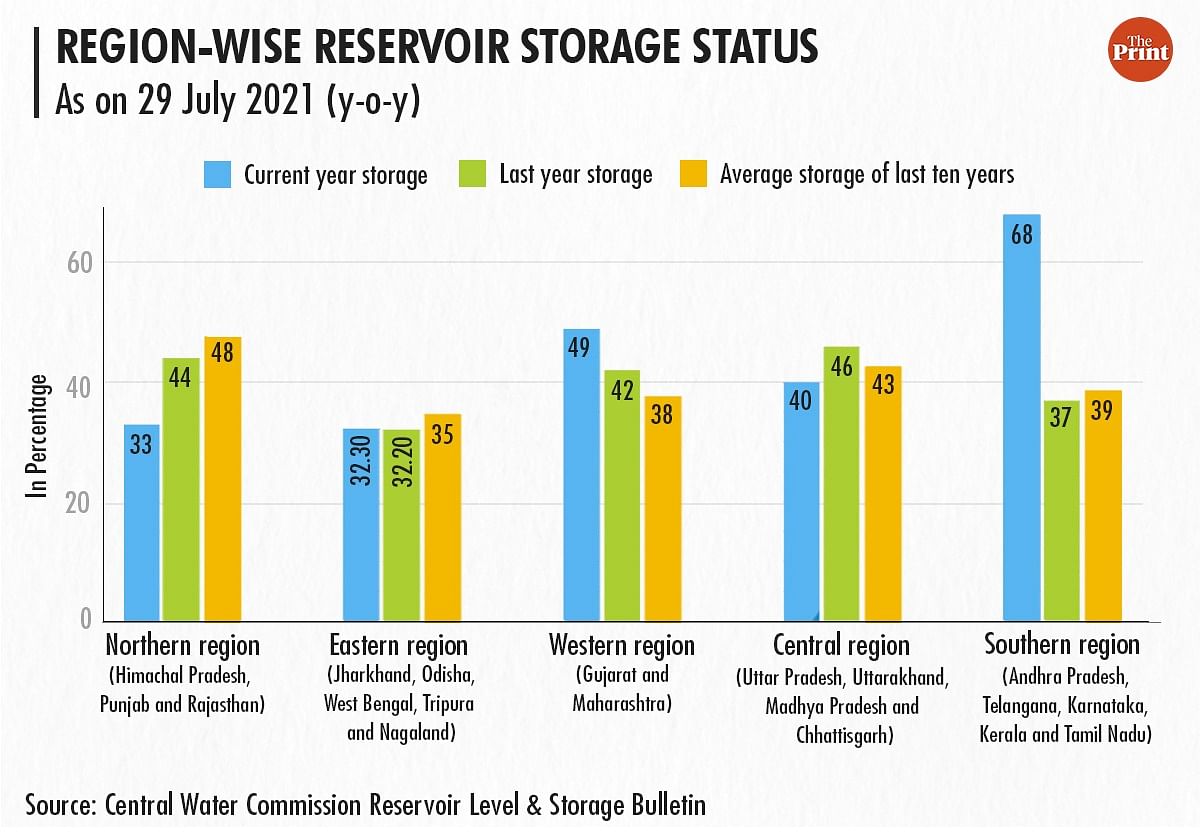 To make matters worse, basin-wise storage position is also lower in major rivers such as Indus and Narmada.
Narmada, one of India's largest rivers with a large drainage area in Madhya Pradesh, has 25.85 per cent of basin-wise storage in the current year so far against 26.74 per cent in the corresponding period last year, according to CWC data.
This will hamper the sowing and production of major upcoming crops in Madhya Pradesh, which is already facing low reservoir storage.
The state is the largest producer of soybean, which is one of the major sources of cooking oil and poultry feed. However, soybean acreage has plunged into the top producing state amid high seed prices and low rainfall.
This might further push up cooking oil, poultry feed, and poultry products prices this year, which have already touched record-high prices.
---
Also read: Forget petrol & diesel, prices of edible oils have soared even higher in June, July
---