Bengaluru: There is no other way to say it — the Covid pandemic and the ensuing lockdowns have been bad for the economy. The GDP contracted by 7.3 per cent in 2020-21. And reports of widespread job and pay cuts across sectors — from manufacturing to tourism — added to the gloom of the times.  
There has been one exception, though — the information technology (IT) sector, which appears to have largely bucked this bleak trend.
Some of the top companies in India's IT sector closed the financial year 2020-21 richer than before. They have given their employees regular hikes that have been "better" than previous years, and there have been promotions too. 
IT industry body Nasscom said last week that the industry is upskilling 2.5 lakh employees, and has hired more than 40,000 as "digitally trained talent". It cited its deal pipeline — "one of the strongest" — and "strong business outlook" to say it is "on track to meet its vision of $300-350 billion revenues by 2025".
The companies did take a knock as the pandemic first emerged and the nation went into lockdown, but the recovery was quick and the trend holds.
"As far as the last year is concerned, obviously, there was a demand shock in the latter part of Q4 FY 20 (January-March 2020) and Q1 FY21 (April-June 2020). So in Q1 FY21, most of the companies saw a revenue decline by five to 7 per cent, but then there was a quick recovery also," said Kuldeep Koul, a tech sector analyst formerly associated with ICICI Securities Ltd.
Industry insiders cite different factors for the sector's resilience to a pandemic that has been ruthless in its impact on pretty much everything else.  
One of these is a familiarity with work from home (WFH) that predates Covid, and allowed the companies to make a smooth transition when the lockdown kicked in. Another factor, they say, is an accommodative stance taken by clients towards pricing during the pandemic year. 
---
Also Read: These 4 factors will shape how Indian economy rebounds from shock of Covid second wave
---
Tracking demand
Quarterly and annual reports of IT companies indicate that their growth in constant currency largely fell during the first quarter (1 April to 30 June) of 2020-21, which includes the entire duration of the nationwide lockdown. By Q2, however, the industry was seeing a rise in demand. 
The company filings of the three biggest homegrown IT companies — Infosys, Tata Consultancy Services (TCS) and Wipro — show that their revenues, net profits and share prices increased in FY 2020-2021. 
Infosys saw its revenues increase by 10.66 per cent to Rs 1,00,472 crore in FY 2020-2021, from Rs 90,791 crore in FY 2019-2020. The company's net profit also increased by 16.6 per cent.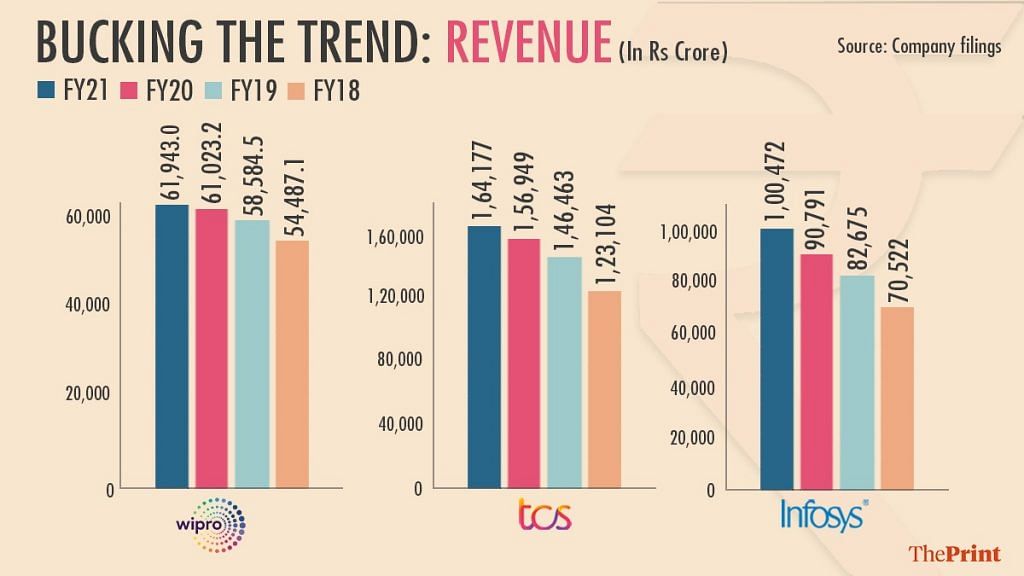 Wipro saw its revenues rise by 1.5 per cent to Rs 61,943 crore in 2020-21, from Rs 61,023 crore in 2019-20. Its net profit increased by 11.03 per cent.
TCS saw its revenues rise by 4.6 per cent and net profit by 3.24 per cent.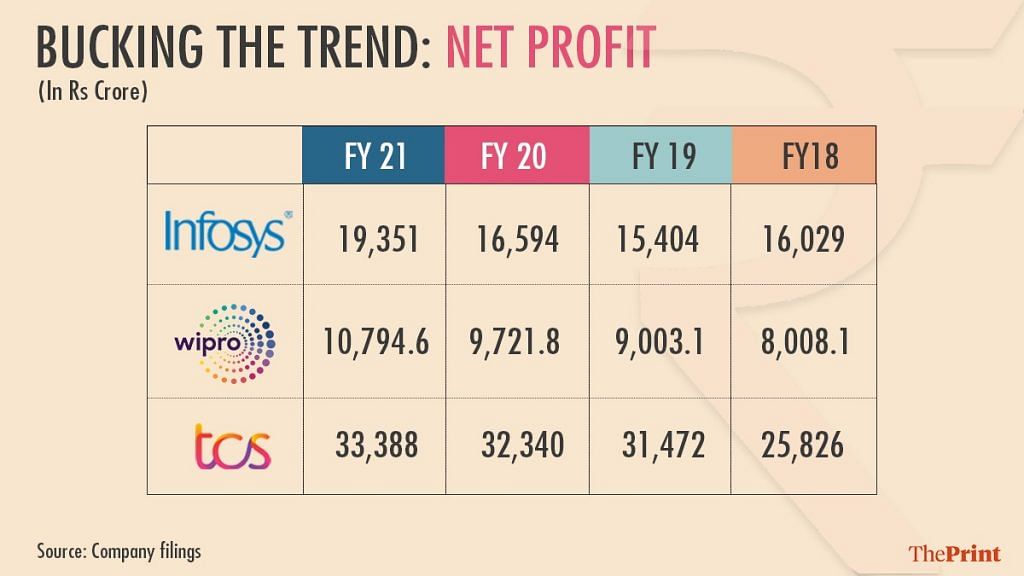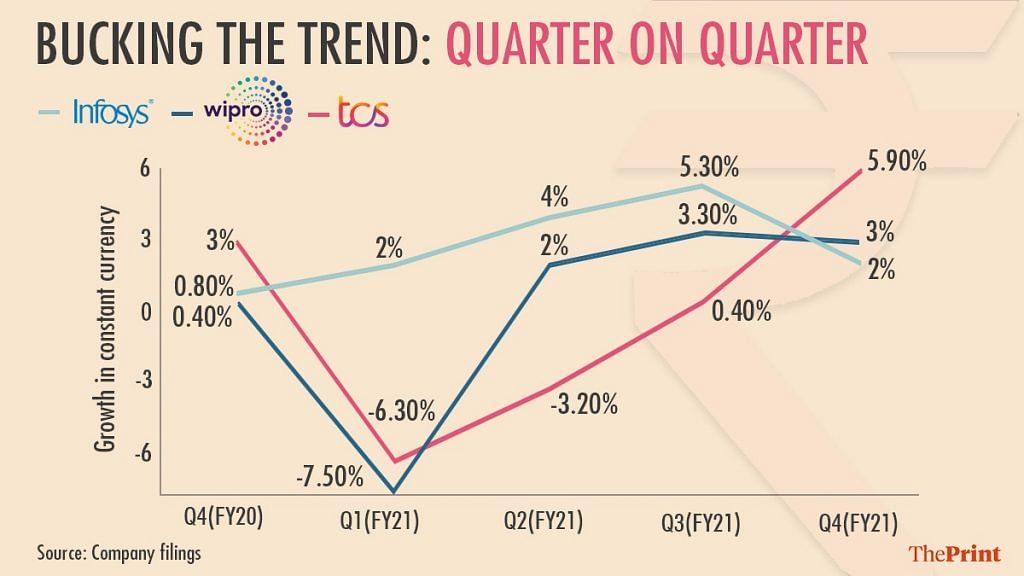 According to Koul, companies mainly had two concerns at the start of the pandemic. "One is that some projects will get cancelled, that they take a back seat, and second is that clients will come back to these companies and ask for aggressive discounts on pricing. In hindsight, it turned out to be exaggerated concerns."
Talking about the reasons behind the increase in demand, he said, firstly, clients took an accommodative stance towards pricing. "What was front and centre for them was business continuity… It was to partner with vendors who could deliver services in a seamless fashion," he added. 
Secondly, he said, clients still wanted their aggregate spending on technology outsourcing to come down and requested vendors to offshore more work for a lower pricing. "What they also did was that they moved workloads to the cloud… all of that played into the alley of Indian heritage vendors," he added. 
Nasscom said in February that its estimates suggest the sector is expected to grow by 2.3 per cent to $194 billion in FY 2020-21. IT exports, it added, would touch $150 billion in the financial year, which would mark a growth of 1.9 per cent over last year.
Hikes in a pandemic year
Employees across Accenture, IBM, TCS, Infosys and Wipro said they had received a pay raise — more than one at some companies — through the year of the pandemic.
"In December, we got a hike, then in February, because of attrition, they made a special cycle. This involved promotions as well as hikes. Surprisingly, there was also a cycle in June," said an employee at Accenture, the global professional services company.  
A mailer sent across by the company's management, the employee told ThePrint, said about 47,000 people had been promoted.
Added an employee of tech giant IBM, "The hikes have been slightly better than other years, although there hasn't been large-scale attrition. Promotions have been slightly better as well."  
According to a TCS spokesperson, the company rolled out two salary hikes within six months for more than 4.7 lakh employees. "The company had hiked the salary by 6-8 per cent in October, but in the second rollout, the employees got an average increment of around 12-14 per cent in the line of our benchmarks," the TCS spokesperson said.
IT giant Infosys announced hikes in January 2021, and another will take effect in July 2021, Richard Lobo, Executive Vice-President and Head of Human Resources at Infosys, told ThePrint.
Saurabh Govil, Chief Human Resources Officer at Wipro Limited, said the company announced "100 per cent variable pay (i.e compensation determined by performance) linked to business metrics for all employees for both the third quarter (October-December) and the fourth quarter (January-March) of financial year 2020-21".  
"This follows the 100 per cent variable pay that was paid out for the second or the July-September quarter," said Govil.   
About 7,000 employees upto a certain level had been promoted, he added, saying the rest are set to receive the hikes from June.
Attrition rate
One of the most prominent upshots of the pandemic has been a rise in unemployment. 
According to data from the Centre for Monitoring Indian Economy, unemployment rates have seen a major rise in the past year. In April 2020, unemployment soared to 23.5 per cent from 8.8 per cent in March, before dropping to 21.7 per cent in May and 10.2 per cent in June (when the nationwide lockdown began to ease). 
As of April 2021, the numbers remained below 10 per cent, before May brought a slight uptick to 11.9 per cent.
However, this is another area where the IT sector appears to have bucked the trend, according to the employees and managerial staff at TCS, Wipro, Accenture, Infosys and IBM. Speaking to ThePrint, employees at TCS, IBM and Wipro said there hadn't been any layoffs at the companies. 
The Accenture employee said there had been a "few layoffs" at the start of the pandemic, but added that the threat passed over soon.
"Since we started work from home last March, we were insecure about our jobs because there had been a few layoffs. But this turned around from November and the company started recruiting people again," the Accenture employee said.
A sign of the sector's strong going is also seen in the strengthening attrition rate. 
At the start of the pandemic, the looming uncertainty meant fewer people were opting to change jobs. In the first quarter of 2020-21, which marked the initial months of Covid and the nationwide lockdown, TCS, Wipro and Infosys reported a "significant decline" in attrition rates. TCS said its attrition rate in the past year had been its lowest ever.  
Over the next few quarters, as demand picked up, the attrition rates increased. 
"We have seen an increase in our attrition from the previous quarters. However, this was anticipated as demand picks up and companies have started hiring in large numbers," said Lobo.  
Wipro saw its attrition rate decline from 14.7 per cent in the fourth quarter of FY 2019-2020 to 13 per cent in the first quarter of FY 2020-2021. This once again fell to 11 per cent in Q2 and Q3, before increasing to 12.1 per cent in Q4. 
According to Nasscom, the IT industry body, companies in the sector will add over 96,000 employees in 2021-22.
"With the evolution of technology and increasing automation, the nature of traditional IT jobs and roles will evolve overall, leading to creation of newer jobs. The industry continues to be a net hirer of skilled talent, adding 1,38,000 people in FY2021," Nasscom said in a statement.
---
Also Read: Second Covid wave's economic impact won't be large, CEA KV Subramanian says
---
When operations moved home
Transition to remote workplaces was one of the biggest adjustments that companies had to make as the Covid lockdown kicked in. This was relatively easier for the IT sector, where work from home has been a reality for years.  
"We were doing WFH before, but what happened now is that almost 90-95 per cent of the employees were working from home," said the IBM employee quoted above, who didn't wish to be named.  
"In terms of enablement, globally, we have 96.5 per cent of our employees today working remotely from their homes. We were able to make this shift fairly quickly and we have not seen any impact on deliverables as well as on productivity," said Lobo. 
He added, "We have enabled our employees through rapid deployment of physical devices as well as tools… Besides, we are also significantly and rapidly amplifying our technology landscape to support robust and secure remote collaboration at scale."
The Accenture employee said the company initially allowed staffers to carry desktops home, and subsequently issued laptops to them. Additionally, the employee said, staffers were given a stipend of Rs 18,000 to spend towards procuring equipment to facilitate remote working.  
TCS said it could circumvent concerns about cybersecurity by transitioning to a new operating model framework that it called the Secure Borderless Workspaces (SBWS).  
"SBWS enables remote access to employees while protecting them with a robust cybersecurity framework. This virtual workspace also ensures that work allocation, monitoring and reporting continues unobstructed… The SBWS enabled TCS associates (almost 99 per cent) to safely work from home or a remote place globally," the TCS spokesperson said. 
A mixed bag
Many of the employees ThePrint spoke to said their output over the past year had increased substantially. Hiccups exist in the form of work days continuing round the clock, but employees at some companies say they have now been taken care of.
"I've seen that since we no longer have to travel to work… we are able to save 2-4 hours. Also, you aren't getting physically tired from travelling either. We could definitely see more proactivity, employees were more punctual," said the Infosys employee.  
Fewer people, the employee added, were applying for leaves too.
Said the Accenture employee, "I have been more productive. Earlier, it wasn't possible to schedule meetings before 9 o'clock and after 7 o'clock as people would be commuting… with flexible timings, that is possible."
The TCS employee said the perks of WFH came with cons. "Since travelling was challenging, people would initially think that working from home was good… But now, whenever there is a meeting, we have to join that meeting and people are stretching their work beyond 13-14 hours. Sometimes people have to complete work during the weekends." 
The employee added, "We are mentally disturbed by doing the same work everyday. Also, we don't have people around us to talk to."
The IBM employee, however, said there has been improvement on this count. "In the beginning, up to 2020, people used to call up and set up meetings at any point of time… working virtually took its toll. In the last 2 months, there has been an improvement, people are able to recognise that this is stressful and have started drawing boundaries."
(Edited by Sunanda Ranjan)
---
Also Read: How this Covid wave has hurt Indian economy — falling indicators, lower growth expectations
---