Bengaluru: It's 9.30 on Tuesday morning, and at Bengaluru's Bhuvaneshwari Nagar, S. Marudachala Murthy, a one-time second-generation handloom weaver, has called a meeting of parents to discuss school fees. 
His oldest daughter's annual fee, in an institution run by a spiritual trust, is Rs 70,000. The meeting is to gather consensus on requesting the school to waive 50 per cent of fees since the incomes of the parents, some of them weavers like him, has been at an all-time low due to the pandemic, the subsequent lockdown and the toll it has taken on the economy.
"The income from handlooms had stopped altogether last year. Today, there is a recovery of about 50 per cent, but it will take another year or so for the industry to return to normalcy if there are no further lockdowns," Murthy told The Print.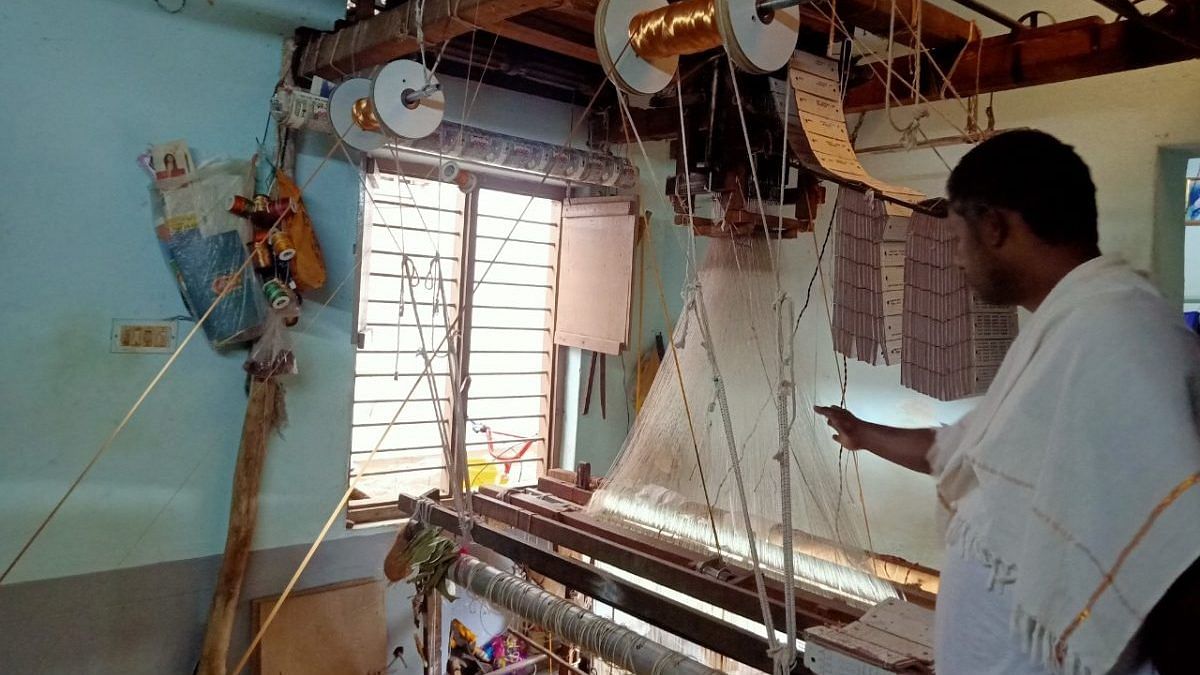 Handloom weaving, one of the smallest components of the textile Micro, Small and Medium Enterprises (MSMEs), is a traditional craft largely run by families like Murthy's. 
The micro-business took a massive hit due to the Covid pandemic and the lockdown, which saw consumer demand plummet, crippling the garment industry as a whole. 
Handloom owners suffered as many loom workers left for their hometowns and did not return. The looms began lying idle, while debt piled up. 
Karnataka accounts for 20 per cent of the country's total garment production, which is valued at $1.56 billion, according to data with the state's New Textile Policy of 2019-2024. 
But the garment factories in the state have had to lay off a significant amount of the workforce due to the pandemic troubles. According to a study by the Bengaluru-based Alternative Law Forum (ALF), many smaller units with barely 500 to 1,000 employees have folded, unable to bear the financial losses. This has had a trickle down effect on the entire supply chain, from textile traders to the loom owners and weavers.
However, with demand limping back to normalcy, large garment factories have started operating 24/7. 
---
Also read: India's MSME sector largest after China's. But no one is talking about its role in emissions
---
Handlooms in a lurch
This season running up to Dussehra and Diwali is supposed to be the busiest time for weavers but that it isn't quite the scenario this time.
Take the case of Murthy. Barely a few years ago, Murthy and his 75-year-old father C.P. Subramani owned 16 handlooms and employed 14 workers. Today, an annexe hall next to his residence has four handlooms, of which only two are functional. Murthy does not weave anymore. His senior citizen father and one more loom worker soldier on in an occupation that is fast losing its base in Karnataka. 
"There are no takers for this work anymore. Weavers would rather take up jobs as drivers, salespersons, security guards because they get at least a fixed salary of Rs 10,000 to Rs 12,000," Murthy said. 
Hundreds of loom workers, he said, went back to their hometowns during the lockdown and never returned. Some have taken to other jobs or are attempting to stay afloat with auxiliary manufacturing. 
Sixty-seven-year-old Kullappa, who has been a handloom worker for 45 years, is among the few who has stuck to the trade through the pandemic, but for a measly income. He makes Rs 700 for every saree he weaves and earns just about Rs 350 a day as "a simple saree takes about two days to weave". Kullappa said his wage is lower by Rs 100 if the saree he is weaving is for a shop in Karnataka. 
As Kullappa goes about his business, monitoring 8,000 silk strands, weaving them into a saree 2,000 strands at a time, working the treadle with his feet on the pit loom, three more looms lie idle.
For Gunashekhar, whose family has been entirely involved in handloom, the pandemic brought about change. He shut down the handloom and diverted his resources into a newly-installed motorised silk spooling unit. The move has increased his turnover by Rs 10,000, he said. 
Not everyone, however, has been able to make the switch. 
According to the Karnataka Economic Survey 2020-2021, the state has 33,677 weaver households. There are also 33,539 handlooms, of which 4,162 are lying idle. The remaining 29,377 handlooms are being operated by 50,574 weavers, according to the survey. 
During the pandemic, hundreds of them chose to opt out of the occupation. The state government's efforts to help have also not helped. 
The Karnataka government in 2020 announced a scheme — Nekara Sammana Yojane — to provide cash assistance of Rs 2,000 for every registered weaver in the state. 
"The scheme has not helped the loom workers who neither fit into unorganised sector labourers nor are they loom owners," said Sudhir Kamat, founder of Shreni Samudaya, an organisation that works with traditional occupational groups across multiple states. 
Kamat said the assistance was only for those registered with the government, adding that many loom workers are not registered with the government because of red-tapism and lack of clear classification of yardsticks to issue registration numbers. 
"Distress in the sector predates Covid but the pandemic has made matters worse. The lockdown has left loom owners with huge stock of sarees that won't get remunerative prices, which means there will be distress sales. This has landed loom owners in severe debt," he added.
"Unfortunately, traditional loom workers, whom I call indigenous workers, have neither control on demand nor supply. They work based on orders placed by procurers. The most worrisome factor is that they don't have access to market or regular credit link supply of raw material."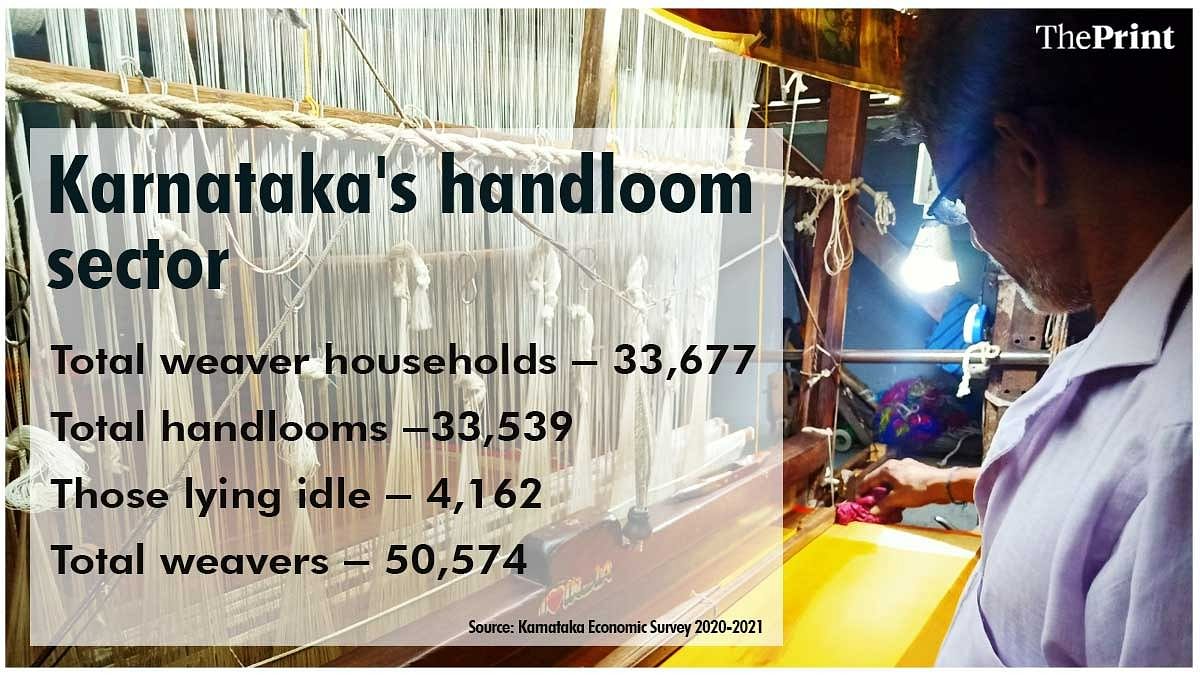 Large companies recovering, little hope for smaller units 
The readymade garments sector employs 4,41,738 people in Karnataka, according to the state's Economic Survey 2020-2021. Karnataka's total exports in readymade garments for the 2019-2020 fiscal stood at Rs 15,707.11 crore, about Rs 200 crore less than its 2018-2019 numbers.
According to a study conducted by the Garments and Textiles Workers Union (GATWU) and ALF, the garment factories took a hit during the lockdown, the effects of which were eventually passed onto employees. 
Of the 25 factories in three garment clusters in Bengaluru that the study surveyed, nine factories had closed down entirely, resulting in about 5,600 to 7,200 workers losing their jobs during a pandemic. Sixteen factories in the survey, the study said, had downsized, costing 11,000 workers their jobs. 
"We estimated that 60 per cent of garment workers lost their jobs without notice and under pressure. They were asked to resign and avail their dues or forfeit their dues," Prathiba R, president of GATWU, told ThePrint. 
She added that data on closures obtained through the Department of Factories and Boilers showed that 65 factories were recorded as closed down since April 1, 2020, in Bengaluru Urban district. "Thousands of workers who lost their jobs due to factory shutdowns worked in units that had less than 100 workers," she added. 
Pratibha said things began looking up in November 2020 when orders returned, but the revival has been limited to large garment factories alone. 
"Now there is a lot of work but a shortage of labourers since many have gone back to their hometowns and are not willing to return. The big factories are working 24/7 and are willing to pay extra on weekends too. Since workers are in desperate need of money, they are taking up jobs," said Jayaram K.R, legal advisor to GATWU.
He pointed out that due to shut down of businesses and shops, stocks that were stored for a year have been sent back to factories. 
"There is a concept called 'back to warehouse' where garments not sold within a year are returned to factories. Since exclusive retail outlets of foreign brands were out of business, stocks have been sent back," Jayaram said.
"Garment factories are selling them to non-branded stores where they are being retailed at dirt cheap prices. I could never afford to buy an Arrow shirt because it costs around Rs 3,000-4,000, but I recently bought three Arrow shirts for Rs 350 each." 
Double whammy for small and medium business owners, traders
Sitting in his shop at Chickpete, one of Asia's largest textile markets, which supplies wholesale women's clothing, Sajjan Raj Mehta told ThePrint that his sector has seen a 60 per cent recovery so far. 
"Ours is a fashion and utility-based business. With schools, offices, colleges, travel, parties, functions, social events all shut down there is no demand," he said. "People's incomes have reduced and whatever money they have, they want to save for medical expenses and household expenditure. It is only in the last four months that some demand has returned."
Mehta, also the chairman of the taxation committee of Karnataka Hosiery and Garment Association (KHAGA) told ThePrint, that the garment sector will face further setbacks due to a new proposal by the 45th Goods and Services Tax (GST) council. 
The proposal intends to correct the inverted tax structure currently in place and bring all goods under the 12 per cent slab from January next year. 
Under textiles currently, the GST slab for fabrics is five per cent and for man-made fibre is 18 per cent and 12 per cent for man-made yarn. Garments that are priced below Rs 1000 attract 5 per cent GST while those above Rs 1000 attract 12 per cent GST.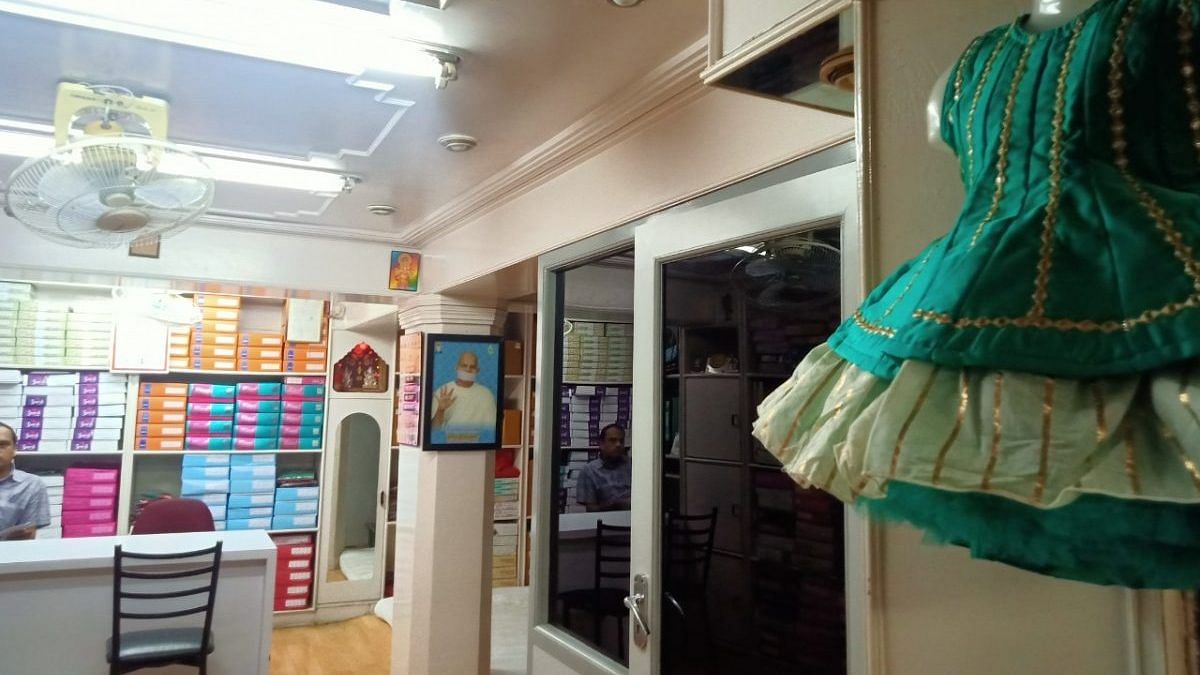 The government is considering bringing all garments, irrespective of price, under the 12 per cent slab. 
The incumbent inverted tax structure mandates the government to refund the inverse input tax credit that gets accumulated when taxes on the final product is lower than taxes charged on inputs. For example, GST slab for finished leather footwear priced less than Rs 1000 is 5 per cent. But the GST slab for input to manufacture the footwear ranges up to 18 per cent. The government refunds about Rs 2,000 crore to the footwear sector annually.  
"It will be suicidal," Mehta said. "Dozens of textile traders in this locality alone have shut shops unable to bear losses during the lockdown. If the GST council decides to tax all goods under readymade garments and textiles under the 12 per cent slab, irrespective of the sale price, then we will be over." 
Moreover, the rising price of cotton and hike in fuel prices affecting transport has made survival difficult for many textile traders, already struggling with a demand drop and losses.
Goutham Chand Porwal, one such textile trader, had to downsize his business. "I used to supply children's clothing to the whole of South India but that first reduced to Karnataka and now I can supply only to Bengaluru. Input cost has increased by 20 per cent. The business has fallen by 60 per cent since the lockdown. All I can do is have patience," Porwal said. 
Some others have managed to stay afloat by innovating and reinventing their businesses. 
Dungarmal Chopra, president of KHAGA, is one such entrepreneur. "I run a manufacturing unit where school uniforms are stitched and I supply them too but during the pandemic, it came to a grinding halt. To save myself, I had to convert my factory into a mask-manufacturing unit," he said. "There was no profit but it saved me from shutting shop."
(Edited by Arun Prashanth)
---
Also read: 'Process is punishment, govt loves paper': MSMEs call out unease of doing business in India
---