New Delhi: Top public sector oil companies have allotted more than Rs 1,350 crore of their CSR funds for developing or maintaining temples and temple towns, building the Statue of Unity in Gujarat and to the PM Cares Fund, since the BJP came to power in 2014.
This includes a Rs 100 crore commitment to develop Badrinath Dham over the next three years, announced last month. The PSUs have made combined contributions of more than Rs 250 crore for building the Statue of Unity, and Rs 5 crore for restoration and renovation of the Jagannath Temple in Puri. 
A commitment of over Rs 1,000 crore has been made to the PM Cares Fund, which was set up last year in light of the Covid-19 pandemic but has come under the lens for what critics say is its opacity.
This information is based on detailed corporate social responsibility (CSR) spending reports of the PSUs for the years between 2014-15 and 2019-20. The companies did spend towards healthcare projects in 2020-21, which spanned the first and part of the second Covid wave, but comprehensive details for the financial year are not available yet. 
Companies that meet certain criteria — a net profit of Rs 5 crore, a net worth of Rs 500 crore or a turnover of Rs 1,000 crore — are mandated to spend 2 per cent of their net profits towards expenditure or activities that qualify as corporate social responsibility. 
These may include funds directed towards promoting education and skill development, helping eradicate poverty and hunger, improving child and maternal mortality rate, healthcare spending, disaster relief, protection of national heritage, sanitation and drinking water as well as rural and slum area development.
Typically, CSR activities are undertaken by a company in states where their operations are situated. The spends mostly reflect the priorities of the Union government over the years like building of toilets under the Swachh Bharat Abhiyan, the Ujjwala yojana for the provision of cooking gas cylinders, the Clean Ganga initiative, the rural electrification programme, or its attempt to spread the message of yoga.
To be sure, some of the expenditure listed above as incurred by the oil PSUs — among India's most profitable state owned firms — may well be within the broad framework CSR guidelines. 
However, the CSR commitment to the Statue of Unity is an exception, with the Comptroller and Auditor General (CAG) flagging it in 2018, the same year the memorial was inaugurated. 
Questions also arise about the state-owned oil sector firms' commitment to spend nearly Rs 100 crore to redevelop Badrinath Dham, a prominent Hindu pilgrimage centre in Uttarakhand, as a "spiritual smart hill town", even as India battles a pandemic that has taken a grievous toll on lives and livelihoods. 
IOC, ONGC, GAIL, other oil PSUs commit Rs 100 cr for redevelopment of Badrinath Dham shrine". This is highly irregular use of public funds. What would Modi government say if these Oil PSUs funded projects for Golden Temple or Ajmer Sharif? https://t.co/UfWc4JI6NK

— Jawhar Sircar (@jawharsircar) May 7, 2021
IOC, ONGC, GAIL, other oil PSUs commit Rs 100 cr for redevelopment of Badrinath Dham shrine.

Hello @dpradhanbjp , r u people doing it purposely to test our resistance and show that u all can do anything w/o any remorse.#HealthOrTemple https://t.co/VRmUu8vjwJ via @BT_India

— CPIM Maharashtra (@mahacpimspeak) May 6, 2021
Biggest priority along with Central Vista ! Stunning ?https://t.co/GYdpO9hLT6

— Shankar Nath (@_ShankarNath) May 7, 2021
Making the Badrinath announcement on 8 May, oil minister Dharmendra Pradhan said these firms would also play an active role in the development of other religious places like Kedarnath, Yamunotri, Uttarkashi, and Gangotri. 
There have been CSR contributions towards temples and temple towns earlier as well.
In 2019-20, IOCL made a contribution of Rs 5 crore to the administrator of Shri Jagannath Temple, Puri, Odisha "towards activities pertaining to restoration and renovation of temple", the CSR declaration by the company shows.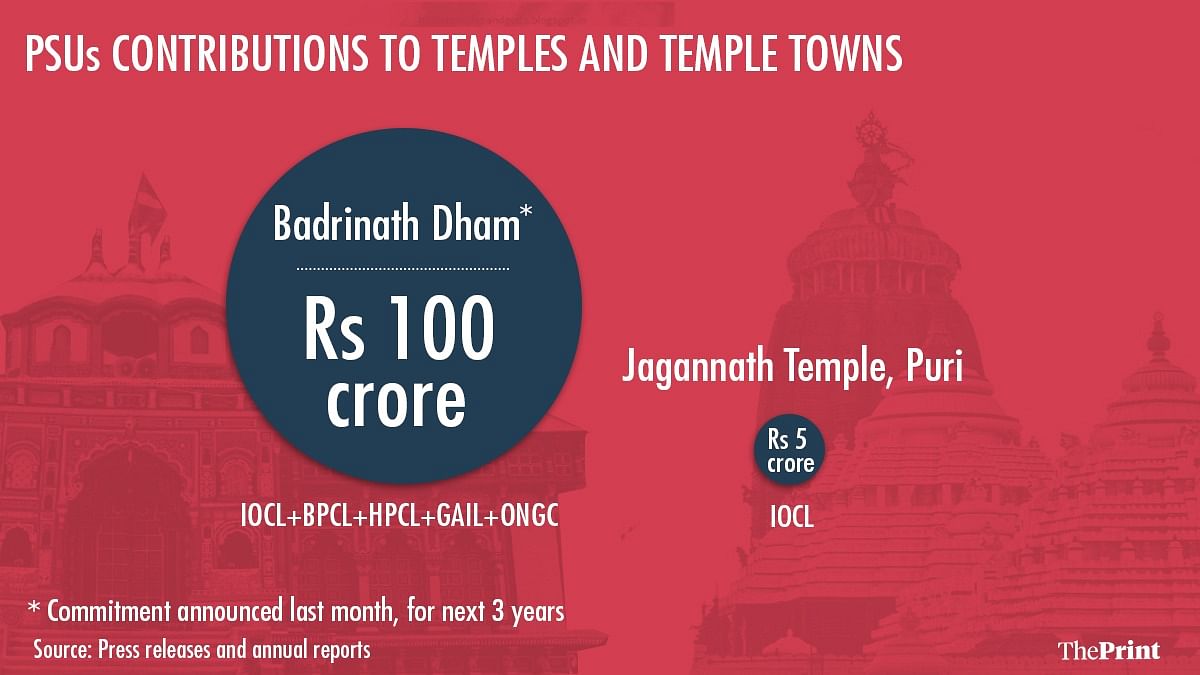 ONGC, meanwhile, contributed to the district project management unit in Gangotri Dham, a pilgrimage town in Uttarakhand, towards 3D thematic painting and LED displays as well as for other development-related activities such as building sanitation facilities, the company's declaration for the years 2018-19 and 2019-20 shows. But the amounts involved are lower, at around Rs 1 crore.
Reached for comment, ONGC said temple towns were identified as part of the Swachh Bharat Mission for development and to maintain cleanliness and hygiene. It pointed out that it has spent less than 0.5 per cent of its total expenditure towards projects in a temple town.
Emails and messages sent to representatives of BPCL, IOCL, and GAIL, and to Pradhan, on 14 June remained unanswered till the time of publishing this report.
Industry insiders told ThePrint that political pressure is often a factor in CSR allocation but noted that the "cardinal principle" for companies is to invest in projects related to their area of operations. In the context of expenses of the kind mentioned above, they said while one may question the allocation priorities, they don't constitute any violation.
---
Also Read: Under fire over cyclone deaths, ONGC is running without 2 top officials, including its CMD
---
Statue of Unity, Gujarat
Oil PSUs have been major contributors — in some cases, over 20 per cent of a company's CSR spends in a year — in building the Statue of Unity, classifying these contributions as expenditure for "protection of national heritage, art and culture". 
The contributions were made to the Sardar Vallabhbhai Patel Rashtriya Ekta Trust towards construction of the statue as well as infrastructure facilities such as toilets, sewage treatment facilities, a museum etc, detailed data of CSR spends available till 2019-20 shows.
However, the CAG, in a report released in August 2018, noted that contributions made by five oil PSUs — ONGC, IOCL, BPCL, HPCL and Oil India — to the Statue of Unity project did not qualify as an activity permissible under CSR as it was "not a heritage asset". It pointed out that the statue, inaugurated in October 2018, was a new construction.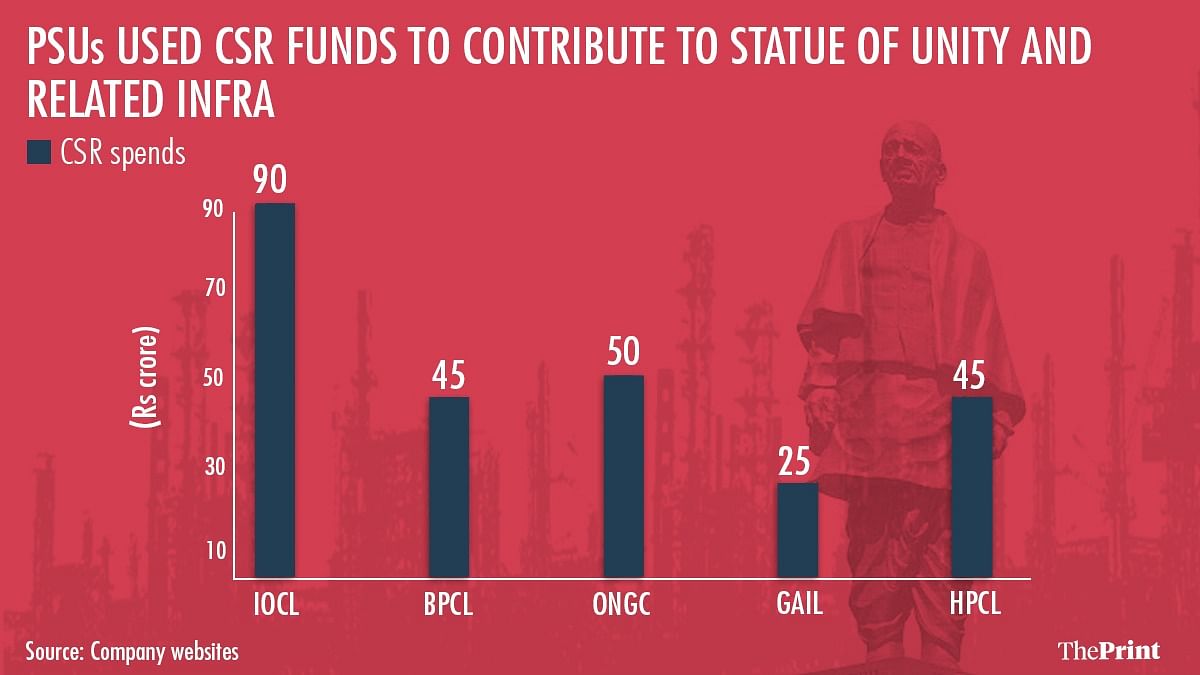 IOCL contributed Rs 21.83 crore for the project in 2016-17, constituting 10 per cent of its total CSR spends for the year. In 2017-18, IOCL made a further contribution of Rs 68 crore, constituting 20 per cent of its total CSR spending for the year. 
BPCL invested Rs 35 crore for the project and another Rs 10 crore for sanitation initiatives around the project in 2017-18, constituting 27 per cent of the total CSR spends of the company for the year.  
ONGC contributed Rs 50 crore to the project in 2018-19, 8 per cent of the company's CSR spends for the year. GAIL contributed Rs 25 crore to the project in 2017-18, constituting 27 per cent of its CSR spend for the year. HPCL, another state-owned oil marketing firm that is now ONGC's subsidiary, also contributed Rs 25 crore in 2016-17 and another Rs 20 crore in 2018-19, constituting 23 per cent and 12.5 per cent, respectively, of the company's CSR spends for these two years. 
PM Cares
Contribution to the PM Cares Fund, set up last year as the pandemic took hold, is another major expenditure that is earmarked as CSR spends by these PSUs. To be sure, this CSR spend is a common trait among all of India's large state-owned firms, with nearly all contributing to the fund in 2019-20 and 2020-21. 
An August 2020 report in The Indian Express based on RTI queries revealed that PSUs had contributed more than Rs 2,000 crore to the fund. The PM Cares Fund was constituted in March 2020 and, unlike the national disaster relief fund, can even receive contributions from state-owned firms. The government also changed rules to make these contributions eligible as CSR expenditure. 
However, PM Cares has been facing criticism over its "opaqueness", with hardly any data in the public domain about funds collected and the criteria used to spend these funds. PM Cares is also outside the ambit of CAG, the national auditor.
Last year, all oil PSUs committed to contribute more than Rs 1,000 crore to the PM Cares Fund.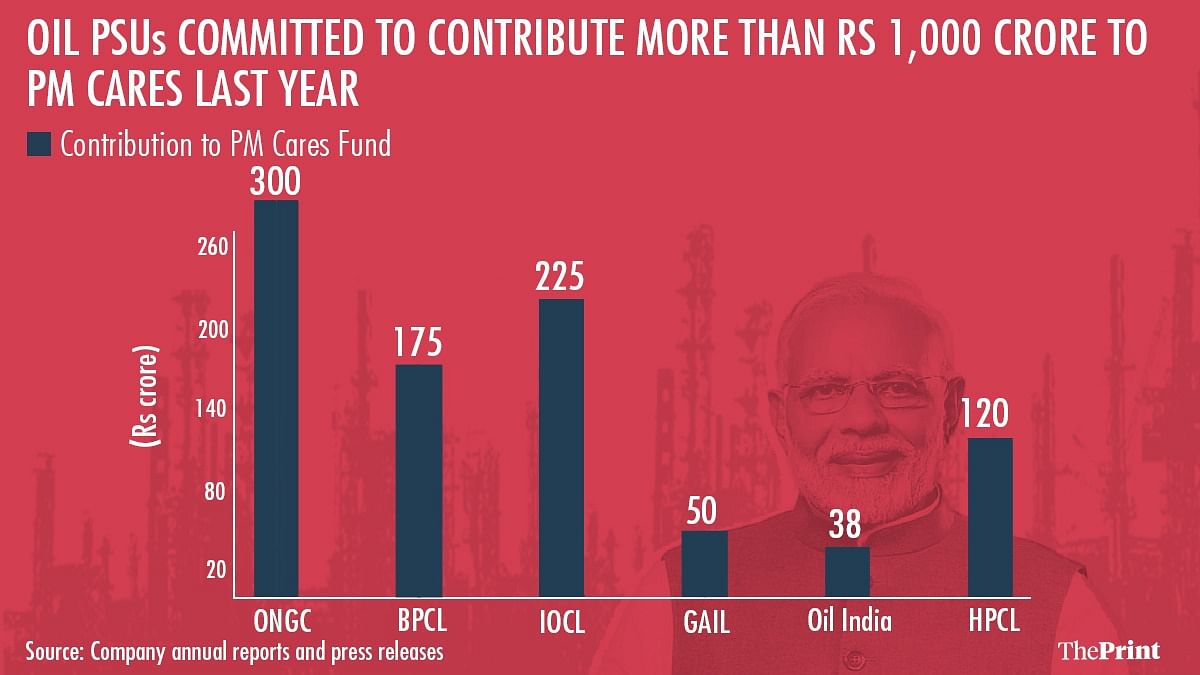 ONGC contributed Rs 300 crore to the PM Cares Fund, nearly half of its Rs 607 crore CSR spending for 2019-20. BPCL contributed Rs 100 crore from their CSR funds in 2019-20, constituting 29 per cent of the total CSR spends. Its total commitment to the PM Cares Fund is Rs 175 crore. IOCL contributed Rs 225 crore in the last fiscal year.
Other major contributors to the PM Cares Fund among the top PSUs were NTPC, Power Grid, Power Finance Corporation, HPCL, NMDC and REC.
---
Also Read: Donations to PM CARES allowed under CSR, but not to states or CMs: Corporate ministry 
---
Skill Development Institute, Bhubaneswar, Odisha
India's top oil and gas sector PSUs have also made substantial contributions towards infrastructure development of Skill Development Institute (SDI), Bhubaneswar, in Odisha, the home state of Pradhan, who also held the skill development portfolio between September 2017 and May 2019. 
The combined CSR contribution of these firms for meeting the capital expenditure (capex) requirements of building this mega skill academy was more than Rs 330 crore till 2019-20, CSR data on the website of these companies shows. 
State-owned firms in the oil sector support many other skill development institutes in cities like Kochi (Kerala), Rae Bareli (Uttar Pradesh), Visakhapatnam (Andhra Pradesh), Ahmedabad (Gujarat), and Guwahati (Assam), but the contributions are much lower and mainly for operational expenses rather than capital expenditure. 
The institute is promoted by eight PSUs in the oil and gas sector — IOCL, ONGC, GAIL, HPCL, BPCL, OIL, EIL and Balmer Lawrie.
The website for SDI Bhubaneswar says it is a "not-for-profit philanthropic initiative of the Oil PSUs under the aegis of Minister of Petroleum & Natural Gas, Govt of India, established for developing skills, employability & entrepreneurship of youth of Odisha and other parts of eastern region of the country".
The campus is being developed as a multi-skilling academy of international standards over 46 acres and aims to train 50,000 youths in the next few years over several skill trades to cater to the needs of industry.
Indian Oil Corporation contributed Rs 149 crore and Rs 77 crore in 2019-20 and 2018-19, respectively, towards SDI Bhubaneswar. This accounted for 27 per cent and 16 per cent, respectively, of the company's total CSR expenditure for these two years. 
Another oil PSU, GAIL India, contributed Rs 18 crore in 2019-20 and Rs 10.5 crore in 2018-19 to SDI. This constituted 14 per cent and 9 per cent, respectively, of the total CSR expenditure of the company in these two years.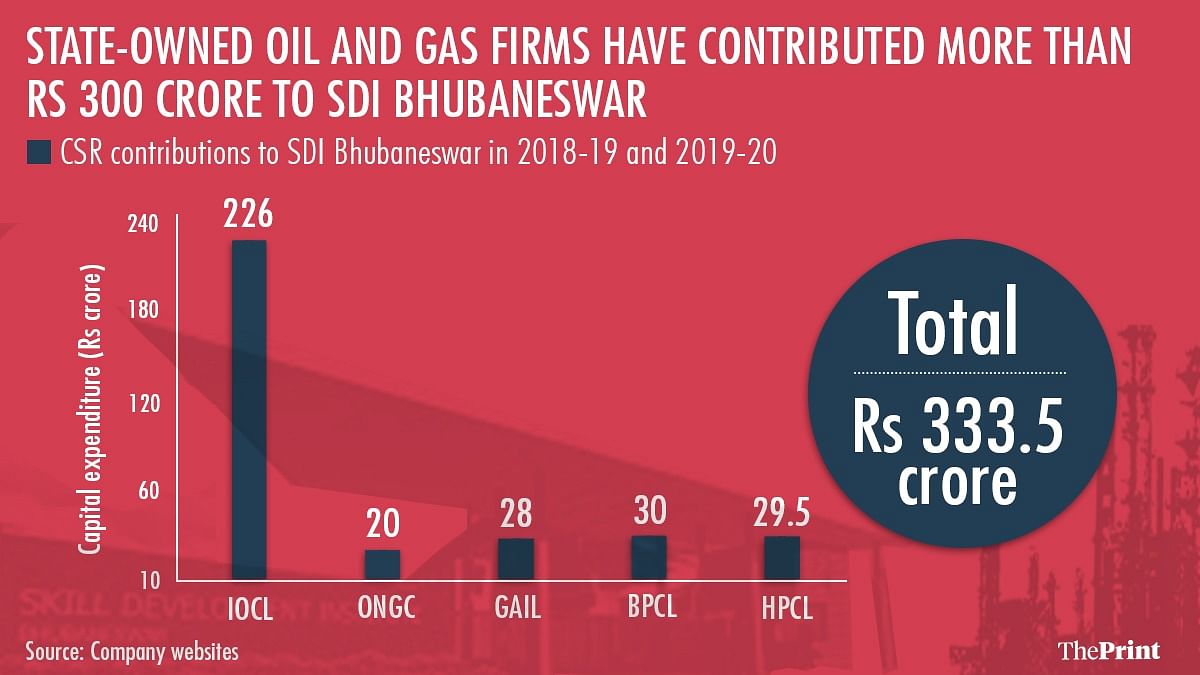 BPCL, a company lined up for privatisation this year, contributed Rs 18.5 crore in 2019-20 and Rs 11.5 crore in 2018-19. This constituted 5 per cent and 6 per cent, respectively, of its total CSR spends in the given years. 
HPCL contributed Rs 24 crore in 2019-20 towards infrastructure development at SDI Bhubaneswar and Rs 5.5 crore in 2018-19. This constituted 13 per cent and 3 per cent, respectively, of its total CSR spends in the two years. 
India's largest state-owned firm by market capitalisation, ONGC, contributed Rs 20 crore to SDI Bhubaneswar in 2019-20 for the institute's capex. But this constituted only 3 per cent of its annual CSR spend.
In its response, ONGC said IOCL is setting up SDI Bhubaneswar. 
"The land has been acquired and the construction of a new building at Bhubaneswar is at an advanced stage. Other SDIs operated by Oil PSEs could not take up the infrastructure development works and are operating from rented premises. ONGC's share of contribution is 15% of total fund requirement in OPEX as well as CAPEX," it said.
'Political pressure for CSR spending is always there'
A former chairman of a PSU in the oil and gas sector said the cardinal principle followed while undertaking CSR spends is that it should be spent in the area of operations of the company concerned.
"There is always political pressure to spend in certain constituencies or projects. But then the expenditure should fall within the CSR policy approved by the board for the year," the industry insider said.  
Spending huge amounts on one project should be typically avoided, especially if the project is not in the company's area of operations, the former chairman added. CSR funds cannot be used for promotion of religion but the expenditure on temple towns can be justified as infrastructure development of these towns, the insider added.  
J.N. Gupta, co-founder of Stakeholder Empowerment Services, a corporate governance research and advisory firm, said governance in PSUs is a question mark not only with regard to CSR spends but on various other issues as well. 
He, however, pointed out that PSUs may not have violated any laws if the activities are permitted under the CSR framework. "Have we taken away the discretion of CSR expenditure? One can question their wisdom or allocation priorities, but as long as the law permits them, there is no violation," he said. 
For instance, Odisha is a state that is underdeveloped and needs significant investments, he pointed out, adding that an SDI can meet the needs of skill development of the state. 
(Edited by Sunanda Ranjan)
---
Also Read: Why the fortunes of corporate India are beginning to show a sharp recovery
---