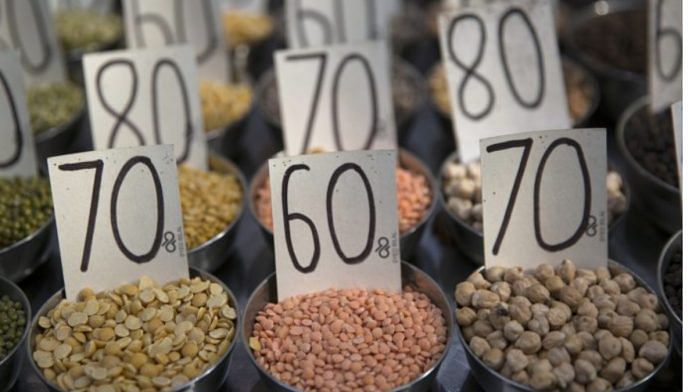 New Delhi: Two weeks after imposing stringent stock limits on pulses, which were to last until 31 October, the Modi government Monday eased the norms following opposition from stakeholders such as wholesalers, retailers, millers and importers.  
The government had set stock limits on major pulses such as Tur, Urad, Moong, Masur and Chana, in a bid to rein in prices. 
Amid tremendous pressure from the sector, however, the government Monday increased the permissible stock quantity of pulses allowed for wholesalers and millers with a complete exemption for importers.
Under the revised stock limit, wholesalers can now keep 500 metric tonnes (MT) of pulses at a time provided the quantity of any one pulse does not exceed 200 MT. Under the old order, the maximum stock that wholesalers could keep was 200 MT, with the quantity of a single pulse restricted to a maximum of 100 MT.
The stock limit for millers has now been fixed equivalent to the last six months' production or 50 per cent of annual capacity, whichever is higher. This was earlier set to three months' production and 25 per cent annual capacity.
According to the government's Monday order, the importers of pulses have been exempted from stock limits but shall continue to declare stocks of pulses on the Department of Consumer Affairs portal while for retailers, the stock limit remains unchanged at 5 MT.
"The relaxations have only been made after softening prices," said an official in the Ministry of Consumer Affairs. "It is for millers and wholesalers and exempting importers. However, we will still monitor stocks and prices as these entities shall continue to declare stocks on the web portal of the Department of Consumer Affairs.
"The relaxation for millers and importers is the most crucial one as relaxing quantity stocking of millers will give an assurance to farmers around ongoing Kharif sowing of major pulses such as Tur and Urad," the official added. "Also, importer exemption will allow them to freely import pulses to cool off prices especially amid the upcoming festive season."  
---
Also read: Oil price paradox: Why Modi govt is alarmed by edible oil prices but not petrol & diesel
---
Relaxation after opposition
This relaxation in pulses stock limit has arrived amid strong protest by various stakeholders across the country. 
Major pulses markets were shut down across the country last week in opposition to the stock limit imposition. ThePrint had reported that the decision could hurt long-term stability in the domestic pulses market. 
The move also comes amid several representations from pulses and trader associations such as the India Pulses and Grains Association (IPGA) and Confederation Of All India Traders (CAIT) against the government's earlier order.
The associations have welcomed the move. 
"We are happy that the continuous and sustained efforts of IPGA have borne fruit and thank the ministry of consumer affairs, food and public distribution for taking this prompt decision to support trade by issuing this amendment," Bimal Kothari, vice-chairman, IPGA, said in a statement.
"The decision to restrict stock limit just to tur, urad, masoor and chana while exempting all minor pulses like kabuli, lobia, peas, beans, etc is also welcomed," he added. "This will smoothen  supply of pulses in coming months and stabilise the prices of pulses during the forthcoming festive period."
(Edited by Arun Prashanth)
---
Also read: At 329.86 MT in 2020-21, India is set to witness highest ever horticulture crop production
---