Surat: Surat's famed diamond industry has been back in business for two months now, since Unlock kicked in, but insiders say a full recovery is not expected any time soon as it will take at least a year for production to resume completely.
While the $24 billion (Rs 1.8 lakh crore approximately) industry is looking forward to the Diwali season for some relief, the Covid-19 pandemic and the lockdown are still weighing heavy on it, with its losses pegged at more than Rs 30,000 crore. 
There was a decline of 52 per cent in rough diamond imports from January to June 2020, and exports of cut and polished diamonds declined 40 per cent in the same period, according to industry estimates.
About a quarter of the factories have resumed operations, but the social-distancing guidelines in place remain a hurdle in achieving full pre-Covid production levels. Most diamond workers are yet to return, but thousands of others who are in Surat are said to be getting by under the shadow of unemployment.
Allegations of lax oversight at diamond processing centres have been accompanied by infection outbreaks, which have led local authorities to crack the whip harder. In addition to all this, the shrunken job prospects have been linked to at least seven suicides.   
Speaking to ThePrint, Babubhai Vidiya, secretary, Surat Diamond Association, a non-profit run by local businessmen, said the industry can only recover fully once the risk of infection has been eliminated. 
"This is because social distancing is proving to be a challenge considering the way diamond processing factories are designed. The industry is currently working at 35 per cent capacity (in comparison to pre-Covid production levels)," he added.
Dinesh Navadia, regional chairman of industry body Gem & Jewellery Export Promotion Council, said "some recovery has already started", but added, "I presume it will take us at least a year or more for production to resume completely."
Surat has now eclipsed Ahmedabad to become Gujarat's new Covid hotspot. As of Wednesday, Surat had recorded 16,554 Covid-19 cases, of which 12,376 patients have recovered and 557 died. The caseload for all of Gujarat stands at 72,311 — as many as 2,713 among them died, while 57,421 patients have recovered.
---
Also Read: World's biggest mines are at risk after coronavirus surge in Latin America
---
The diamond capital
Cutting and polishing are two processes crucial to transforming diamonds — which occur in their natural form as irregular, ordinary-looking objects — into the sparkling, coveted gemstones people are ready to splash millions on.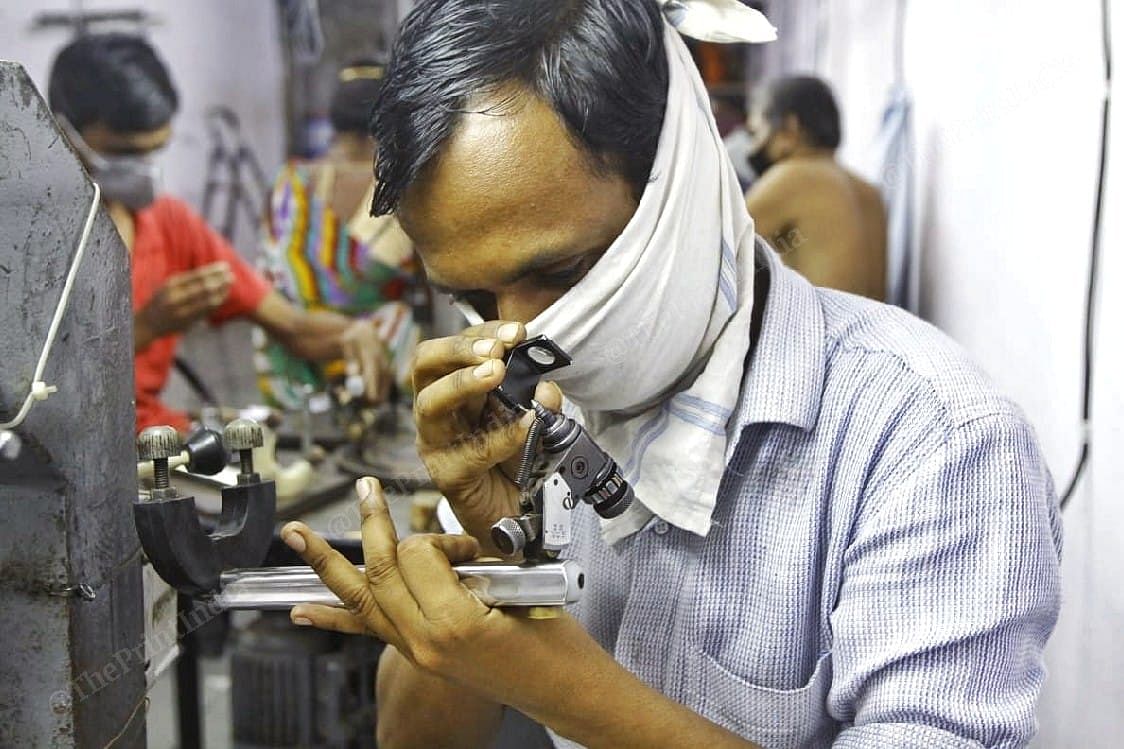 Surat is the largest diamond polishing and processing centre in the world, employing about 7.5 lakh workers — mostly from Saurashtra and north Gujarat, but also from states like Odisha, Bihar and Uttar Pradesh. 
There are about 5,000 small, medium and big diamond factories in the city, of which 90 per cent are unorganised, Navadia had told ThePrint in an earlier interview. It is in these unorganised units that most of Surat's diamonds are cut and polished and then sold to traders in Mumbai, from where 94 per cent of them are exported to the US, Hong Kong and China, he said.
By some estimates, Surat polishes about 80 per cent of the world's diamonds. 
Unlock guidelines set by the Surat Municipal Corporation required a diamond processing unit to only deploy 50 per cent workers at a time. 
The corporation also promoted measures like putting up cardboard partitions at emery wheels where diamonds are polished. Typically, four diamond workers sit around one emery wheel. But in compliance with social-distancing measures, the municipality has suggested that only two workers sit around the wheel. 
Even so, the diamond processing units have emerged as coronavirus hotspots since the lockdown was lifted in early June. According to Vidiya and Navadia, however, only 20-25 per cent factories have reopened so far.
Over 700 workers have been infected since June, prompting the authorities to — fully or partially — shut down businesses in areas like Varaccha and Katargam, where many diamond units are located. The Surat Municipal Corporation also penalised over 100 factories with a fine of Rs 20,000 each for not abiding by social distancing norms. 
But violations continue. At the only factory where ThePrint was allowed inside access, some polishing wheels had more than two persons seated around. 
Bhavesh Tank, vice-president of the Gujarat Diamond Workers Union, said 80 per cent of the factories functioning currently are not complying with measures laid down by the Surat Municipal Corporation, putting the lives of workers at risk.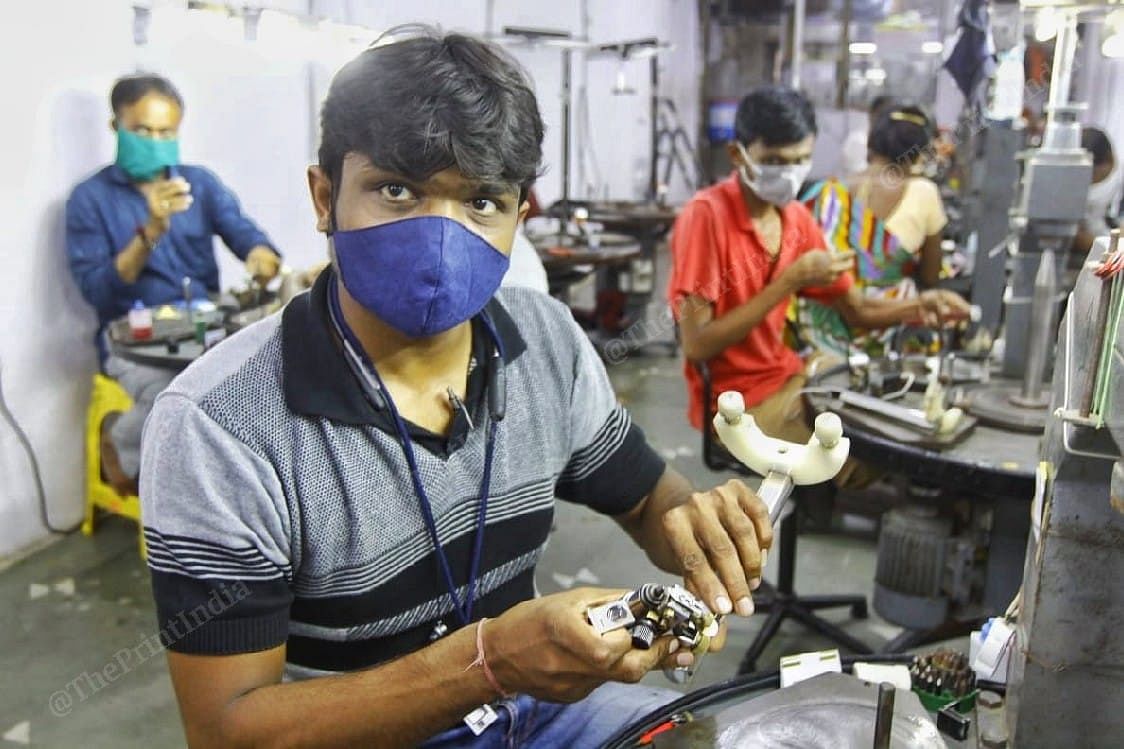 ---
Also Read: Surat diamond industry has lost Rs 30,000 crore, but it's in no rush to restart business
---
Workers 'face sustained unemployment' 
Over 25 lakh workers were employed in the diamond business in Gujarat when the lockdown kicked in. Out of this, over 6.5 lakh were employed in Surat, said Tank, adding that only 2 lakh are left in the city as of now. Among them, 50,000 are unemployed, he said. 
According to Tank, while the fear of coronavirus is a factor in keeping workers away, many are looking at sustained unemployment owing to massive losses incurred by the industry and rising infections in the city.
Said Vidiya, "After the lockdown opened up, some migrant workers had started coming back for work. However, after seeing such a massive spike in infections, they got scared and went back again." 
Tank said, "The coronavirus situation has been the most harsh on diamond workers. Earlier, our average salary was around Rs 15,000 to Rs 20,000 per month. But it has been reduced to half now." 
He added, "The advisories given by the Union labour ministry demand that workers be paid salaries during the lockdown period. But we haven't been paid (in full) so far."  
This sustained unemployment and helplessness have forced at least seven diamond workers in Surat to commit suicide, said Tank.
One such case of alleged suicide is that of Bharat Sarvaiya, a 42-year-old who is believed to have ended his life on 8 June after he couldn't find a job during the lockdown. 
"My husband had been working with one firm for over 15 years. Last year (in December), he had to take a couple of days off because he was unwell and he was fired. He had been searching for work since then," said Shalini, his wife.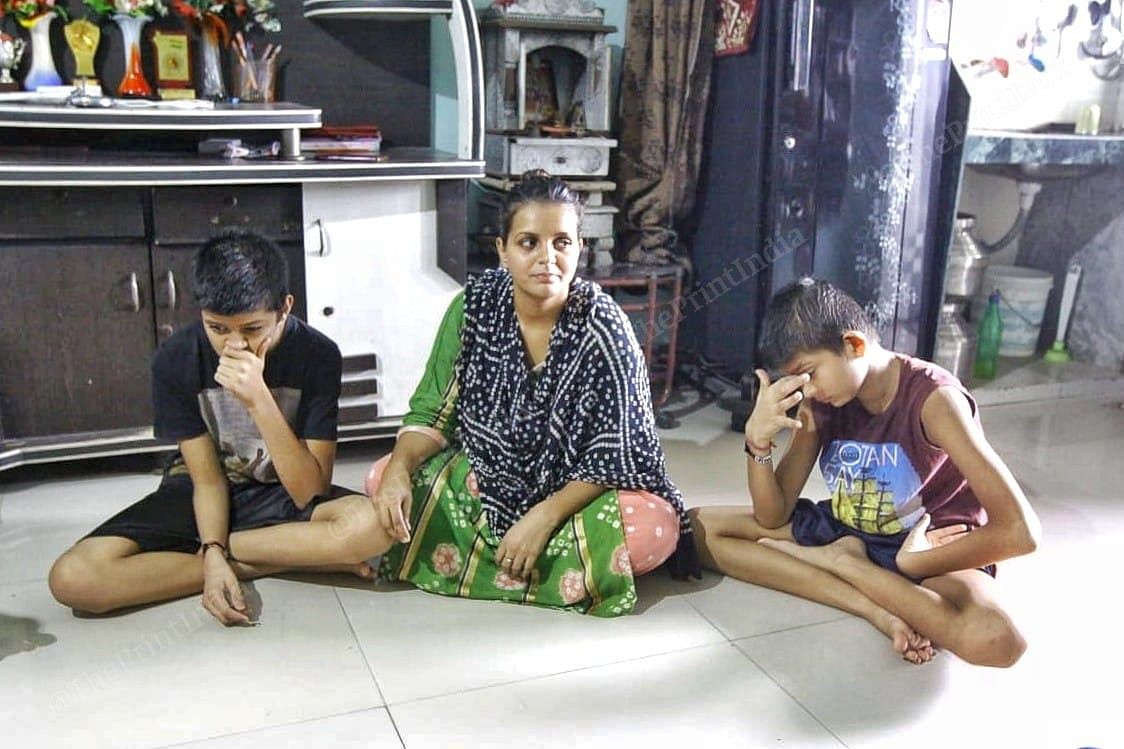 It was ironic, she added, how workers who polish diamonds, one of the most precious gemstones, have to get by on a measly income. "Tell me, isn't it the responsibility of a company to take care of its workers, especially ones who have provided their services for so long?" 
---
Also Read: Lift lockdowns, protect the vulnerable, treat Covid like a health issue and not a disaster
---
Hopes pinned on Diwali
Even though the number of workers deployed in these factories is much lower than at normal times, employers say their expenditure remains the same as there is no change in the expenses on electricity, equipment and infrastructure. 
However, diamond traders are confident that the upcoming Diwali season will bring a boost in demand. "We expect the diamond prices to increase around Diwali since production will be low but the demand is expected to increase," said Vidiya. 
Basudev Adhikari, who runs a local jewellery business, echoed Vidiya's views. "There had been a slight increase in demand post the lockdown but then it dipped again. The demand for gold and diamond jewellery is expected to pick up around Diwali." 
---
Also Read: What is 'Long Covid' and why some patients who have recovered continue to feel ill for months
---