New Delhi: The world food prices index recorded its sharpest ever monthly rise in a decade in May 2021, which came on the back of 12 consecutive monthly increases owing to higher commodity prices. This is likely to put a strain on Indian household budgets.
The index, released by the United Nations' food agency, Food and Agriculture Organisation (FAO), is a measure of the monthly change in international prices of a basket of food commodities.
The FAO Food Price Index recorded a sharp surge in edible oil, corn and maize, and meat prices in its latest release. The overall index averaged 127.1 points in May, 5.8 points (4.8 per cent) higher than in April and 36.1 points (39.7 per cent) up from the year-ago period. This represented the biggest month-on-month gain since October 2010.
The rise in commodity prices comes at a time when China is said to be massively stockpiling commodities like maize and soybean. Even as the vaccination drive gains pace in many countries and economic recovery gets underway, these price pressures are expected to persist in the coming months.
This record rise in the global food price index has led to severe repercussions for the domestic prices of various commodities in India.
The edible oil sector, which witnessed the highest spike of 12.7 points in the latest index, has been one of the main reasons for a surge in inflation in India. Its prices have surged to an 11-year record high in the country exerting pressure on household budgets.
Similarly, the global rally in corn and soybean prices has also driven up meat and fish price in India since meals derived from both of these commodities are crucial in poultry and aquaculture. The UN meat price index rose to 105.0 points in May, up by 2.3 points from April.
The domestic prices of these commodities used for feed also surged with a rise in exports to capitalise on the global price rally.
---
Also read: Indian family budgets are stretched, they're borrowing more. Faster vaccination can fix this
---
Stress for Indian households
This surge is not good news for household budgets in India, especially as the pandemic has rendered many jobless and without any source for livelihoods.
High inflation in these commodities will pose a fresh problem for the Reserve Bank of India (RBI) looking to support economic recovery during the pandemic while trying to keep inflation under 6 per cent.
Data released by the government Monday showed that retail inflation had crossed 6 per cent in May mainly due to a sharp increase in commodity prices like that of edible oils, meat, and fish, eggs, and pulses.
Edible oil inflation rose to 30.8 per cent in May, the highest-ever recorded rise under this subgroup. Similarly, egg prices were up 15 per cent in the month, with the meat-fish category recording 9 per cent inflation.
Soumya Kanti Ghosh, group chief economic advisor at State Bank of India said that inflation may remain elevated in the coming months driven by several global and domestic factors.
"Specifically, the faster than anticipated and robust recovery in some of the advanced countries is likely to exert upward pressure on international commodity prices, including oil. The latter being an intermediate good in leading emerging market economies, it would generally cost-push inflation," he said in a 16 June note.
---
Also read: Wholesale inflation hits record high of 12.94% in May amid rising fuel prices
---
Chicken, fish, egg prices soar
Chicken, fish, and eggs — considered an important source of protein — have seen their prices increase sharply over the last few months due to rising feed prices internationally and supply disruptions owing to the pandemic.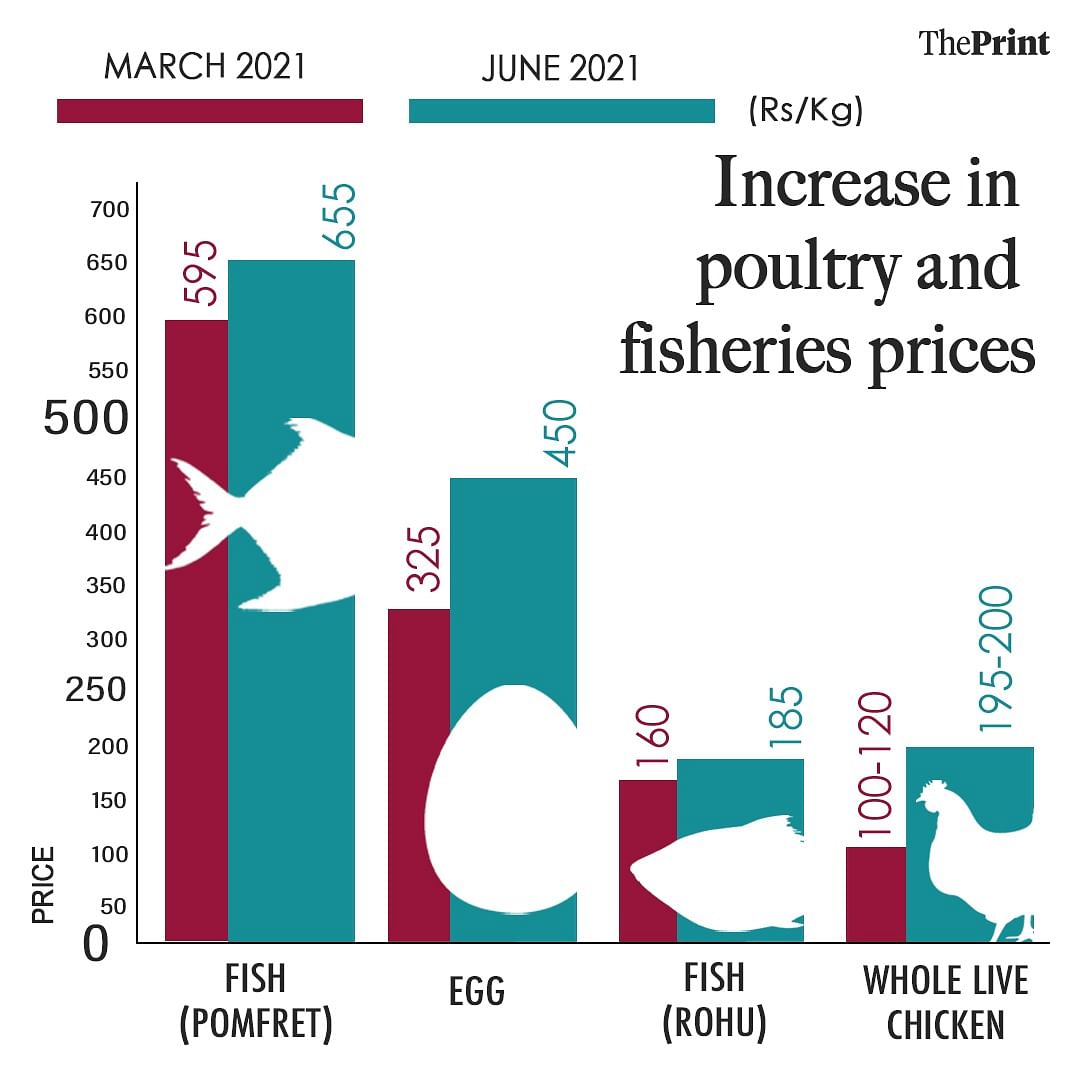 Rising prices internationally and domestically of items used as feed is one of the major reasons for the increase.
International prices of maize have increased to Rs 19,900/metric tonnes from Rs 11,000/metric tonnes in a year. This has prompted a sharp surge in exports, driving up domestic prices as well.
The domestic prices of maize have gone up to Rs 1,890/quintal from Rs 1,523/quintal over a year as the demand for maize as poultry and fish feed also increased.
Similarly, Indian exporters sold soymeal (another crucial fish and poultry feed) at record prices of $330-$340 per tonne. Indian soymeal was sold for around $200 a year ago.
The edible oil problem
The prices of all six popular domestic edible oils — groundnut oil, mustard oil, vanaspati, soya oil, sunflower oil, and palm oil — have risen in the 25-60 per cent range in the last year, according to government data.
Soybean oil, sunflower oil and palm oil, which are widely consumed in both households and commercial establishments, have seen prices surge by at least 50 per cent since last year.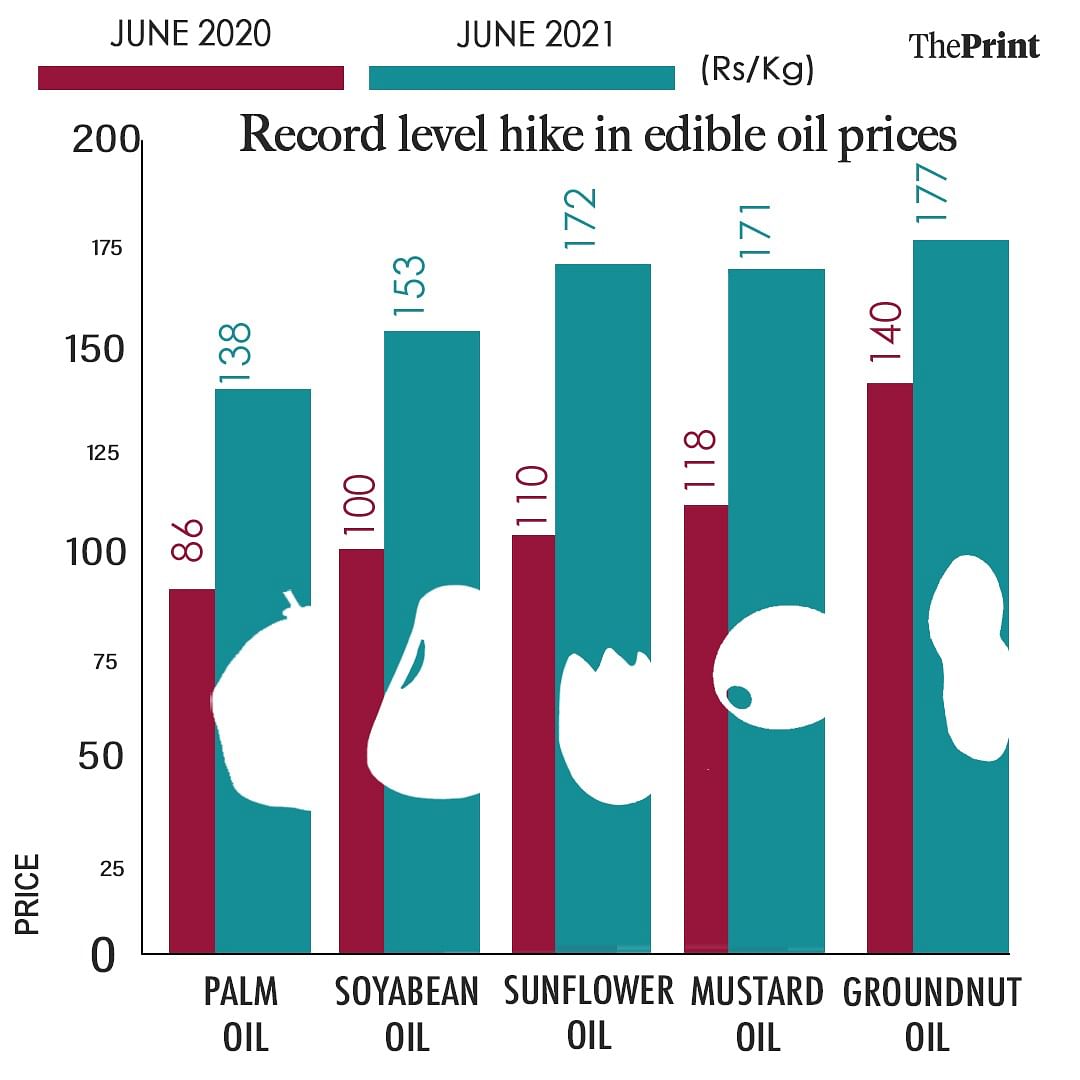 While palm oil accounts for 60-70 per cent of India's oil consumption, soybean oil and sunflower oil constitute around 15-20 per cent of the consumption basket.
The prices of palm oil, the most imported edible oil in the country due to its abysmal domestic production, have increased by over 60 per cent to Rs 138/kg from Rs 86/kg as of 1 June — its highest recorded price in the last 11 years. Similarly, the price of other edible oils has also touched new levels.
Pulses
The prices of pulses, another daily-usage commodity in the country, have witnessed sustained inflation this year, hovering above Rs 100/kg in the retail market.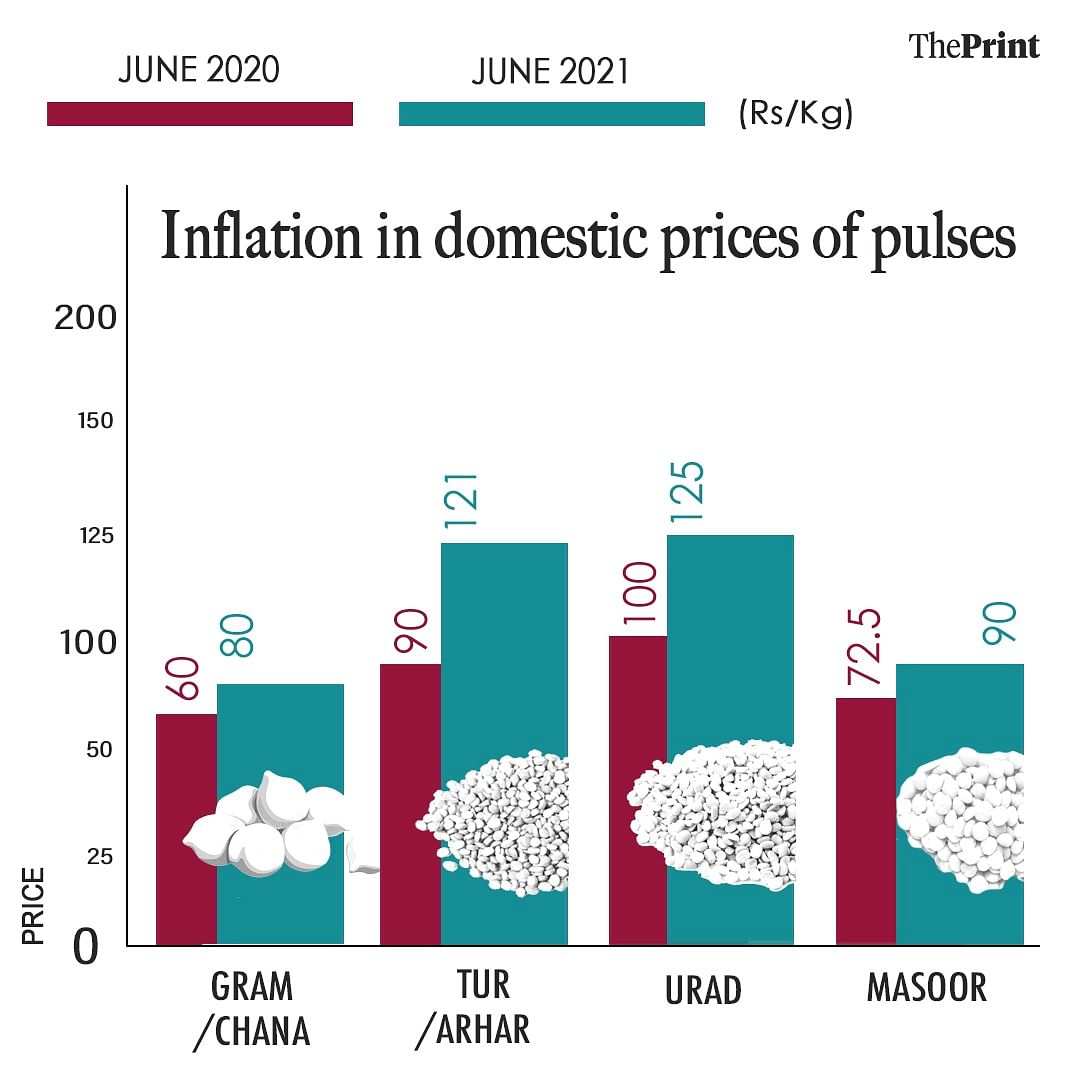 India has always been slightly deficient in pulses production against its annual consumption — 22-23 million tonnes against the demand of 25 million tonnes.
However, according to trade experts, the production has dipped to 21 million tonnes this time as unseasonal rains damaged crops spurting inflation in the commodity.
(Edited by Amit Upadhyaya)
---
Also read: The (notional) rise & fall in wealth of Gautam Adani, Asia's 2nd richest after Mukesh Ambani
---