New Delhi:  The central government's Pradhan Mantri Garib Kalyan Anna Yojana (PMGKAY), which was extended last week until December 2022, is expected to benefit a significant portion of the population in the poll-bound state of Gujarat, government data show. 
An analysis of two sets of government data — the Unique Identification Authority of India's population projections for 2020 and the government's own list of PMGKAY beneficiaries — shows that 53.5 per cent of Gujarat's population and 38.4 per cent of Himachal's population are set to benefit from the scheme.
The figures are significant because both states will see assembly elections later this year. 
The Bharatiya Janata Party, which is in power in Himachal Pradesh and Gujarat, has won four of the five most recent assembly elections. Of these four states (Uttar Pradesh, Uttarakhand, Manipur, and Goa), three have large portions of their population eligible for the PMGKAY scheme. 
According to experts, a link has been observed between government benefits programmes and voter behaviour.
"Any money spent on developmental works does have political implications, provided that it reaches the end user," Sanjay Kumar, a professor at the Delhi-based think tank Centre for Studying Developing Societies, told ThePrint. "Our observation [is] that people who are from the rural areas and who are consistently provided benefits do exhibit the tendency to become loyal to a political party."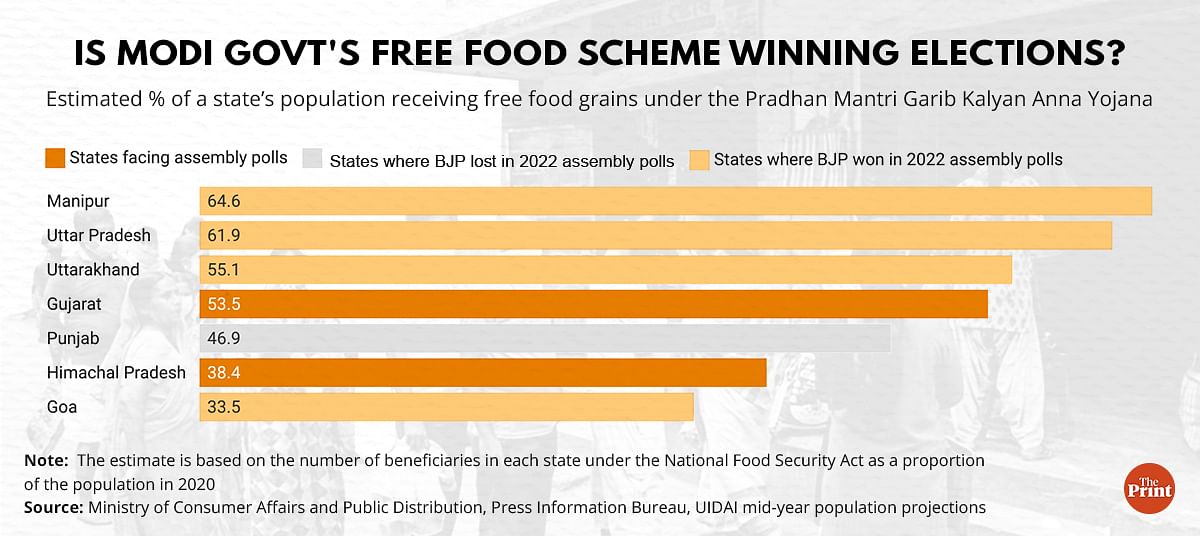 Originally meant to help mitigate the impact of the lockdown during the first wave of Covid from April to June 2020, the scheme provides for an additional 5 kg of food grains to those people who are already eligible to get subsidised ration (Rs 2 per kg rice and Rs 3 per kg wheat) under the National Food Security Act (NFSA), 2013. Government data show that about 80 crore Indians are eligible to receive subsidised ration under the NFSA. 
So far, the PMGKAY has been extended six times — the last time on 28 September. It's currently in its seventh phase. 
The revelation that over half of Gujarat's population could benefit from the scheme comes at a time of intense debate surrounding what's being referred to as "freebies" — doles promised by political parties just before elections. It has also sparked discussions over whether welfare schemes rolled out by governments could also constitute a freebie. 
---
Also Read: Why Modi govt's prized food scheme went from 'dal of choice' to no dal at all
---
Big gains, costly affair
A government press release issued last week said that the scheme was extended "so that poor and vulnerable sections of society are supported for the forthcoming major festivals like Navratri, Dussehra, Milad-un-nabi, Deepawali, Chhath pooja, Gurunanak Dev Jayanti, Christmas, etc. which they can celebrate with great gaiety and community for festivities". 
Data show that in Uttar Pradesh — a state that gave the BJP government under Chief Minister Yogi Adityanath a second term in March — an estimated 61.9 per cent of the population benefits from the free foodgrain scheme.
In Manipur and Uttarakhand, which also held elections this year, this proportion is 64.6 per cent and 55.1 per cent, respectively.
The ruling party BJP won all three states with a comfortable margin.
On the other hand, the proportion of people benefiting from the PMGKAY scheme is lower in Punjab (46.9 per cent) and Goa (33.5). Though the BJP won Goa, it managed only two seats in Punjab.
However, these political gains come at a substantial cost — data from the Controller General of Accounts shows that India's food subsidy bill, which used to be about Rs 1 lakh crore on average in the five years preceding the pandemic, shot up to Rs 5.4 lakh crore in the financial year 2020-21.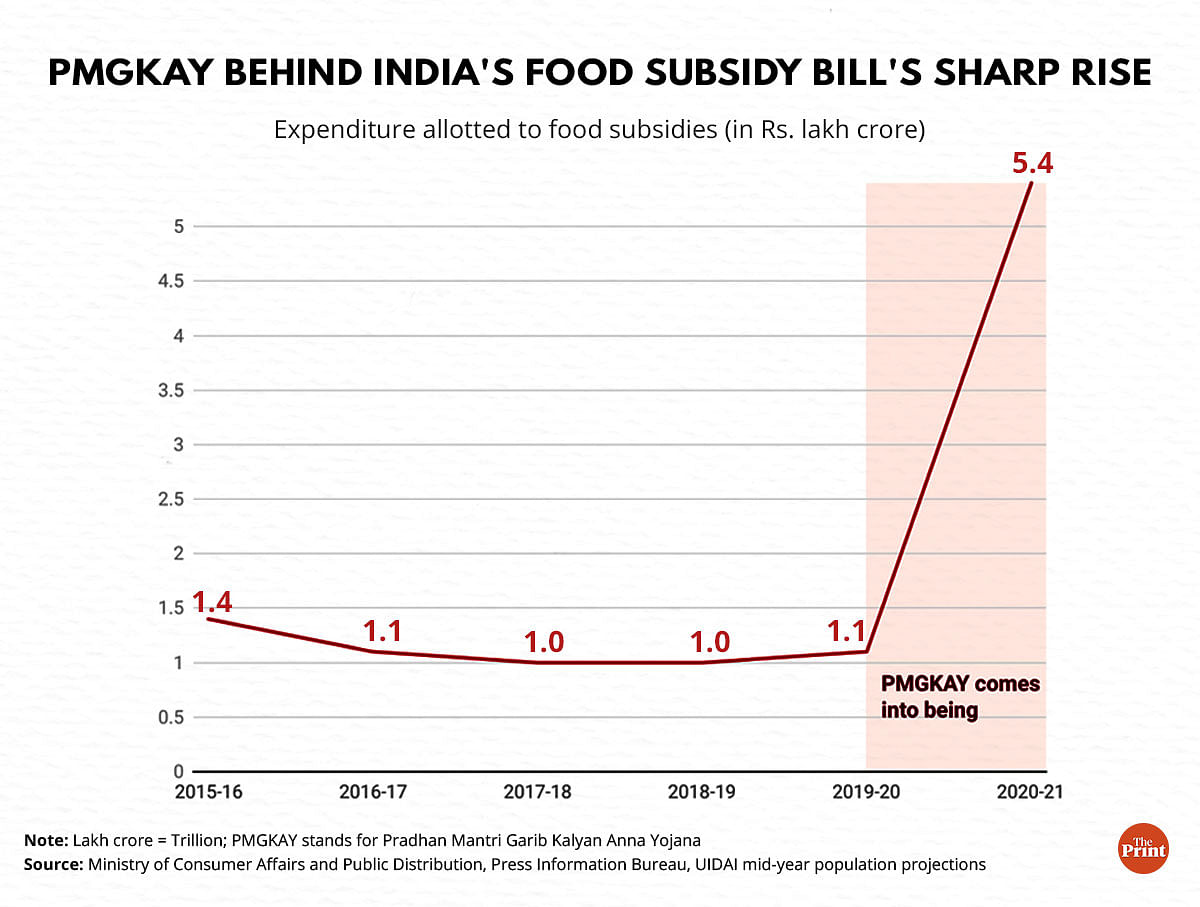 The extension of the scheme also comes at a time when the government claims India's economy has been recovering well from the effects of the pandemic. 
What's also significant is that there were reservations about the PMGKAY extension within the government, as could be seen in an office memorandum sent by the Department of Expenditure to the Department of Food and Public Distribution.
Signed by Rabi Ranjan, a deputy director in the Department of Expenditure, the letter reads: "The pandemic has abated considerably and the distress for which this relief was given does not appear to be relevant. Furthermore, continuation [sic] of this over a long period of time, may give an impression of its permanent or indefinite continuation and make it difficult to stop". 
The extension of the scheme despite these reservations has raised the question of whether political gains are being prioritised over financial prudence.
However, despite his view that benefit programmes reap political dividends, CSDS's Sanjay Kumar believes that the extension given under the PMGKAY free-food scheme was not merely political. This, he believes, is especially true for a state like Gujarat.
"I don't think the step has been taken merely for political interests. At the most, it might provide a little cushion to the poor families who became indebted during the pandemic," Kumar, who's also the co-director of CSDS Lokniti —  a research programme that focuses on democratic politics — said. "Especially for a state as prosperous as Gujarat, you would need more than just food grains to win an election," he added.
'Self-made trap'
According to Rakshita Swamy, the head of the Social Accountability Forum for Action and Research (SAFAR) and a visiting faculty at the National Law School of India University, the trap of having to extend the PMGKAY scheme is one of the government's own making.
"What is meant to be the people's right is being provided as doles," she told ThePrint. "The political class brands it in a way to create an impression that this is being done specially for the poor, whereas this is their legal entitlement under the National Food Security Act." 
The problem, she explained, is that the National Food Security Mission — a 2013 centrally-sponsored scheme on which the PMGKAY beneficiary population is based — still uses the 2011 Census Data. As a result, the 2013 scheme doesn't include those who've fallen into poverty recently and who would be otherwise eligible for automatic inclusion under criteria laid down by the government itself.
"Had the government conducted the Census on time, and used the latest population figures to calculate the number of beneficiaries under NFSA, it wouldn't have to keep extending the PMGKAY scheme," she told ThePrint.
One of the discrepancies borne out of using such outdated data is that Gujarat — which is one of the most prosperous states in India — still has such a large proportion of its population (53.5 per cent) dependent on food subsidies.
(Edited by Uttara Ramaswamy)
---
Also Read: What's fortified rice, why is Modi govt pushing it & why some experts aren't excited
---