New Delhi: As the Modi government presents its report card to the country and seeks a second term in office, one of the areas where it has not been able to better the record of its predecessor UPA government sticks out glaringly – exports.
Indian exports witnessed muted growth in the five years of Prime Minister Narendra Modi's NDA government after having more than doubled in the five years preceding 2014.
Data with the commerce ministry shows that Indian exports were worth Rs 20.8 lakh crore in the 11 months ending February 2019, as against Rs 19.6 lakh crore in the financial year 2017-18.
India's annual exports were at Rs 19 lakh crore in 2013-14, before the Modi government assumed charge in May 2014.
Indian exports had more than doubled from Rs 8.4 lakh crore in 2008-09 to Rs 19 lakh crore in 2013-14, at a time when many economies were struggling in the aftermath of the global financial crisis.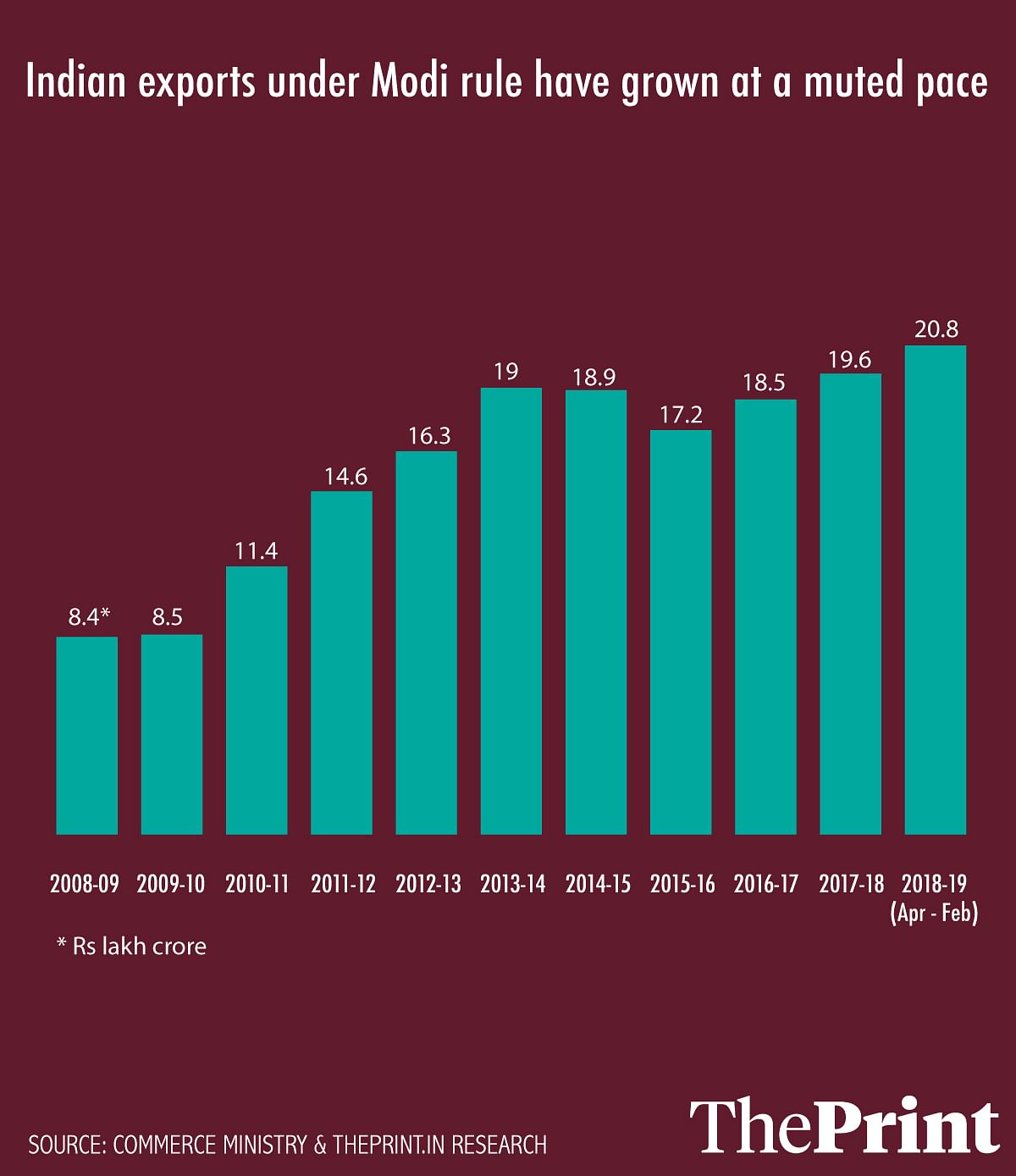 Exporters said volatile global trade, loss of competitiveness of Indian exports in traditional sectors such as textiles and gems and jewellery, lack of export incentives and low global commodity prices are some of the reasons for the lacklustre growth in the last few years.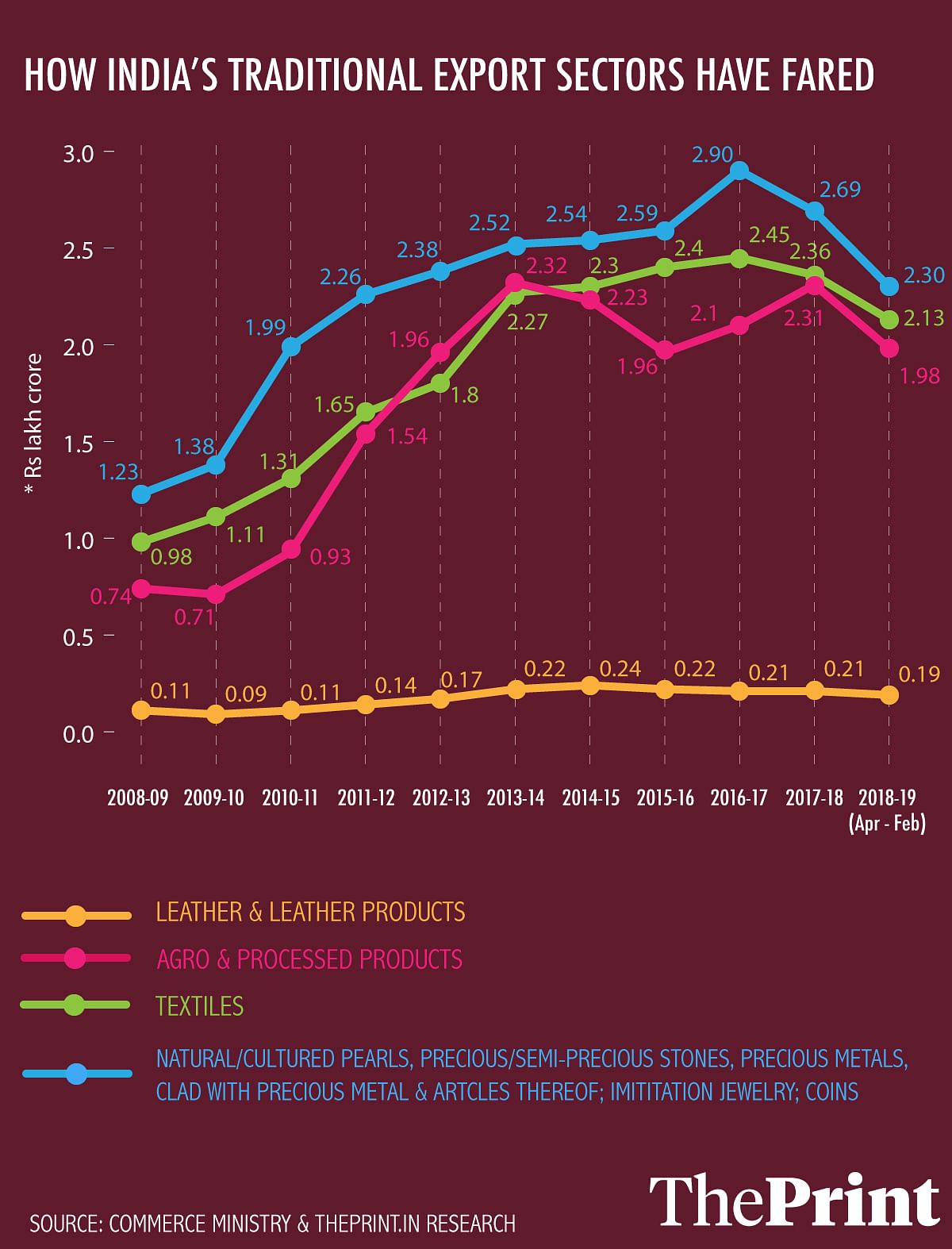 Asian competition and international slowdown
The slowdown in Indian exports comes at a time when the country faces competition not only from China, but from other Asian countries such as Vietnam, Myanmar, Cambodia and Indonesia.
India is ranked 20 in global export performance according to WTO data for 2017. China is No.1, while Vietnam is 27th and Indonesia 29th.
The slowdown in global growth has impacted world trade volumes — data with the World Trade Organisation shows that world merchandise trade has grown at an average of 3 per cent in the five years ending 2018.
India is a major exporter of agro products, which have been adversely impacted by the fall in global commodity prices in the last few years. Exports of agro and processed foods and leather products has either contracted or remained stagnant compared to levels prevalent in 2013-14.
The growth in exports in the gems and jewellery segment has also been muted, with a contraction seen in 2017-18. Textiles have also either grown in single digits or contracted during the Modi government's tenure.
---
Also read: India's beef exports rise under Modi govt despite Hindu vigilante campaign at home
---
Expert analysis
Ajay Sahai, director general of the Federation of Indian Exports Organisations said global trade has been topsy-turvy, and that had impacted Indian trade.
"It is not that India alone has suffered; we are more attuned to global trade and fluctuations," he said.
"South-East Asian countries like Cambodia, Vietnam and Myanmar have seen Chinese investments flow into their markets. This has increased competition for India in sectors like textiles, leather, gems and jewellery, sports goods, agro and processed food products."
Sahai added that since these countries are part of ASEAN, they have better economic engagement with the rest of the world compared to India. He also said that though India has the labour advantage, per-unit cost of production has gone up as wage increases have not been offset by better productivity, ensuring that India is losing out to China in many markets.
Meanwhile, Chandrakant Salunkhe, president of the SME Chamber of India, pointed out that India has not been to able the achieve the economies of scale in its production of many items like China has.
"In addition, the Ministry of Commerce has not done enough to support exporters. Market development assistance is low and there are hardly any B-to-B platforms for Indian exporters," Salunkhe said.
"Small and medium enterprises are also not being supported by helping them enter other markets. Lack of skilled labour locally is also a major problem."
---
Also read: Modi govt policies will double exports in few years, says union minister Suresh Prabhu
---