New Delhi: A burgeoning import bill, sluggish increase in exports, and a depreciating rupee are all weighing on India's foreign trade finances. As a result, the country's current account deficit (CAD) is already at a 10-year high and all set to top 3 per cent of our Gross Domestic Product (GDP) in the current fiscal year, suggest projections by various agencies. 
According to Reserve Bank of India's (RBI) data on Balance of Payments, CAD climbed to Rs 1.8 lakh crore by the quarter ending June 2022 — the highest in the past decade in absolute terms, and comparable only to the third quarter of FY 2012-13 when it had surged to Rs 1.7 lakh crore or 6.75 per cent of India's GDP in that quarter.
This time though, the deficit is higher in absolute terms, nearly half in terms of percentage of GDP.
Current account balance is essentially the difference between what a country pays and what it is paid in exchange for goods and services. A country is said to be facing a current account deficit when its import bill is higher than its export bill, and is said to be in surplus when its exports exceed imports.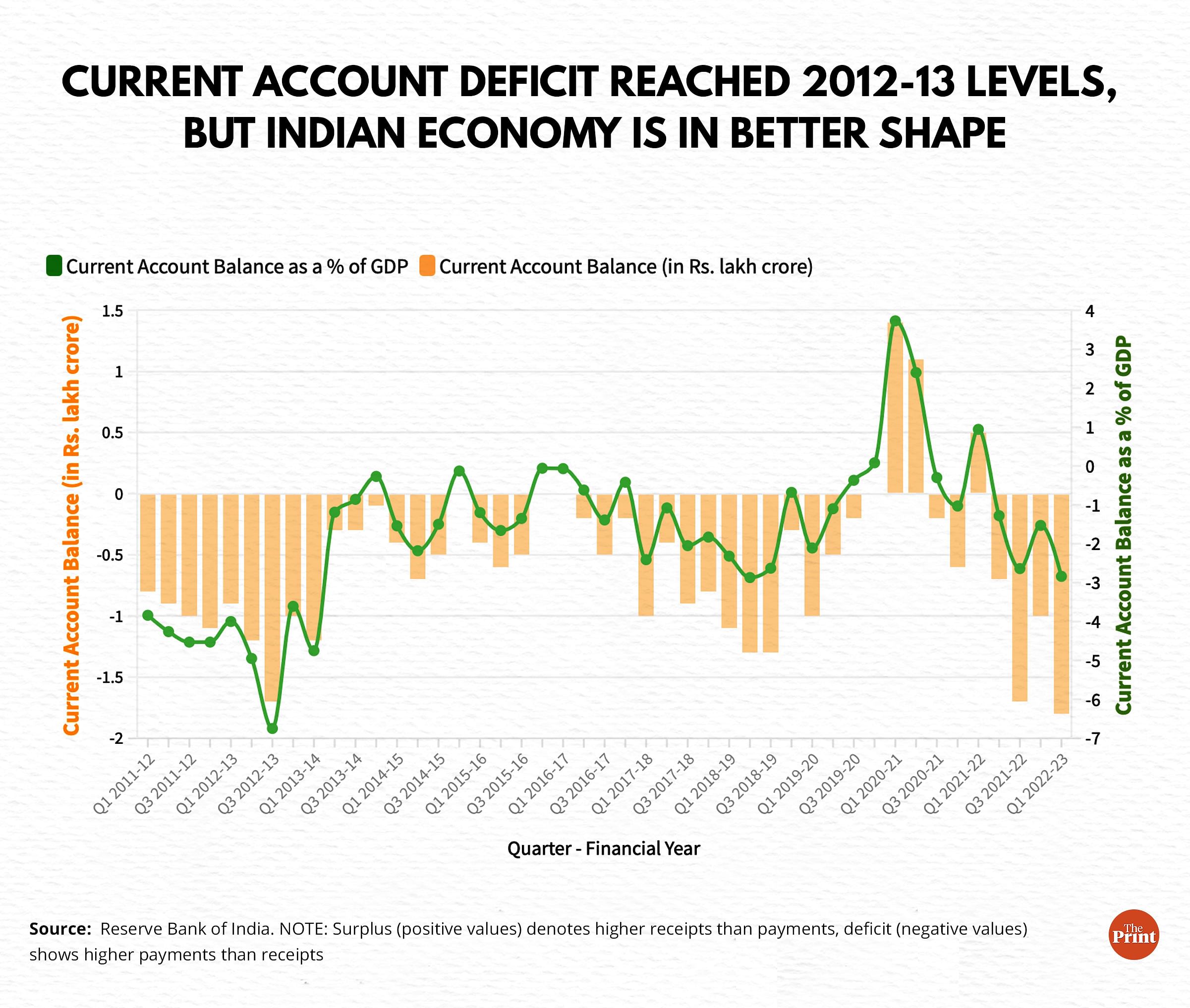 As the numbers stand now, India's proceeds from the sale of goods and services around the world (by first quarter of the current fiscal year) fall behind its purchases by a quantum of Rs 1.8 lakh crore or 2.8 per cent of the GDP in that quarter.
Projections by the Investment Information and Credit Rating Agency of India (ICRA), an arm of Moody's Investors Service, suggest that CAD may enter the USD 35-40 billion (Rs 2.8-3.2 lakh crore) territory by the July-September quarter (second quarter) of the current fiscal year. The ratings agency also projects that, based on the GDP performance, CAD could be 4.2-4.8 per cent of India's GDP in the same quarter.
---
Also Read: Despite border tensions & calls for boycott, imports of Chinese goods up 44% in a year
---
Trade deficit & China
A good look at the current account — inflow and outflow of goods, services and remittances earned or paid by a country — shows that a majority of India's deficit can be attributed to a negative balance in the merchandise account. India usually runs a surplus in services and remittances, but incurs a deficit in trade of merchandise or tangible goods.
In the first three months of FY 2022-23, India's trade deficit — excess of imports over exports of merchandise — was about USD 68 billion. This deficit was somewhat mitigated by export of services which reported a surplus of USD 31 billion, besides secondary incomes amounting to USD 22.9 billion, comprising mostly remittances from abroad.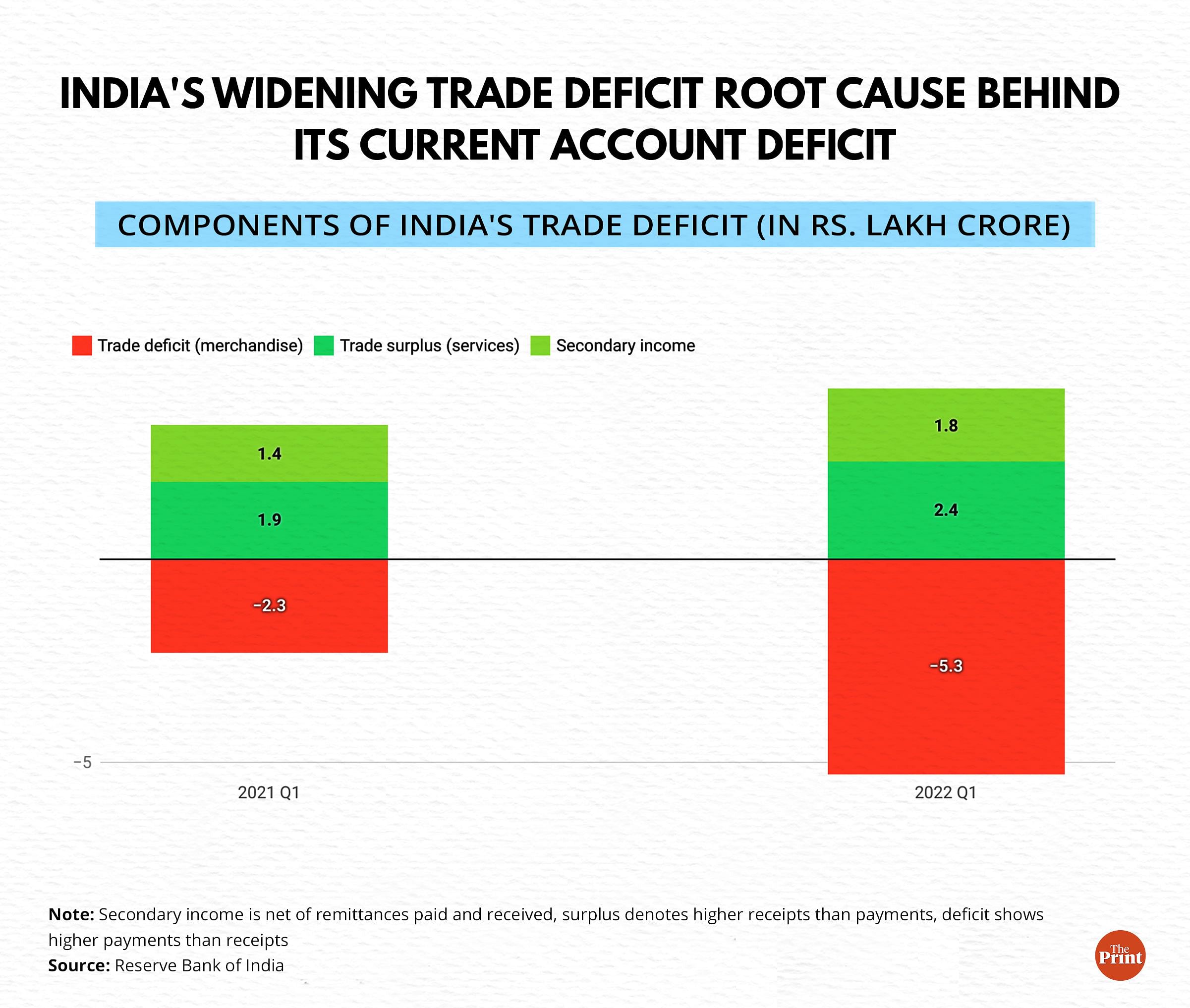 This data clearly demonstrates that India's CAD problem lies in its disproportionate net merchandise imports.
Data from the Ministry of Commerce and Industry shows that by the second quarter of FY 2022-23, India's trade deficit almost doubled, compared to the same quarter in the previous year.
In the first two quarters of FY 2021-22, India reported a trade deficit of USD 76 billion, which jumped to USD 148 billion in the first two quarters of FY 2022-23.
This was because India's imports rose by 38.5 per cent and exports by only 17 per cent in the first two quarters of the current fiscal year. At the same time, the surplus earned by services rose only by 19 per cent (from USD 51.4 billion to USD 61.3 billion) — not enough to compensate for the extra dollars spent in footing the bill for merchandise imports.
A large chunk of this deficit can be attributed to trade with China, which experts find concerning.
"A disaggregated view of India's trade shows that the deficit from China contributed almost 40 per cent of the overall merchandise trade deficit in 2021-22," said Radhika Pandey, a senior fellow at the Delhi-based National Institute of Public Finance and Policy. "Dependence on a single country for a large part of imports is a cause of concern. The deficit owing to trade with China shot up from USD 38 billion in 2020-21 to USD 73 billion in 2021-22."
'Current account deficit sustainable for now'
The ICRA, while projecting that CAD could metastasise to 4.2-4.8 per cent of GDP in the second quarter of FY 2022-23, also estimates that overall CAD may average about 3.1 per cent of GDP by the end of the current fiscal year.
Furnishing the basis for its projections, ICRA said it expects commodity prices to soften in the second half of the current fiscal year, coupled with stronger seasonal exports, which would mean CAD could be as low as 2.6 per cent of GDP in the second half of FY 2022-23.
"We project the CAD to widen to USD 35-40 billion in Q2 FY2023, or 4.2-4.8 per cent of GDP," ICRA said in its report.
The report adds, "However, we are cautiously optimistic that the CAD will ease to 2.6 per cent of GDP in H2 FY2023, owing to softer commodity prices and seasonally stronger exports, although a potential recession in major economies may dampen merchandise and services exports in H2 FY2023."
The International Monetary Fund (IMF), meanwhile, projects that India's average CAD will swell from 1.2 per cent in 2021 to 3.5 per cent in 2022 even as the SBI estimates that it will remain well within the 3 per cent-mark. To sum it up, if everything goes smoothly, India's current account deficit may hover around 3 per cent by end of FY2022-23, but its implications could still depend on prevailing macroeconomic indicators.
Asked if the 3 per cent-mark should be seen as cautionary, Bornali Bhandari, senior visiting fellow at Delhi-based think tank National Council of Applied Economic Research (NCAER), said she believes sustainability of finances to fund the deficit is what matters more.
"One has to look at the combination of factors such as global growth prospects, fiscal deficit, debt, growth rate and foreign inflows to make a call. Compared to the world, our growth prospects remain relatively optimistic, foreign reserves are at a historic high even though fiscal deficit is high too. The combination of factors would suggest that the Indian current account deficit is sustainable for now," she told ThePrint.
However, the strength of some of these indicators, such as India's forex reserves, and the resultant ability to withstand a higher CAD, depends on how the RBI handles its currency management, cautioned Pandey. "Widening CAD will put pressure on the rupee."
"Coupled with outflows of foreign capital amidst sustained monetary policy tightening, there could be a notable withdrawal from foreign exchange reserves if the RBI chooses to aggressively intervene in the forex market," Pandey said.
(Edited by Amrtansh Arora)
---
Also Read: Manufacturing moving to India from China, but trade deficit a concern, says Mark Mobius
---