Hardoi, Rae Bareli, Barabanki: From a distance, the sight of cattle grazing with abandon in a lush meadow appeared like that default desktop screensaver — a serene landscape spanning over a hundred acres, the deep green of the fields a perfect contrast to the blue skies dotted with white clouds.
Then Guddu Yadav broke the spell. A small farmer from Madhopur village in Hardoi, Uttar Pradesh, Yadav owns a couple of acres of that meadow, which is actually a vast rice cultivation area, now taken over by grass and weeds growing in abundance.
Yadav and most other farmers from the village had been waiting since June for the rains, to plant rice in the ongoing Kharif crop season. By end-July, they lost hope and decided to leave the land fallow.
They cannot afford diesel-powered pump-sets to irrigate the fields — it costs around Rs 1,500 to irrigate an acre of rice field once. A prolonged dry spell means the crop may need at least ten rounds of watering till harvest. And that is a loss-making proposition.
Rice is a water intensive crop, conventionally grown by flooding fields.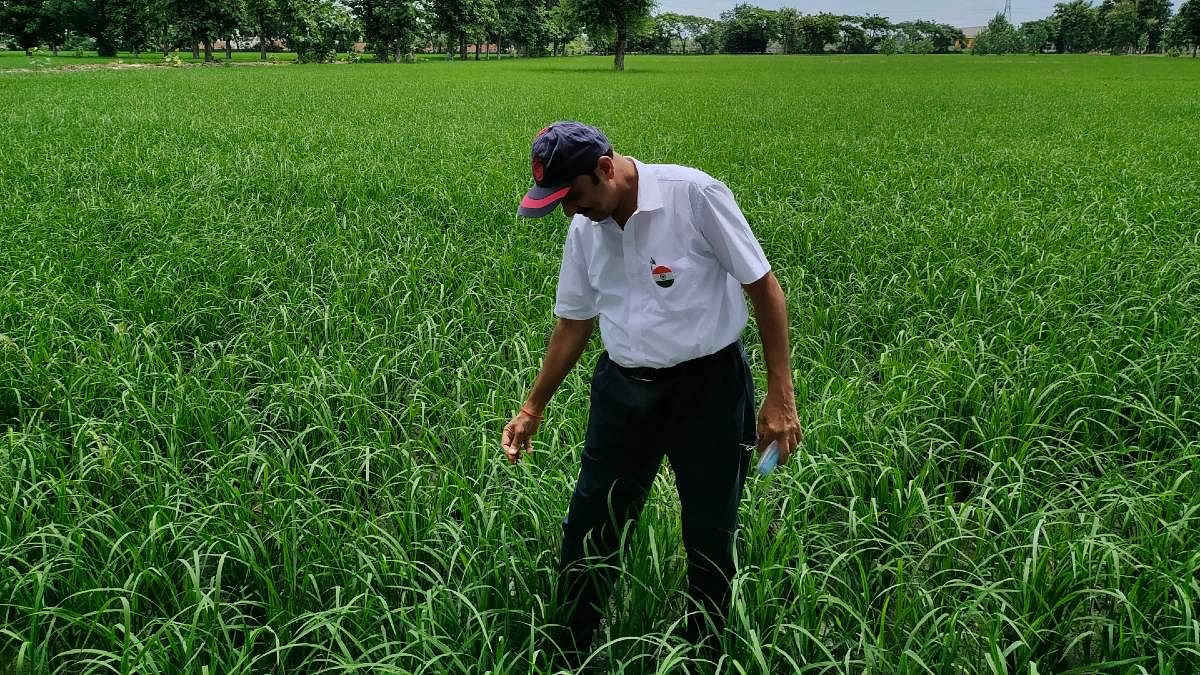 The rainfall deficit in Hardoi district is a staggering 48 per cent compared to the long period or 50-year average. That compares with the overall rainfall deficit of 47 per cent in eastern Uttar Pradesh and 44 per cent for the entire state, between 1 June and 12 August.
"I lost a third of the wheat crop in May (due to a heatwave). Without a grain of rice this season, we may run out of food soon," Yadav, now surviving on hard-to-find casual day jobs, said in a pleading tone.
About 250 km away from where Yadav farms, in Mubarakpur village in Amethi district, 70-year-old Chandrabhan Singh is struggling to save an acre of his rice crop, planted in end-July. Singh has already spent about Rs 5,000 to provide irrigation to his paddy field. Two weeks have passed since he planted the rice saplings, but it is yet to rain even once.
"Even if it rains from now on, I will lose a fourth of the production due to late planting and weed infestation. If it doesn't rain, yields will be next to nothing," Singh said.
Last week, ThePrint travelled to five districts in eastern Uttar Pradesh — Amethi, Rae Bareli, Pratapgarh, Hardoi and Barabanki — to meet farmers and see the status of rice, the primary rain-fed crop grown in these areas. The overwhelming sentiment was one of despair — stunted paddy plants, cracked earth owing to lack of moisture, and an overgrowth of grass and weeds.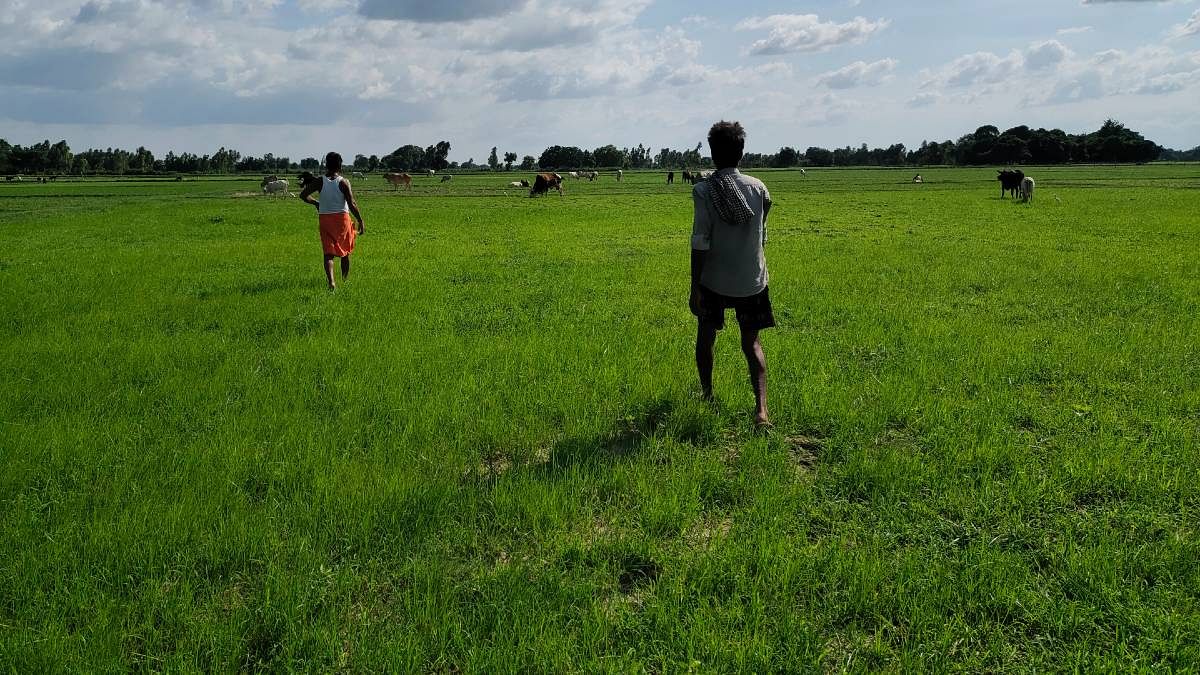 For most farmers, planting has been delayed by over a month, which means a drop in yield. The shortfall could lead to lower domestic availability of rice, higher consumer prices and export curbs.
Only a handful of farmers ThePrint met, with access to canal water and electric submersible pumps, are able to manage their crops properly. And if it doesn't rain from here on, planted crops may be abandoned as most farmers cannot afford expensive fuel for irrigation.
---
Also read: Willing to 'feed the world' by summer, India may have to import wheat come winter
---
'15 million tonnes at risk'
The predicament of farmers like Yadav and Singh is fast turning out to be a tragedy. Tens of thousands of farmers are now battling deficit rains across India's fertile Gangetic plains, spread across Uttar Pradesh, West Bengal and Bihar, in addition to Jharkhand which is facing a crippling drought. These four states account for more than a third of India's rice production during the June-October Kharif crop season.
Rice is a primary staple grown and consumed across India, and the rain-fed Kharif season accounts for 86 per cent of the annual production. The rest is grown as a winter or Rabi crop, planted around October-November.
A hit to India's rice production due to deficit rains will come on top of a lower harvest of wheat, following an intense heat wave, which pushed the government to ban exports in May. The world is now worried if India, the top exporter of rice with a 40 per cent share in global trade, may curb exports to keep cereal inflation in check.
Data from the agriculture ministry shows that rice planting is lagging by a staggering 4.4 million hectares as on 11 August, about 12.4 per cent lower than the area planted last year. At an average yield of 2.5 tonnes per hectare that translates into a 11 million tonnes hit to production.
In addition, thousands of farmers in the states facing deficit rains delayed planting by over a month, which will translate into lower yields. The ideal time to plant rice is between mid-June to mid-July.
An estimated 15 million tonnes of rice output (about 13 per cent of the target Kharif production of 112 million tonnes) could be at risk at this point due to a host of factors, said S Chandrasekaran, a Delhi-based agriculture trade analyst.
"Apart from deficit rains in four states and excess rains in some, many states like Chhattisgarh, Odisha and Haryana pushed farmers to shift from water intensive paddy cultivation to other crops like pulses, coarse grains and millets. Farmers in the southern states of Telangana and Tamil Nadu have also shifted from rice to cotton due to soaring wholesale prices of the natural fibre," Chandrasekaran added.
He further said that "rice exports surged by 43 per cent (in USD value terms) in June 2022 compared to last year, due to a significant increase in imports by China".
To be sure, buoyed by robust export demand from China and Bangladesh, domestic prices are on the rise already. Retail rice prices were seven per cent higher year-on-year (as on 14 August), compared to a negligible inflation rate of 0.9 per cent in mid-June, show numbers put out by the consumer affairs ministry.
Planting to lose
According to the agriculture ministry, rice has been planted so far in 23 million hectares across India. But as ThePrint found out, delayed planting and poor crop management may lead to a drastic drop in yields in states where rainfall deficiency is high and access to assured irrigation is poor.
For instance, on the morning of 10 August, 55-year-old Prabhavati Singh began planting rice in her three acres of land in Chaturpur village of Rae Bareli district. This was her second attempt at planting, after saplings from the first nursery had withered.
Rice is first planted in a small parcel of land called the nursery, where it is nurtured for three weeks, after which the saplings are planted in the main field. If saplings from a 35–40-day old nursery are transplanted, it leads to a significant loss in yield.
Prabhavati could not wait any longer for the rains. So, she hired a diesel pump-set and started flooding her field from one end. Hired workers planted saplings on the wet end, while the other end was still parched. This was an unusual sight — paddy fields are usually ploughed, flooded with water and well-puddled for a day, ahead of transplantation. This makes the soil soft and conducive for transplantation, destroys weeds and reduces percolation of water.
"I cannot think of leaving the land fallow. I will do whatever it takes," Prabhavati said. She had already spent more than Rs 20,000, borrowed from a microfinance lender, to pay for planting expenses, with the hope that rains will pick up pace.
The ideal time to plant is around 15 June and farmers who are planting in August are late by a wide margin, said Abhay Gaur, who planted rice in 70 acres in Hardoi, irrigating the crop with electric submersible pumps.
"It's a social stigma for a farmer to leave land uncultivated. But such fields will yield next to nothing," Gaur warned, while showing his lush paddy field, planted mid-June, the crop swaying in the breeze.
Lack of rains and planting of more than 30-day-old seedlings will have an adverse effect on yields, said a senior rice scientist from the Indian Agricultural Research Institute, Delhi, speaking on condition of anonymity.
"In areas with access to canal irrigation like Punjab, Haryana and western Uttar Pradesh, the rice crop is doing well. But in parts with large rainfall deficits, maintaining a late planted crop is a challenge. Irrigating with diesel pumps is very, very expensive. Transplanting 35-40 day-old seedlings will lead to a drastic fall in yields," he said.
The scientist added that cracks on a month-old paddy field is a serious warning sign. Which means water supplied by diesel pumps will percolate rapidly and fields may not stay moist even with periodic irrigation.
'Zero divided by zero equals nothing'
That's a battle many farmers are fighting. "I have spent more than Rs 20,000 on diesel to save the rice field. But even after irrigating the crop for six continuous hours it takes just half a day for the field to dry up," said Hanuman Yadav, a farmer from Barabanki.
He added that the drought he is battling is an addition to another pervasive problem faced by farmers — that of stray cattle destroying crops.
"I have been reading in the papers that our incomes have doubled. But on the ground, just this year, we lost a chunk of the wheat harvest to heat and now, the rice crop to drought," Hanuman Yadav said.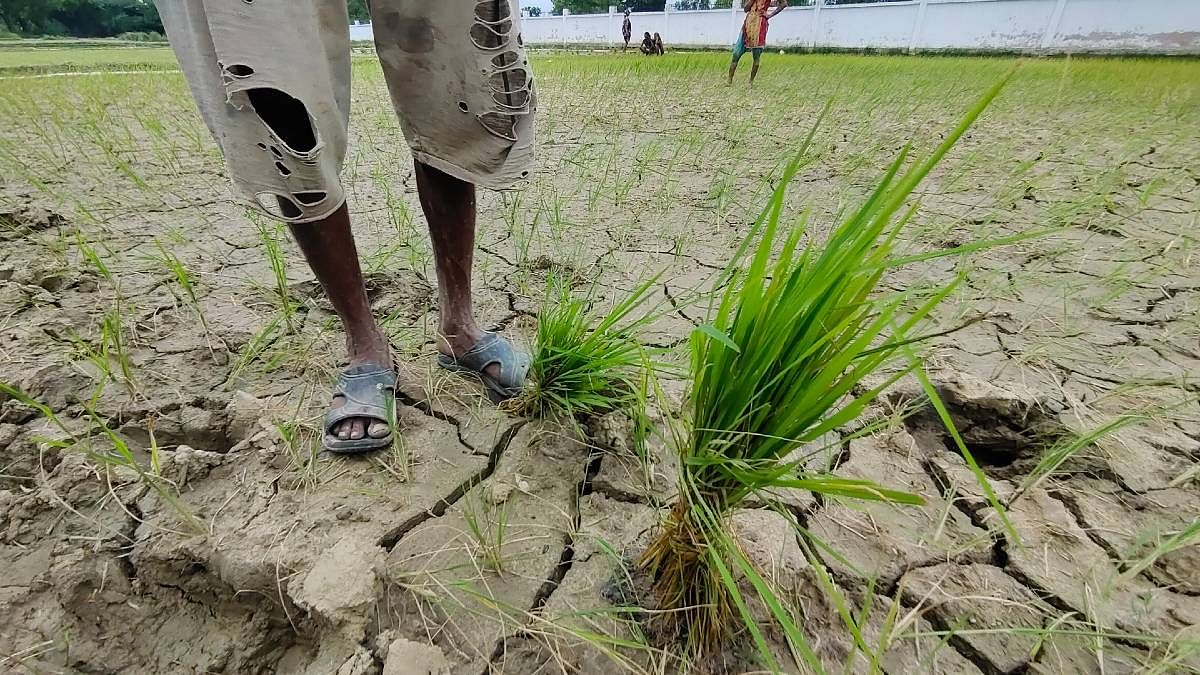 ThePrint met more than 20 farmers over the course of three days, but not one said they had received any government advisory or aid. Farmers had no access to short duration rice varieties (to make up for the delay in planting) or suggestions to plant alternate crops like pulses. Some farmers from Hardoi had switched from rice to groundnut and sugarcane on their own because of the scanty rainfall.
"The government can do little if rains fail," said a state agriculture department official who did not want to be named. "I am not aware of any plans to declare a drought or announce a subsidy on diesel for irrigation."
A farmer who took ThePrint around Rae Bareli and Pratapgarh districts, recounted an old proverb on the monsoon — a lifeline for rural India. "Sawan maas bahey purwai, barda bech beshauw gai (when easterly winds blow in July-August, it will not rain and crops will fail. So, the farmer should sell her bull (used for ploughing) and purchase a cow instead. At least she'll have milk to drink)."
65-year-old Nankau Pasi from Mubarakpur village in Pratapgarh knows the proverb. "It rained just once in the past one month. But for a few fleeting moments. Yahan sabka neel battey sannata ho chuka (zero divided by zero equals nothing) — and that's how we feel at the moment. We don't even have enough to feed our cattle," he said.
(Edited by Poulomi Banerjee)
---
Also read: First wheat, now rice — hit by bad weather, output could fall by '10 mn tonnes' this season
---