New Delhi: India's GDP growth slowed for the fourth consecutive quarter in the January to March period and came in below 6 per cent, presenting the first major challenge for Nirmala Sitharaman who took charge as the finance minister Friday.
The GDP growth in the March-ended quarter was at 5.8 per cent as against 6.6 per cent in the December-ended quarter, showed data released Friday by the Central Statistics Office (CSO).
The estimates are lower than what most economists had predicted and will be the biggest test for the Modi government in its second term.
The full year GDP growth for 2018-19 came in at 6.8 per cent as against 7.2 per cent in 2017-18 and 8.2 per cent in 2016-17, marking the second consecutive year of growth slowdown seen by the Indian economy under the Modi government.
Growth slowdown
Sectors like agriculture, mining, electricity, trade, hotels and restaurants all grew at a slower pace than last year, CSO data showed.
A slowdown in both rural and urban consumption reflected by auto sales numbers, fast moving consumer goods and slowing imports of non-oil non-gold items has adversely impacted growth. Lack of pick up in investment has added to the slowdown.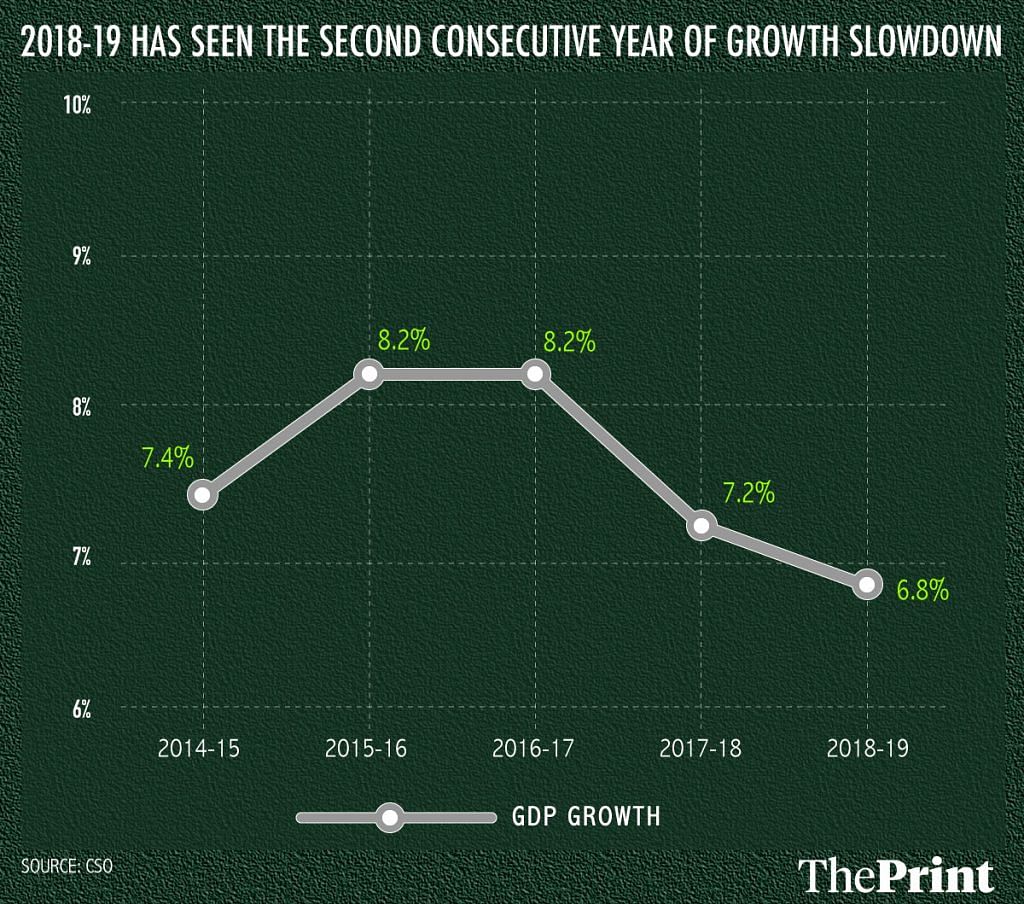 Most economists are now predicting a 25-50 basis points rate cut in the upcoming monetary policy review of the Reserve Bank of India in June to provide an impetus to growth, though so far banks have failed to pass on the benefits of the lower rates to customers.
Economists are hoping that Sitharaman will announce steps in the upcoming union budget to revive investment to lift growth.
However, increasing the size of public investment may be constrained by fiscal considerations as slowing tax revenues have exerted pressure on the fiscal deficit. The interim budget had estimated the fiscal deficit for 2019-20 at 3.4 per cent of GDP, limiting the room for a major investment push.
The manifesto of the ruling BJP has promised a Rs 100 lakh crore spending push over the next five years.
---
Also read: Modi govt overestimated nominal GDP, tax buoyancy. Result — huge tax collection shortfall
---