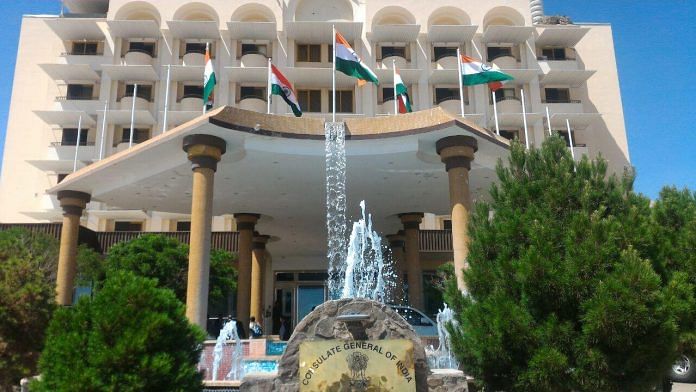 New Delhi: It's been a year since India shut down two of its four consulates in Afghanistan — at Jalalabad and Herat — and the Narendra Modi government has no plans to reopen them anytime soon, ThePrint has learnt.  
India had temporarily shut down both the consulates in April last year, ostensibly due to the Covid-19 pandemic. A review of the situation is still pending, highly-placed sources in India's strategic and security community said.
The review of the security situation and the decision to reopen the two consulates in Afghanistan is also expected to be delayed further as the present US administration under President Joe Biden is working out its Afghanistan strategy.
'Volatile situation'
According to one source, who refused to be identified, while Covid was one of the main reasons behind the decision to close down the consulate in Herat, a deteriorating security situation and a significant increase in violence in the past year were also key reasons why the Jalalabad consulate was closed, and the plans to reopen it have been left pending. 
"The Jalalabad consulate was like four men being surrounded by 40 adversaries. So, why to take a chance when the situation is so volatile there right now?" the source said. 
In 2013, a suicide attack was carried out at the Jalalabad consulate, which killed Afghan police personnel, civilians, including children.
The consulate was attacked many times before, and sources said India believed it was a better option to keep it closed until the peace talks with the Taliban came to a conclusion and violence levels came down.  
The consulate was believed to be the target of a terrorist attack again in 2016, when the Indian embassy in Mazar-e-Sharif was also attacked, leading to an intense gun-battle.   
According to sources, New Delhi was under "considerable pressure" to close the consulates, especially the one in Jalalabad. Pakistan had been pushing for this through the previous US administration led by Donald Trump, which had signed a 'peace deal' with the Taliban in February 2020. The sources said Pakistan was "discontent" and "often complained" about India having a consulate in Jalalabad, opened in 2002, as it carries out its own proxy operations there.
"Pakistan has been complaining about the presence of the Indian consulate in Jalalabad ever since it was opened in 2002. They would have brought it up with the Americans. If the review takes place, then it is entirely possible that Herat will be treated differently from Jalalabad. This is a difficult situation for the government," Anand Arni, former special secretary, RAW, and now a distinguished fellow of the Geostrategy Programme at the Takshashila Institution, told ThePrint. 
---
Also read: 70-yr pattern, no real shift, analysts say about talk of India-Pakistan bid to 'bury past'
---
India's Afghanistan conundrum
After the fall of the Taliban regime in 2001, India had, apart from its main embassy in Kabul, decided to open more consulates in Jalalabad, Mazar-e-Sharif, Herat and Kandahar. 
New Delhi also looked to aid the development of the war-ravaged country, with financial assistance currently standing at $1.5 billion. 
However, with the Taliban making a comeback in Afghanistan's mainstream politics, India is concerned if the welfare aid it has given to Afghanistan will all be jeopardised. 
Under the present Biden administration, America has made it clear that it wants India as a direct stakeholder in the US-Taliban peace talks under a UN-administered mechanism, and that it intends to see an interim government in Kabul until negotiations are concluded. 
Last week, the Biden administration hinted that it might not meet the deadline of 1 May  for withdrawing all its troops from Afghanistan, a target that was set by the previous Trump administration. 
"… it's going to be hard to meet the May 1 deadline. Just in terms of tactical reasons, it's hard to get those troops out," Biden had said in his first press conference since taking charge. 
During his recent visit to India, Afghanistan Foreign Minister Mohammad Haneef Atmar had stated that Kabul is totally opposed to having an interim government, but it is open to New Delhi seeking a larger role for itself in the talks. 
(Edited by Arun Prashanth)
---
Also read: Afghanistan peace process, human rights issues figure in Jaishankar-Austin talks 
---