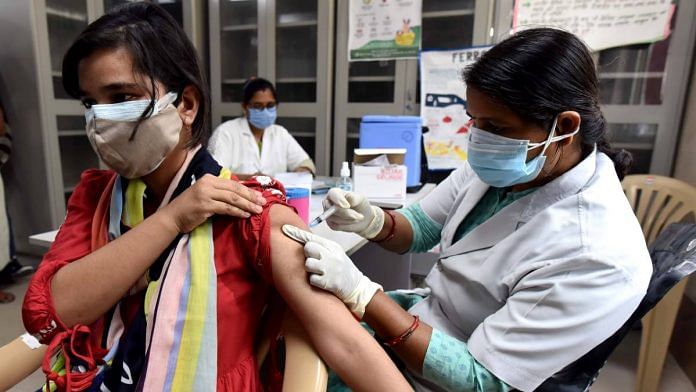 Struggling to find an open Covid vaccination slot on CoWin? Get help from these websites, apps
As people struggle to find slots at Covid vaccination centres, many software developers and tech companies are providing real-time updates to help people book appointments, reports Unnati Sharma.
By the rivers of the heartland & across Vindhyas, proof which politics sucks & which works
Politics and economics are at the heart of the Covid tragedy in UP and Bihar. The regional imbalance in political power, economic and social indicators is deeply troublesome, writes Shekhar Gupta in this week's 'National Interest'.
IAS officer Iqbal Chahal, BMC chief & Mumbai's Covid hero, was once shunted out by Modi govt
Chahal was serving in the Union home ministry, when in 2015 he was moved to the WCD ministry, before he was unceremoniously 'compelled' to leave the central government, reports Sanya Dhingra
RSS worker Modi followed on Twitter dies of Covid. PM didn't help despite plea tweet, family cries
Amit Jaiswal's family hoped Modi would 'intervene' after they posted a tweet from his account, tagging the Prime Minister and Chief Minister Yogi, and said they were 'facing issues' regarding his treatment, reports Fatima Khan.
China's rocket is coming down with a lesson — avoid schadenfreude on India's Covid misery
If the space debris of Long March 5B rocket causes widespread damage, China will be 'liable to pay compensation' as per international law. But Indians aren't rejoicing the prospect, writes Raghav Bikhchandani.
For a change, BJP lawmakers are asking questions from their leadership
When asked about challenges in their constituencies, BJP legislators used to say: 'Arre, Modi ji hain na.' But Covid has shaken them out of their comfort zone, writes D.K. Singh.
Central Vista project was always needless, now it has no moral ground either
As people across India die due to lack of oxygen, construction of Modi govt's lavish Rs 20,000-crore complex for MPs goes on, writes Gourav Vallabh.