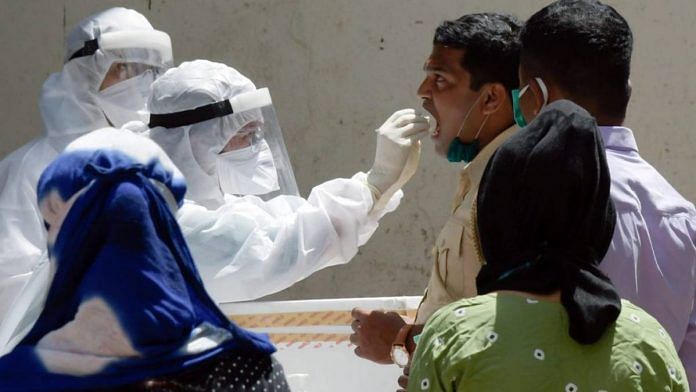 3 likely scenarios for 3rd wave, peak in Sept-Oct, 2-5 lakh cases/day — IIT-K team predicts
IIT team forecasts 3 scenarios of possible 3rd Covid wave, using data from 2nd. Prediction model assumes India will fully unlock by 15 July, doesn't take vaccination into consideration, reports Mohana Basu.
Black rice, the 'forbidden' grain that earned UP's Chandauli big UNDP praise and good profit
Chanduali produces the 'healthier' black rice. The produce is in high demand and is being exported to Australia and New Zealand, reports Samyak Pandey.
'Mamata stole wife', 'husband honey-trapped' — the very public love lives of Bengal politicians
Years into a live-in relationship, top Trinamool leader Sovan Chatterjee gives control of his property to girlfriend — much to the chagrin of his estranged wife. Party calls duo an 'irritant', reports Madhuparna Das.
'White foods' are invading India's breakfast menu. So are chronic illnesses
India's bakery market is expected to grow 8.5% to reach more than $12 billion by 2026. But evidence is also building up against refined foods as producing more harm than good, writes Subhasree Ray.
Does 'third front' have a leader to beat Modi in PM race? What 12-state survey shows
Prashnam survey of nearly 20,000 adult voters in 12 states also found that Yogi Adityanath is more popular than Amit Shah, writes Rajesh Jain.
Rich, wealth-flashing drug peddlers NCB is looking for. They are the 'pandemic brats'
NCB has arrested 102 drug dealers in the past six months – 70% of them in 15-35 age group. NCB says most are inspired by the glamorous portrayal of drug lords on OTT platforms, writes Shobhaa De.
Why Modi govt is suddenly 'looking west', talking to the Taliban and Pakistan
Talks with Taliban, J&K leaders, thaw with Pakistan are strategic imperatives for Modi govt. It can't covet US as Quad ally in the east & work at counter-purposes with them in the west, writes Shekhar Gupta in this week's 'National Interest'.