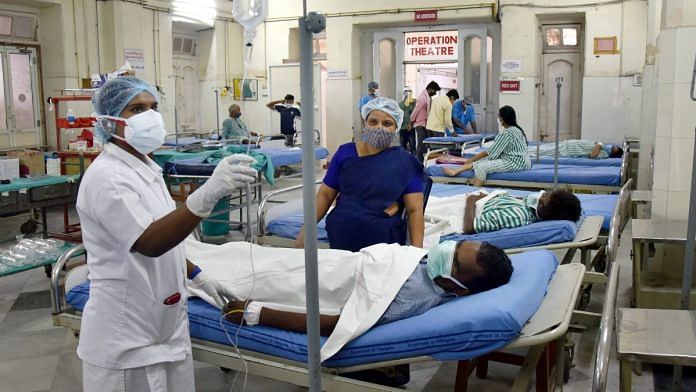 Doctors hint at cow dung-black fungus link as people turn to gobar for Covid 'cure'
Doctors have raised the alarm over reports of people rubbing cow dung on their bodies in the belief that it will help them prevent or recover from Covid. The warnings came after news agency Reuters said some people in Gujarat are 'going to cow shelters once a week to cover their bodies in cow dung and urine, reports Himani Chandna.
Telangana student spends 11 days on a tree — he had nowhere else to isolate during Covid
Shiva, an 18-year-old graduate student, built himself a bed on a tree to avoid spreading Covid to his family who all share a one-room house, reports Rishika Sadam.
This 16-year-old Star Trek-Star Wars fan from Pune has captured epic, viral image of Moon
Prathamesh Jaju has been dabbling in astronomy and astrophotography since age 13, and is part of one of India's oldest amateur clubs, Jyotirvidya Parisanstha, reports Tenzin Zompa.
A top Army doctor transferred in middle of pandemic says a lot about India's civil-military ties
The transfer of Maj Gen Vardhan from Delhi's Base Hospital has been officially justified as routine HR process. But there is more than what meets the eye, writes Lt General Prakash Menon.
Why the suspicion on China's Wuhan lab virus is growing. Read these new analyses
An article in Bulletin of the Atomic Scientists and a paper by Begin Sadat Centre for Strategic Studies present new facts on the coronavirus origin, writes Tara Kartha.
Indian Americans on high alert for news from families about Covid. And then our call came
Never had we imagined moving to the US would include this experience—a desperate son watching his PPE-clad mother and sister light the pyre of his father in India, writes Mishi Choudhary.
Can 2024 become more challenging for Modi? Yes, but it's all up to Congress
Modi and Shah know Congress is the only likely challenger to them nationally, and the Gandhis are key to keeping it together. That's why they need to be targeted ruthlessly, writes Shekhar Gupta in this week's 'National Interest'.