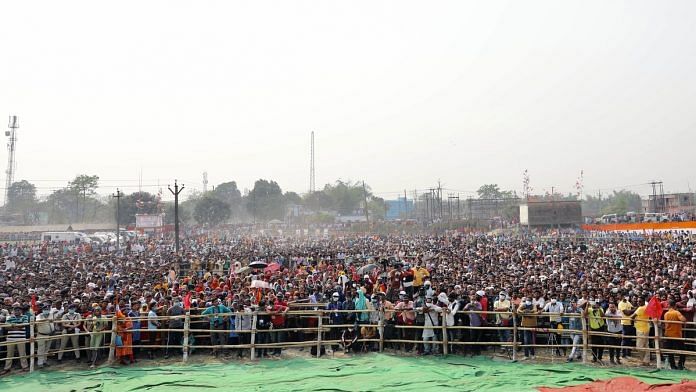 Up to 530% spike in poll states, 152% after Holi — the big culprits in India's new Covid wave
These superspreader events have been the main reason behind the surge in numbers during the ongoing second wave of the Covid-19 pandemic, experts tell Abantika Ghosh.
Modi govt is in denial & India is back to being a flailing state
The Narendra Modi government didn't strengthen the foundations of basic governance in the last seven years. Now, the PM has retreated and ministers are failing, adding to the Covid disaster, writes Shekhar Gupta in this week's 'National Interest'.
Indians struggle for help but Modi's ministers can't stop thanking his 'leadership' for O2, ration
Social media is flooded with SOS calls pleading for oxygen and medical aid amid the second Covid wave, but Union ministers are thanking PM Modi — constantly, report Aneesha Bedi and Fatima Khan.
In 'swan song' elections, Prashant Kishor ruins Modi-Shah plans in West Bengal
Prashant Kishor and his Indian Political Action Committee helped secure the crown in both West Bengal and Tamil Nadu, giving the political strategist one of the defining moments of his 10-year career, reports Moushumi Das Gupta.
Why India urgently needs a leader who focuses on health, not victory
Unceasing deaths. Economic and social distress. Psychological trauma. Never was India's leadership more cruel and callous towards citizens. And any commentary that ignores Prime Minister Narendra Modi's arrogance in responding to the health emergency over the last year is an apology for his government, writes Ashutosh Bhardwaj.
Sex education is not family planning. That's why we built a tool for Indian teachers first
The new National Education Policy has the sex education chapter missing. And Indian textbooks don't go beyond reproductive organs and puberty. So, Population Foundation of India has developed a teacher-training tool — ARSH For You — to facilitate health discussions with adolescents about sexuality and relationships, writes Priyal Gulati.
PM Modi & Amit Shah's airtime declines with the worsening Covid situation
Accountability is key for a government. But the Modi government isn't coming out into the open to allow itself to be questioned — and the news channels aren't chasing it down like they do the ambulances, or the violence in Bengal, writes Shailaja Bajpai in her column 'Tele-scope'.