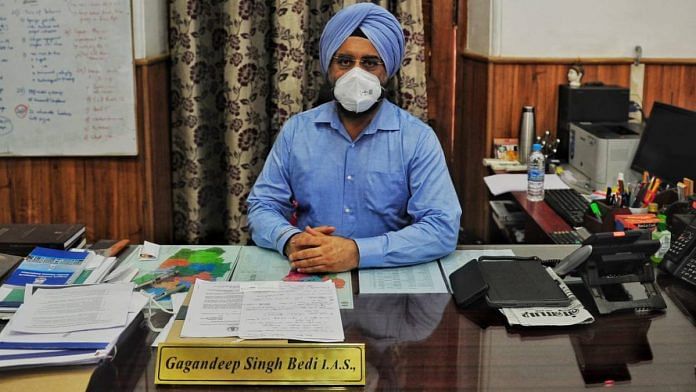 7,000 cases/day to 2,600 — how this IAS officer turned it around for Chennai in a fortnight
From starting at-home vaccination for people with disabilities, to a taxi ambulance service, Gagandeep Singh Bedi has stood true to his image as 'Mascot of Disaster Management', reports Soniya Agrawal.
National Defence Academy to add 2 squadrons to address officers' shortage in Army, Navy & IAF
The additional intake at NDA will take its overall strength to around 2,400 cadets. It will also cater to foreign cadets and IAF cadets training for ground duty roles, reports Amrita Nayak Dutta.
Fauci dismissed IIT-Delhi Covid paper as 'outlandish' — what it said & why it was withdrawn
IIT-Delhi team claimed SARS-CoV-2 had 4 'inserts' in spike protein that are similar to those in HIV, a ​highly unlikely occurrence in nature. Scientific community refutes these conclusions, reports Sandhya Ramesh.
With one speech and free vaccines, Modi is India's messiah again. States blamed for failure
With his latest address to the nation, Narendra Modi once again projected himself as the messiah who swooped in to save Indians when state governments had seemingly failed, writes Ruhi Tewari.
Don't reduce the debate to 'Modi is a Fascist' level. India needs better critique of populism
I fear that if we don't try to see others as something bigger than either props or rivals, we will soon forget how to relate with each other, writes Vamsee Juluri.
India's retired diplomats are divided on Modi's foreign policy. RSS has picked its team
The big difference between Forum of Former Ambassadors of India and the Constitutional Conduct Group is that the RSS seems to take a keen interest in one, writes Jyoti Malhotra.
China's Wuhan story unravels as world's finest, including from India, nail Covid lab-leak proof
The global hunt for where the virus behind pandemic came from shows science, democracy and a sense of inquiry can overcome politics, ideology and omerta codes, writes Shekhar Gupta in this week's 'National Interest'.