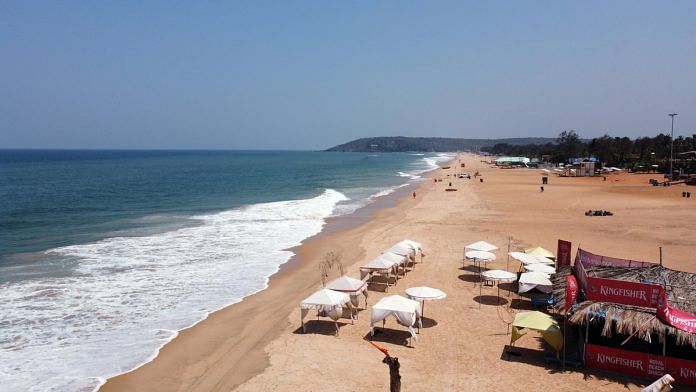 3 ministers, 7 MLAs with hotels, resorts in focus as Goa welcomed tourists despite Covid wave
Goa witnessed a sudden surge in Covid-19 cases after staying open for tourists despite an aggressive second wave of the pandemic. While the official reason to keep the state open was to stave off economic loss, ThePrint's investigation found that 10 of the state's 40 MLAs have a stake in the hospitality industry, reports Manasi Phadke.
Sunil Bansal, head of the dairy business of Ramdev's Patanjali, dies of 'Covid complications'
Sunil Bansal, dairy business of Yoga guru Ramdev's Patanjali Ayurved, died due to Covid-related complications on 19 May. He was 57 and suffered from severe lung damage and brain haemorrhage, reports Himani Chandna.
'Want to develop Lakshadweep like Maldives' — Administrator Praful Patel defends draft land law
Lakshadweep Administrator Praful Khoda Patel, who is facing stringent criticism over a slew of regulations that he intends to bring to the islands, claimed that his decisions will only usher in development in an interview to Moushumi Das Gupta.
Dear people, I am an Indian crocodile who is getting a very bad name these days: Shobhaa De
In a satirical take, Shobhaa De writes: "As an adult male, my weight and height are very impressive! I can reach up to 10 feet and weigh 200 kilos. Please don't ask about my chest measurements and other such nonsense. Just take my word for it that I am dangerous enough to handle any and every enemy with one whip of my tail."
Modi is not Manmohan Singh. He won't fade away without fighting to the finish
Despite all his blunders, mere Modi-bashing won't lead to his defeat; the people look for an alternative before they can discard what they have. And such an alternative does not exist, writes Yogendra Yadav.
I have not spent a day or night in my cell without extreme anxiety: Umar Khalid from Tihar
Life in jail is quite difficult even in normal times. I have spent the last eight months alone in a cell, locked up for over 20 hours a day on several occasions. But the ongoing health crisis has increased the difficulties of prison life manifold, writes Umar Khalid.
Death and journalism: India's Covid deaths are undercounted, but twice the Partition toll?
It is true that there has been an undercounting of Covid cases and deaths in India. But an undercount of total deaths at a mass scale is tougher, writes Shekhar Gupta in this week's 'National Interest'.