New Delhi: The South-West monsoon has seen 6 per cent above normal or long-period average (LPA) rains in India till 5 August this year, but geographical disparities have impacted planting of Kharif crops including rice, according to a new report from the Bank of Baroda.
Area planted under cereals including rice is less than last year due to deficit rains in major growing states like Uttar Pradesh, West Bengal and Bihar, the report observed. Acreage under cereals has decreased from 40.2 million hectares last year to 37.4 million hectares this year, while area under rice fell to 23.2 million hectares in 2022, from 26.7 million hectares last year—a drop of over 13%.
The sown area under pulses in India has also decreased in the 2022 Kharif season spanning June to October. The area cultivated for pulses has decreased by 2.5 per cent compared to last year. Within pulses, the area under Arhar has fallen by 10.4 per cent, and sowing of Urad has decreased by 6 per cent compared to 2021. However, within pulses, planting of Moong has increased by 2.5 per cent, the report found.
This area under rice is as per the acreage report released by the agriculture ministry on 29 July. The Ministry did not release the latest acreage numbers on August 5. The data is usually published every Friday.
The sown area of oilseeds has marginally increased from 17.4 million hectares in 2021-22 to 17.5 million hectares in 2022-23, the report added.
---
Also Read: Does India have enough rice for welfare schemes and ethanol? What the govt is missing
---
Uneven spread of monsoon
According to the report, overall rainfall across the country has been lower compared to last year. India recorded 50mm of rain between June 1 and August 5 this year, while it received 63 mm of rain in the corresponding period last year.
The eastern part of India including the states of Uttar Pradesh, Bihar, Jharkhand, and West Bengal have received deficient rainfall that has affected the planting of rice, the main Kharif crop. However, South India received excess rain, the report added.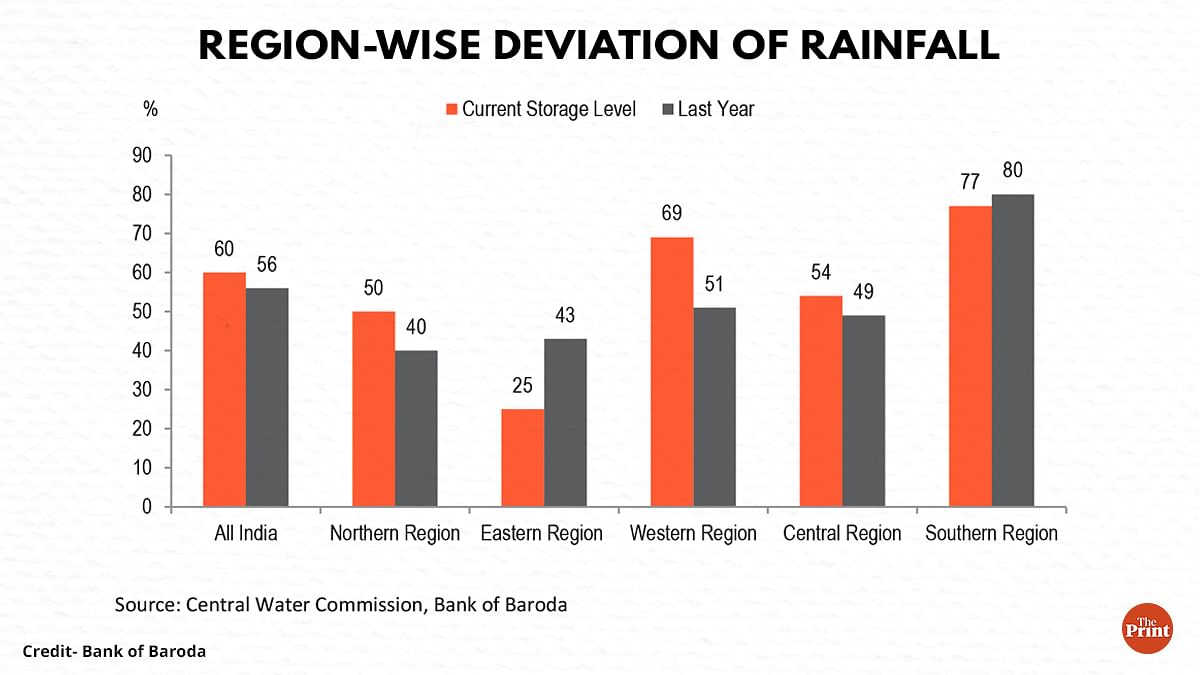 The states of north and north-east India including Punjab, Himachal Pradesh, and Jammu and Kashmir received normal rainfall, the report found.
The states of Telangana, Karnataka, and Tamil Nadu received above-normal rainfall. The report calculated this to be at 34 per cent above normal for the Southern peninsula.
Higher reservoir storage to aid planting of winter crops 
Due to above-normal rains, reservoirs in Southern India are holding the highest levels of stored water in the country. However, these levels are at 77% of total capacity, compared to 80% by this time last year. In comparison, North India's reservoir storage levels stood at 50 per cent of the total capacity, compared to 40 per cent last year.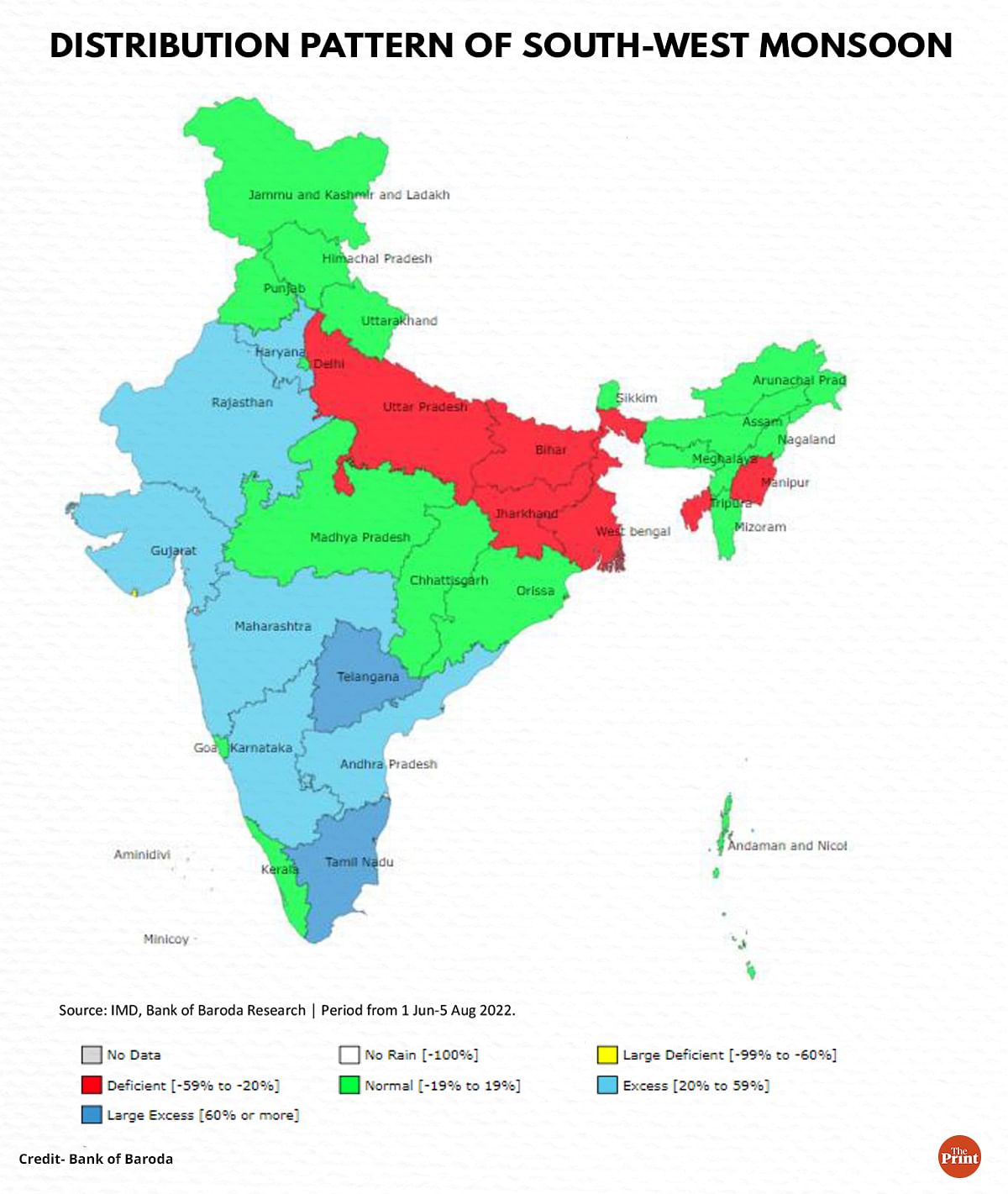 Further, the report noted that the Western belt of India, including the states of Rajasthan, Gujarat, and Maharashtra, recorded excess rainfall. This resulted in higher reservoir capacity at 69 per cent of total storage, in comparison to 51 per cent at this time last year.
Higher storage levels in reservoirs aids sowing of crops in the winter or Rabi crop season which begins in October-November.
(Edited by Siddarth Muralidharan)
---
Also Read: RSS affiliate wants MSP guarantee for farmers, says will push for it in new govt panel
---